Description
Mogul X is being held in September 2019 at Knockdown Center in New York City, New York.
Learn more at: onmogul.com/mogulx
––––––––––––––––––––––––––––––––––––––––––––––––––––
For the first time ever, we are bringing our community together in-person. 800 of you. In New York City.
Mogul X is an innovative conference made up of immersive experiences, networking opportunities and transformative classrooms – all of which dive into the key aspects of a Mogul's life including Work, Relationships, Failures, Health & Wellness, Travel, Finance and Entrepreneurship. Each class is taught by the best of the best: world-class experts, top executives celebrities and professors – taking their lifetime of learnings and lessons and turning it into actionable lessons for you.
This year, Mogul X will be held in New York City on September 2019. Mogul provides free educational resources to 1 woman in need through our international partners, such as the United Nations.
––––––––––––––––––––––––––––––––––––––––––––––––––––
Schedule: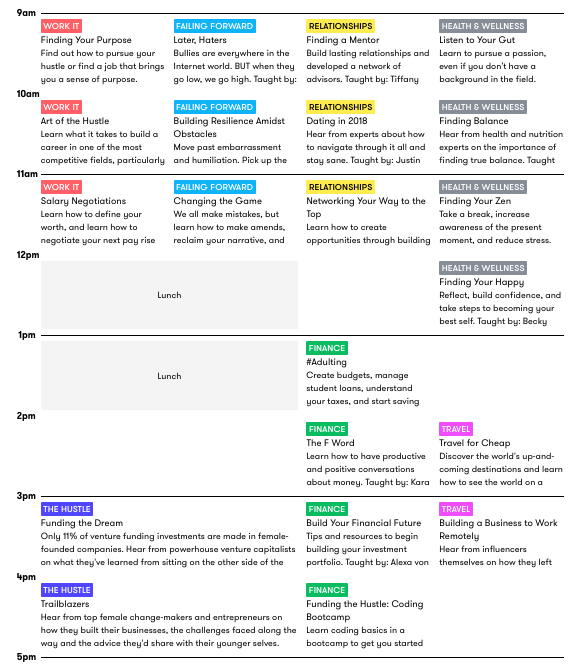 ––––––––––––––––––––––––––––––––––––––––––––––––––––
Professors: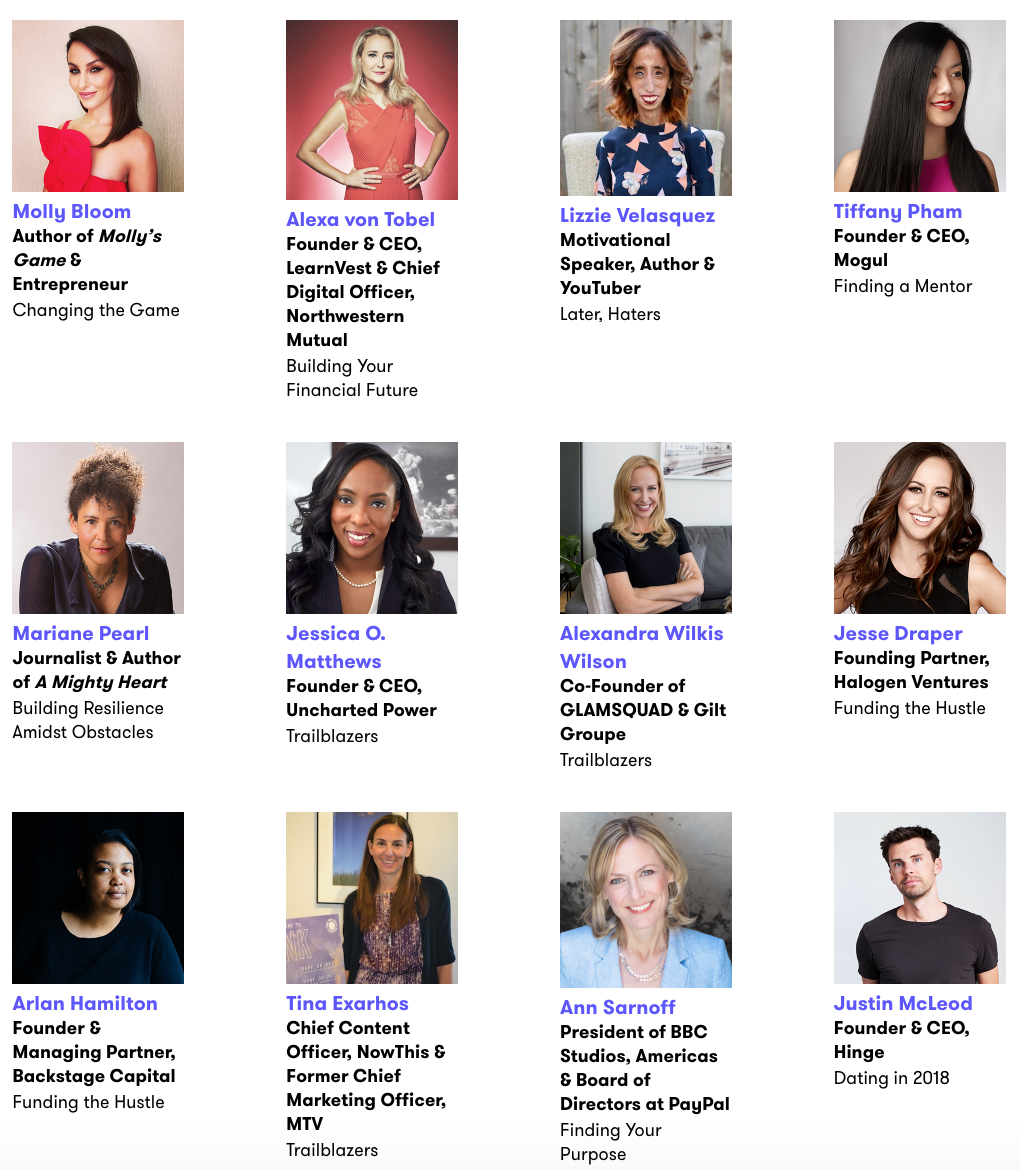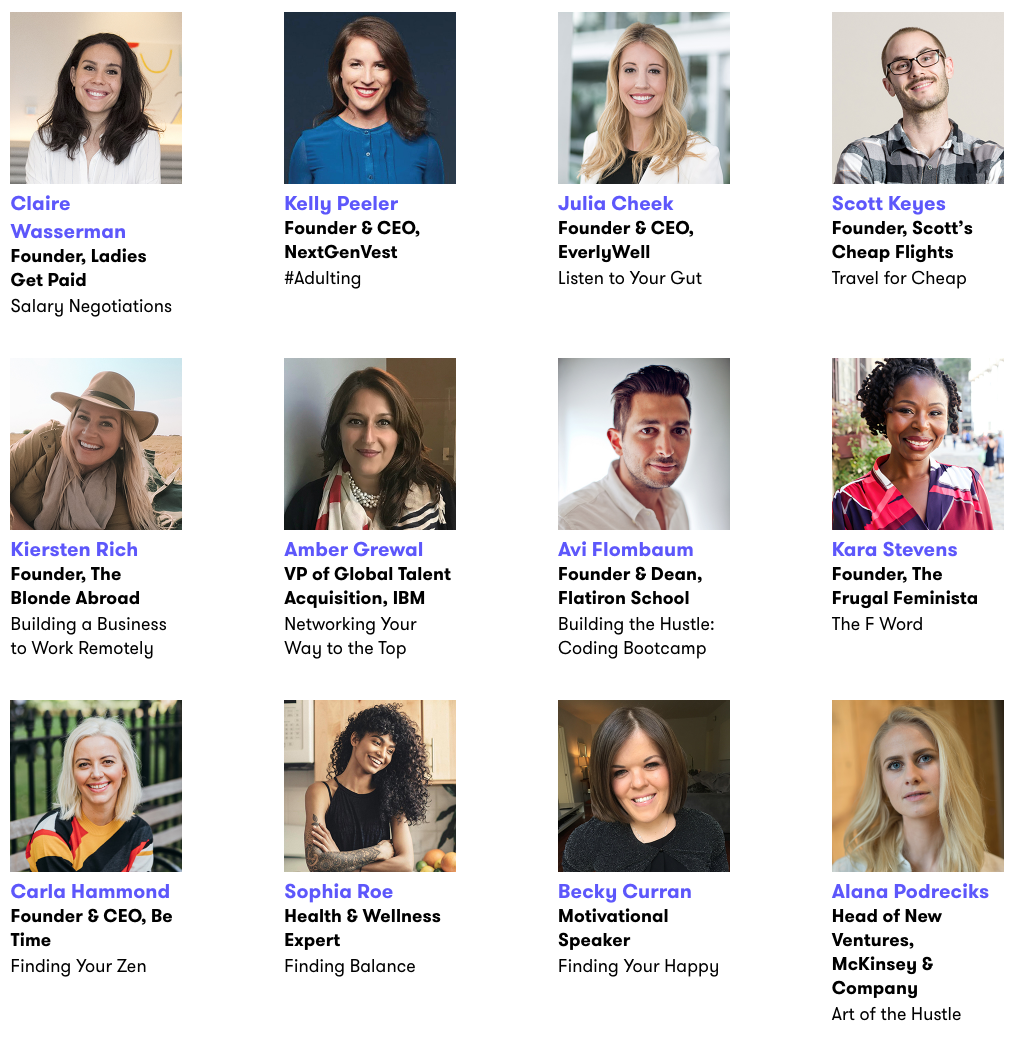 ––––––––––––––––––––––––––––––––––––––––––––––––––––
FAQs
What is the difference between a General Admission ticket and a VIP ticket?
All attendees will have access to a full day of classes and food (breakfast, lunch and unlimited snacks), fun experiences and receive an amazing, limited edition Mogul backpack filled with swag.
VIP ticket holders will get all of that and a bit more. They will have an express check-in, guaranteed access to all classrooms, a limited edition Mogul backpack filled with goodies valued at over $200 and access to The Living Room: a space with incredible experiences throughout the day from manicures and massages to Mogul Office Hours, where you'll receive one-on-one counseling advice and guidance from experts such as nutritionists, career coaches, financial planners, and more.
How do I get into each class?
Seating for classes is first come, first serve. For VIP ticket holders, you will have guaranteed access for each class. We have made sure to leave plenty of time between classes that you'll be able to get to each class in time.
What is included for food & drink?
All attendees will get breakfast and lunch meals. If you're hungry or thirsty throughout the day, feel free to help yourself to one of Convene's three Nourish stations throughout the day, which includes coffee, tea, water, fruit and a variety of sweet and savory snacks.
If you have any food allergies, please note it on your ticket registration and we'll be happy to accommodate!

What if you need to leave at some point during the day?
Our front desk will be there throughout the day, so just hang onto your badge and you can come and go as you please.
What if I need to do work during the event or want to take a break?
Not to worry. We have 2 dedicated spaces for this. All attendees have access to Convene's free WiFi and plenty of tables for you to get your grind on.
How do I receive updates?
I know, we're excited too. All ticket holders will receive emails with updates, but make sure to follow us on our socials as we'll be making announcements there too. Find us at @onmogul on Instagram, Twitter & Facebook. Be sure to include our official hashtag: #MogulX

Are there ID or minimum age requirements to enter the event?
There is no age requirement for Mogul X.
Will you be filming?
Yes, Mogul will be filming and taking photos throughout the day. All attendees consent to being filmed by entering the premises. Make sure to follow us on socials throughout the day for updates: @onmogul and #MogulX
What is the deadline for purchasing a ticket?
Make sure to get your tickets early! The last day to purchase a ticket is Wednesday, September 5, 2018.
Is there a refund policy?
Tickets are nonrefundable and nontransferable. You will need to repurchase a new ticket if a replacement ticket is needed.
How do I get to Knockdown Center?
Order a Lyft to Knockdown Center. We will be providing directions via Subway as well shortly.
More questions?
If you still have more questions, please contact: contact@onmogul.com