Sales Have Ended
Ticket sales have ended
Woo! It's time to party.
Sales Have Ended
Ticket sales have ended
Woo! It's time to party.
Description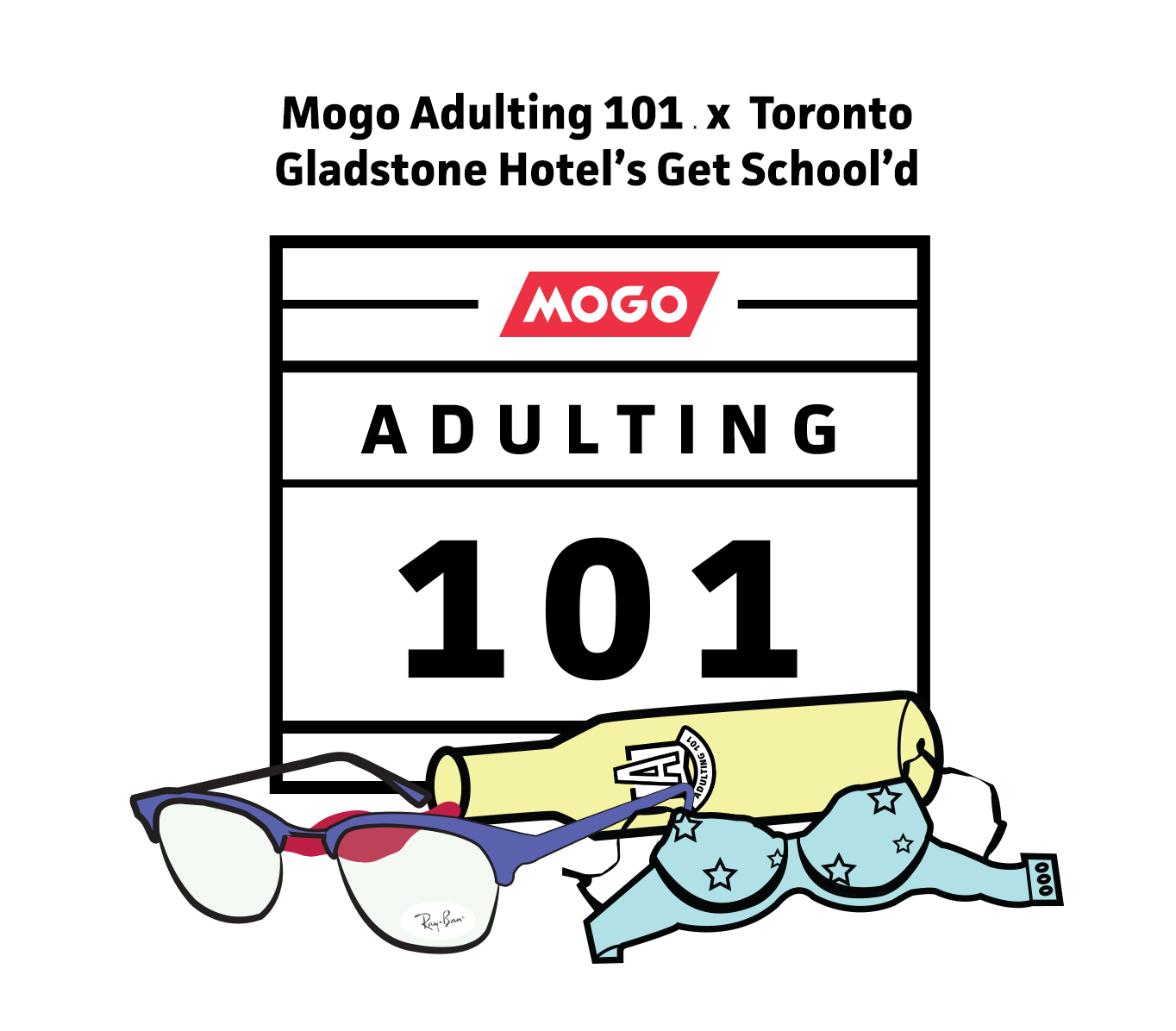 Must be 19 yrs or older.
*General Admission is $20. Mogo Members can get reimbursed for their ticket at the event. Proof of membership needed, e.g. showing receipt of Mogo email communication (welcome email, newsletter, etc.). No forwarded emails allowed. Non-members can take advantage of this discount for the Adulting event by signing up for free and with no obligation at Mogo.ca.
**Please note that this event will be filmed and photographed. By submitting your RSVP, you are authorizing Mogo Finance Technology Inc. to use photos and video material taken at the event that features you in any marketing and advertising material or communication, including social media.
A mashup of the sommelier's ever-popular Price is Right-style knowledge programing with the launch of Mogo's new cross-Canada financial educational series, Adulting 101 / The Price is Wrong and the Gladestones Hotel's Get School'd series is presented as part of the #MogoPerks program. #MogoPerks offers MogoMembers exclusive access to special offers, parties and events across Canada in addition to its online, socially responsible, convenient and innovative range of financial services that help MogoMembers stay in control of their money and avoid the pitfalls of piling on debt. This event is also open to non members.
Co-hosts Financial Fitness Coach Chantel Chapman and Dave Stansfield, sommelier at Vancouver Urban Winery, will school you on both the complexity of the grape and the simplicity of keeping your finances in order. Learn insider tips to raise your credit score, smart money management techniques and, most importantly, how to choose a superior bottle of vino without breaking the bank.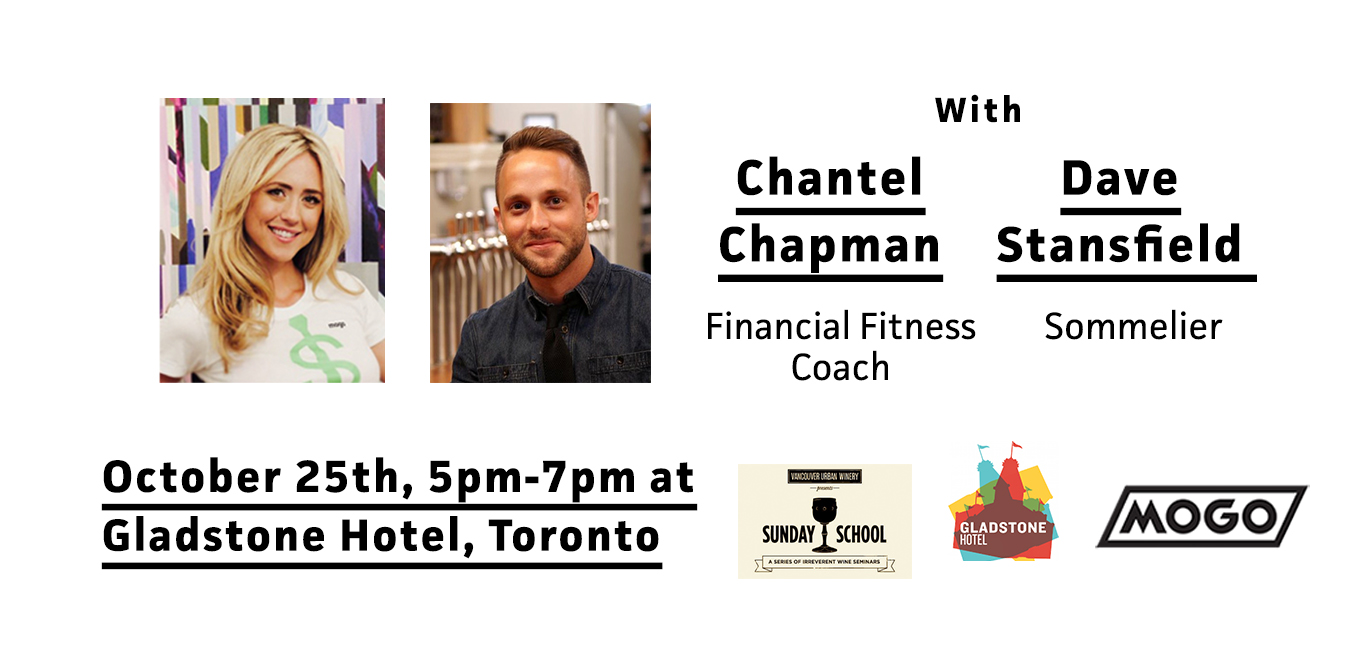 What is Adulting?: Believe it or not, Adulting is a verb. It's the act of being an adult at any age. Adulting includes: paying bills on time, being financially responsible, choosing the right bottle of wine to complement that dreaded meal with your future in-laws and, of course, eating kale.
The Price Is Wrong: In this Showcase Showdown of wine classes, we answer the question, "What's price got to do with it?" through a blind tasting of cheap versus not-so-cheap wines. Same grape. Same country. Very different price tag! You make the call…
And there will be cash giveaways!
By the end of the night (and the flights) you'll have what you need to be an adult and live by Mogo's Do More, Spend Less philosophy.
So get out of the sandbox and join us. Who says being an adult can't be fun?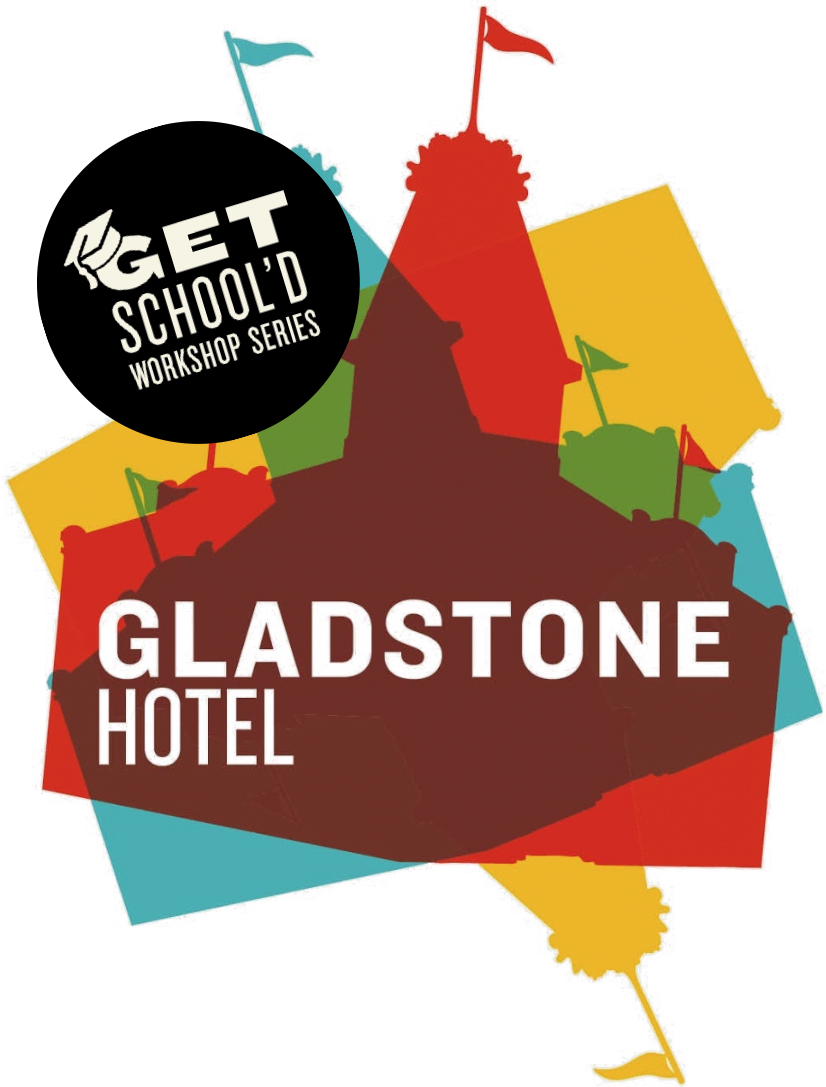 ABOUT MOGO
Mogo is a Canadian online finance company that supports the new breed of people who live by the rules of the internet world; the tech-savvy generation that tends to get carried away with their money no thanks to the conveniences of today's lifestyle. Through products, services, contests, and events meant to help #uncreditcardyourlife, Mogo encourages its members to "Do More, Spend Less" by presenting them with the tools to their financial freedom: from long-term unsecured loans to lines of credit to Canada's only free Prepaid Visa Card with no monthly fee, to Mogo's signature Level Up program providing members a pathway out of debt. Mogo membership is free and offers members access to MogoPerks, including exclusive access to giveaways, events and parties in key markets across Canada.
Chantel Chapman is Mogo's in-house Financial Literacy Advocate. With over a decade's experience as a mortgage broker, Miss Chapman recognized a need for financial education with many of her first-time homebuyers. She began creating custom content to help guide them. Volunteering as a Junior Achievement teacher, she then developed a "smart money" program to help youth and young adults make healthy fiscal choices, eventually teaching at-risk youth at charities such as Covenant House and The Boys Club Network. Miss Chapman is also the founder of Holler For Your Dollar, a consulting firm that jump-starts anyone who's ready to dive into the world of Adulting or entrepreneurship. Her role at Mogo puts her skills to use creating and teaching digestible, yet educational financial literacy content geared to millennials, and daring entrepreneurs.
Chantel's passion for financial literacy advocacy and delivering style is guaranteed to keep you awake for this finance lesson.
Dave Stansfield is an independent wine contractor – wine nerd for hire – currently working as the in-house Sommelier for the Vancouver Urban Winery, for whom he runs the popular Sunday School wine school, and as the Corporate Sommelier for the Daniel Hospitality Group, which includes the Tap & Barrel restaurants. He also consults for East Van restaurants Bestie, Cuchillo, and Chicha.
© 2015 Mogo Finance Technology Inc. All rights reserved. Made in Vancouver. Mogo and the Mogo designs are trade-marks of Mogo Finance Technology Inc., used under license. Mogo Financial (B.C.) Inc. Licence 50019 & 50017 / Mogo Financial (Alberta) Inc. Licence 326985 / Mogo Financial (Ontario) Inc. Licence 4716734 / Mogo Financial Inc. Licence BC 50022 Ontario 4716733.