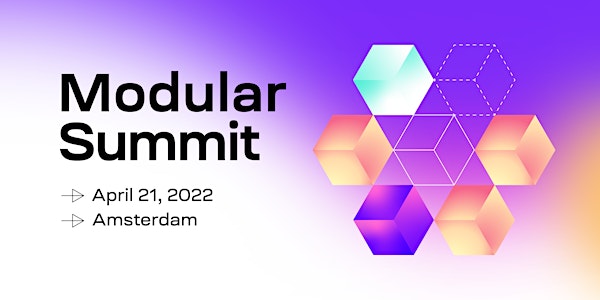 Modular Summit
Envision the modular future with us.
When and where
Location
Het Sieraad BV., Amsterdam 1 Postjesweg 1057 DT Amsterdam Netherlands
About this event
The Modular Summit is a day-long event that will bring together visionaries to discuss what's next in blockchain. It's a series of conversations that will celebrate innovative builders seeking to escape the limitations of today's monolithic chains.
The summit is where experts from current leading projects will gather to share stories, dreams, and learnings as we venture toward a world of sovereign communities.
Website: modularsummit.dev
Register for the livestream: https://www.youtube.com/watch?v=35_rr8Vf-4k
Add the event to your calendar: https://calendar.google.com/calendar/u/0/r/eventedit/copy/M2xjczltYXZpbTNxZG5iOW1lYzZoOXVpdW8gbmlja0BjZWxlc3RpYS5vcmc/bmlja0BjZWxlc3RpYS5vcmc?sf=true
Highlighted Speakers
Mustafa Al-Bassam, Co-founder & CEO of Celestia Labs
Uri Kolodny, Co-founder & CEO of StarkWare
Anurag Arjun, Co-founder of Polygon
Alex Gluchowski, Co-founder & CEO of Matter Labs
Zaki Manian, Co-founder of Sommelier
Tarun Chitra, Co-founder & CEO of Gauntlet
Morgan Beller, Co-creator of Libra
Agenda:
9:30 AM - 1 PM - Presentations & panels
Defining Modular Blockchains
The Modular Thesis
Cosmos - The Modular Past and Future
L1s, L2s, L3s
Scaling Execution: Zero Knowledge
MEV on Modular Blockchains
1 PM - 2 PM - Lunch
2 PM - 5:30 PM - Presentations & panels
Understanding Modularity: Rollup Security Paradigms
Modular Design Across the Blockchain Ecosystem
Scaling Execution: Optimistic
Investing in the Modular Stack
The Data Availability Landscape
The Counter Thesis - Monolithic vs. Modular
5:30 PM - 7:00 PM - Networking Drinks
Sponsors:
Maven 11, Celestia Labs, Bain Capital Crypto, Blockchain Capital, Delphi Digital, Galaxy Digital, StarkWare, Polychain
Can't make it in person?
Don't worry, the event will be livestreamed and recorded. Set a reminder for the livestream here: https://www.youtube.com/watch?v=35_rr8Vf-4k