| | |
| --- | --- |
| Modern Web Application Development with AngularJS and Java ( March 7, 2015) | |
Event Details
This training described below is over. Our next online training will cover TypeScript/Angular 2 and will last for 5 weeks.  We're planning to run it in July-August of 2015. If you'd like to be notified about the exact days and cost send us an email at training@faratasystems.com. 
This online Saturday training class will give a Java developer a practical knowledge of creating front and back end components by working with tools and frameworks used in a real-world enterprise setup. 
The duration of the course is 7 weeks.  The first 4 sessions cover JavaScript and Google's AngularJS framework. Then we spend three sessions working on the server-side using Java 8, Rest and JMS API. 
This online training class will start on March 7, 2015 and will run on Saturdays starting from 9:30AM New York Time.  Each session runs aproximately 3h 30 min, which includes a 15 minute break.  On Thursday, we'll run a 1-hour consultation starting at 1:30 PM New York time. Students are given assignments (developing an online auction).  We'll use screen-sharing software. Attendees will be able to hear and see the instructors and will communicate with them via a chat room. Between the lessons the student communicate with each other in the online forum. Video recordings of the sessions and consultations will be available for the enrolled students.
 Course Outline
Unit 1. Developing applications in HTML/JavaScript. Fast pace introduction to JavaScript. Intro to GIT/Github. Creating a wireframe of the UI of the online auction.  Intro to Responsive Web Design. Mocking up the UI. Creating the first prototype of the auction in pure HTML/JavaScript/CSS. Configuring the auction project in IntelliJ IDEA. Styling with Bootstrap. 

Unit 2. Intro to Google AngularJS framework. Configuring libraries in IntelliJ IDEA. Re-creating the first two pages of the auction app in AngularJS. Intro to Grunt build tool.  

Unit 3. Creating the second prototype of the UI with AngularJS. Scopes. Adding more tools: package management with Bower. Project scaffolding with Yeoman. 

Unit 4. AngularJS framework in depth. Forms, REST interaction and custom reusable components. Mocking up server side with AngularJS. Creating test scripts for models, views, controllers with Jasmine.js.
Unit 5. Java SE 8. Overview of the selected new features (lambda-expressions, Stream API, changes in Interfaces). Applying bulk operations on the collections of auctions items. Java build automation with Gradle. 

Unit 6.  Overview of Java EE 7. Creating the Java EE version of the server-side auction using RESTful API. Intro to WebSockets. Pushing the auction data to the client using WebSocket protocol.

Unit 7. Intro to Java Messaging. JMS 2.0. JNDI. Bringing together REST, JMS, and WebSockets in the Auction application. The architecture of the final application is shown below.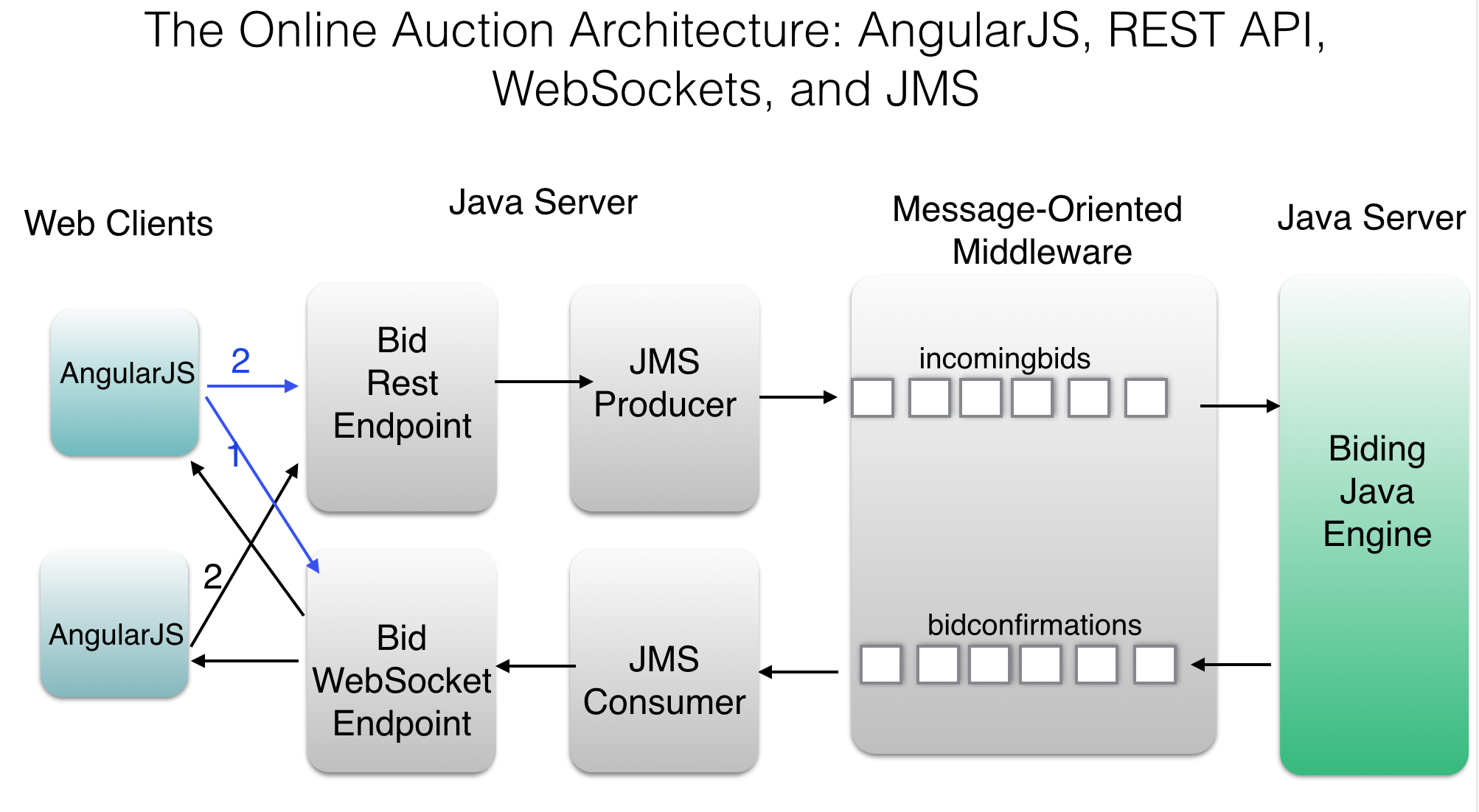 Prerequisites
Frameworks, Tools and APIs
During this training we'll be using the following software tools and technologies:
Front end
HTML

CSS

JavaScript

JSON

Google Chrome Web Browser

WebSockets on the client

Grunt (The JavaScript task runner)
Miscellaneous
Git, GitHub 

IntelliJ IDEA IDE. 
FAQ
I'm a professional programmer, but have never actually worked in Java. I took some classes both in SE and EE, worked though several Java books. Would it be enough?

We don't know. It depends on your ability to learn new material. If your Java is a little rusty, watch Java video lessons by Yakov Fain before the class starts.

What other software do I need to have installed on my laptop?

We're providing instructions for the software required for each lesson as we proceed.

Are we starting JavaScript practically from scratch?

How much "extra help" will be available if I'd be having a trouble with something?

Students communicate with each other by posting questions/answers in the forum. Instructors are monitoring this list too. Also, there is one hour consultation time between the lesson where instructors answer questions.

Do I need to know GIT for this course?

Yes you do if you're planning to submit homeworks. Please watch this video to get familiar with GIT and GitHub.
You can also request this training to be conducted for your organization online. Just email you inquiry to training@faratasystems.com.
Farata Systems runs this training.  If you purchased paid support, but changed your mind before February 20, 2014 you'll get a full refund . After that no money is returned, but you can apply this amount toward any future trainings by Farata Systems.
Farata Systems is a consulting and product company, which employs software professionals specializing in development of enterprise Web applications with HTML5, JavaScript, Java, and Dart. For more details please visit http://www.faratasystems.com
If you have more questions send us an email at training @ faratasystems.com
Have questions about Modern Web Application Development with AngularJS and Java ( March 7, 2015)?
Contact Farata Systems
Organizer
Farata Systems is a leading IT consulting company providing enterprise-wide IT solutions specializing in the web applications developed with the Angular framework and Java.