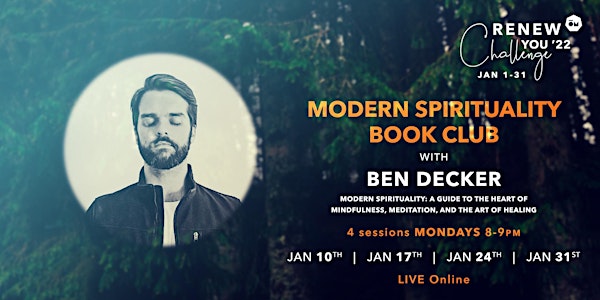 Modern Spirituality Book Club with Ben Decker
Modern Spirituality: A Guide to the Heart of Mindfulness, Meditation, and the Art of Healing
Refund Policy
Contact the organizer to request a refund.
Eventbrite's fee is nonrefundable.
About this event
Modern Spirituality Book Club with Ben Decker
📆 Mondays // Jan 10 - 31// 8-9pm (4 sessions)
Jan 10, Jan 17, Jan 24 , Jan 31
📗 Program:
Ben Decker will guide you through his book to explore a new expression of faith at the crossroads of world traditions with Modern Spirituality. This inclusive program is full of everyday applications for spiritual concepts like mindfulness, karma, and your higher nature―helping equip you on the journey to a more meaningful, fulfilling life.
Explore exercises to help you activate the ideas and skills you're learning―all supported by modern psychological and scientific understanding. It's time to embark down the path of healing and growth.
When you participate in this book club (and in reading the book), you'll build your personal practice by tapping into key principles of spirituality while cultivating positivity, power, and purpose..
⭐️ From Luminaries:
"No one can give us a greater gift than to teach us how to meditate. Many will one day remember Ben Decker as having put their feet on a most joyous path." ―Marianne Williamson, 2020 Presidential Candidate, Best-Selling Author of A Return to Love and Illuminata
"Ben Decker is the most well written and exciting of the emerging thought leaders. His style is straightforward and easily understood. I highly recommend this and his other writings as well." ―Gerard Armond Powell, Founder of Rythmia Life Advancement Center, and Author of Sh*t the Moon Said
"Pragmatic, thorough, and easy to read, this is a wonderful volume for those new to meditation practices. Ben Decker has captured the essence of what you need to get started on your mindfulness practice journey." ―Sharon Salzberg, Author of Real Happiness and Real Love
💰 Free with signup
Ben will send everyone a PDF of his book.
📍 Where:
A zoom link will be sent to you with the confirmation email.
👩🏻 About Ben
BENJAMIN W. DECKER is a world-renowned meditation teacher and public speaker. He is the co-founder of the Fireside Library of World Religion, Politics, and Philosophy; a founding meditation teacher at The DEN Meditation and Unplug Meditation; and the founding spiritual director of Full Circle Venice
🙏🏼 About the Membership
Imagine a community that harnesses the power of collective intention to lead expansive and peaceful lives.
We are membership club where hundreds of authentic and like-hearted souls meet regularly (online and in real life) to:
Show up consistently to a group meditation practice
Learn new techniques and tips daily, to improve our lives
Be in global community with fellow seekers who share the values of curiosity, openness, compassion, and connection
Get introduced to incredibly diverse topics through the experiences, stories, and voices of 100+ teachers and experts
Engage our hearts and minds in journaling, sharing circles, book clubs, and community events
Dive deep into immersive master classes and trainings
About Modern ŌM
Modern ŌM is a global community that meets to explore mindful lessons taught by epic facilitators from around the world. We offer 45 minute daily sessions on Zoom, deep dives into expansive topics, and in-person events for our Miami tribe.