Description
Hey there,
We are so excited to bring our 2nd Modern Sales Pros event to Salt Lake City! This event will be centered around "Unlocking Outbound" and is specifically for sales management, enablement, and operations leaders.
You won't want to miss it.
How does an MSP Salon work?
Attendees are organized into small teams with peers who work at similar stage and size companies to share relevant best practices around the night's topic. For this event, the theme is "Unlocking Outbounds". It's all about networking and peer education over food and drinks.
We will discuss the most popular of the questions on this topic area that are submitted as part of the registration process.
About the Topic:
The conversations will revolve around "Unlocking Outbound". Everyone should walk away from these events with actionable and tactical ways to grow & sustain a high performance sales culture in outbound campaigns.
Event Format & Agenda:
Group Swaps: We'll do two segments of group discussions, rotating tables in between.

Timed Discussions: We'll have a central timekeeper to prompt folks to move on to the next topic and cover more ground.

Networking: After the two 45 minute discussions, we close out with networking time!
Agenda: Unlocking Outbound

6:00 - 6:30 - Arrival / Nametags / Grab food
6:30 - 7:15 - Group Discussions #1
7:15 - 7:20 - Group Swap
7:20 - 8:00 - Group Discussions #2
8:00 - 8:30 - Networking / Wrap Up
Food and Drink: We'll provide the catered food, dessert, beer, wine, and non-alcoholic beverages.
Venue: Tiled's Office at Kiln Coworking Space (26 South Rio Grande Street, Suite 2072, Salt Lake City, UT 84101). Thanks so much Tiled!

And huge THANK YOU to our wonderful sponsor VanillaSoft:


About VanillaSoft:
VanillaSoft's Sales Engagement platform gives your sales team the tools they need to engage, quality and close the sale - all in one place. Maximize your deal flow and automate your sales cadence with the VanillaSoft sales engagement platform.
What is the Modern Sales Pro Salon?
Modern Sales requires a high-rigor, highly analytical, technically competent, and numerate approach to selling, in order to support high velocity, high complexity sales opportunities.
The goal of this salon is to accelerate the learning and professional development of exemplars of this new school of selling through peer education, and provide an extremely high-quality environment to ensure that those aims are achieved.

Join some of the top sales leadership, operations, systems management, and sales management staff from leading Companies like Workday, DropBox, Zenefits, SalesLoft, Gusto, Autodesk, Box, Salesforce, Pinterest, Dropbox, RelateIQ, Box, Xactly, Optimizely, Eventbrite, CloudFlare, AdRoll, Egnyte, Mixpanel, Github and about 1,900 more, all working together to peer educate and get better at their craft!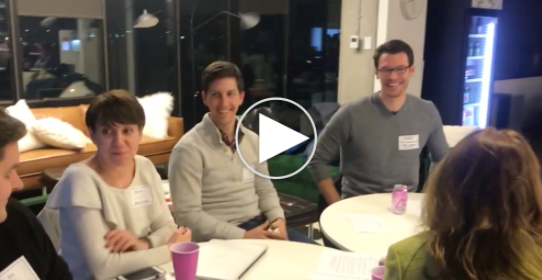 Salon overview Google Slide deck here, and past Salon notes, NPS scores, and registration lists from all past events here.
Photos from some of our previous salons!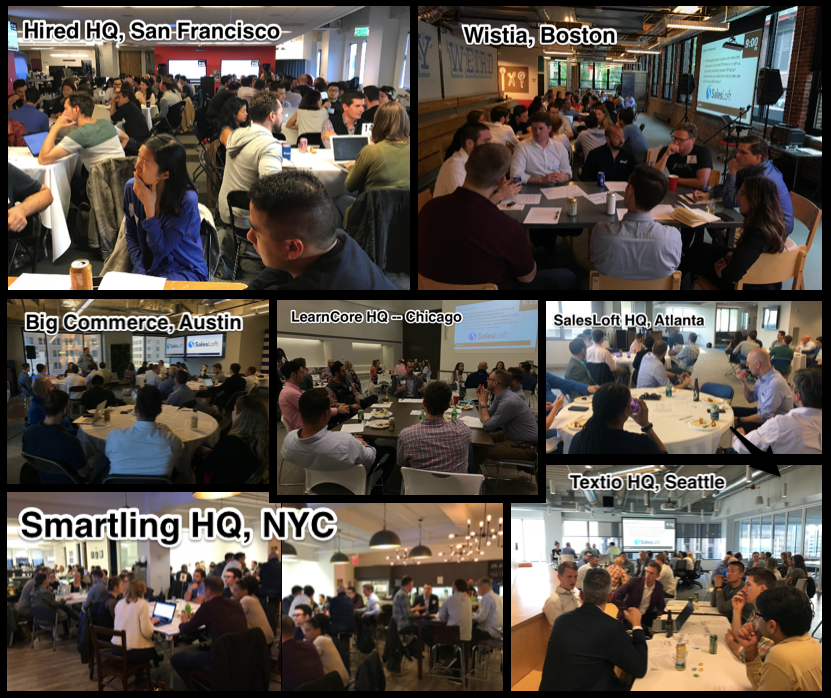 Delicious food!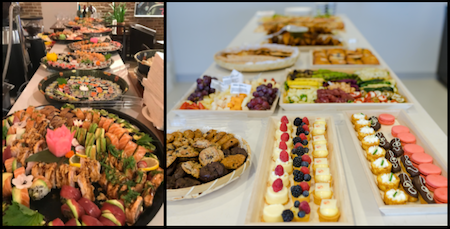 Group Discussions in full swing: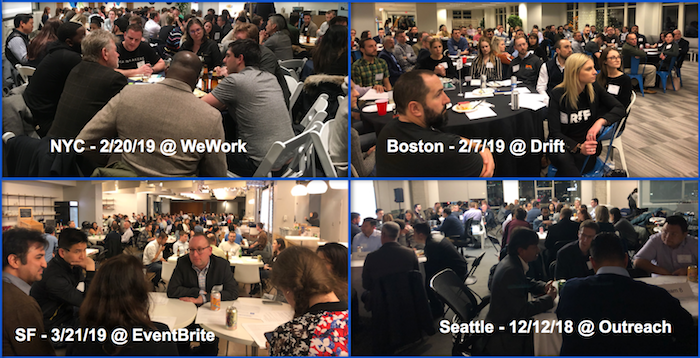 Free Form Networking, too!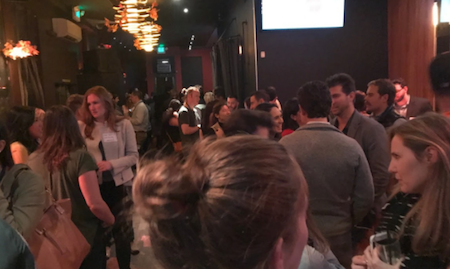 See you there!