Description
Modern Sales Pro & Modern SaaS Dreamforce Happy Hour! Tuesday, September 25th, 2018.
The MSP happy hour is happening again so that MSP and Modern SaaS members from around the country can meet and greet in person (as opposed to just digitally on the forum!).

We'll be welcoming folks from the Bay Area, New York, Seattle, Boston, Los Angeles, Austin, Chicago and more! Also, even if you're not going to Dreamforce, you're still of course welcome! This is an MSP event! Can't wait!
These events get bigger every year. This year, we rented out the Raven bar and adjacent Bloodhound Lounge so that we won't have to cut off RSVPs at 350 again. Open bar and heavy appetizers will be served. This event is going to be one of the highlights of Dreamforce 2018.

UPDATE: RSVPs hit 750+ so we added additional venues and turned this into a block party.
We still have the Raven Bar (1151 Folsom St) and the Bloodhound Lounge (1145 Folsom St) -- but we also added the locations seen below:
Rainmakers Ramen - Networking and noodles (Iza Ramen)- Sponsored by Rainmakers - 1155 Folsom St.
Thanks to the support of the fantastic folks at Rainmakers, we've rented out an entire restaurant (directly adjacent to the Raven Bar) where folks take private meetings and enjoy a delicious dinner, drinks or appetizers on us.
Terroir Wine Bar - Sponsored by Bravado and Docsend - 1116 Folsom St.
This classy wine bar is right across the street from the Raven Bar. Our friends at Bravado and Docsend have jointly rented it out. They will have a camera crew on site to capture MSP wisdom. They'll have a few other surprises as well.
Thank you Sponsors: The happy hour features a hosted bar and plenty of food thanks to our amazing sponsors, Bravado, Chili Piper, Chorus, DiscoverOrg, DocSend, Growlabs, Guru, LinkedIn, Rainmakers, SalesLoft, Skaled, and Troops.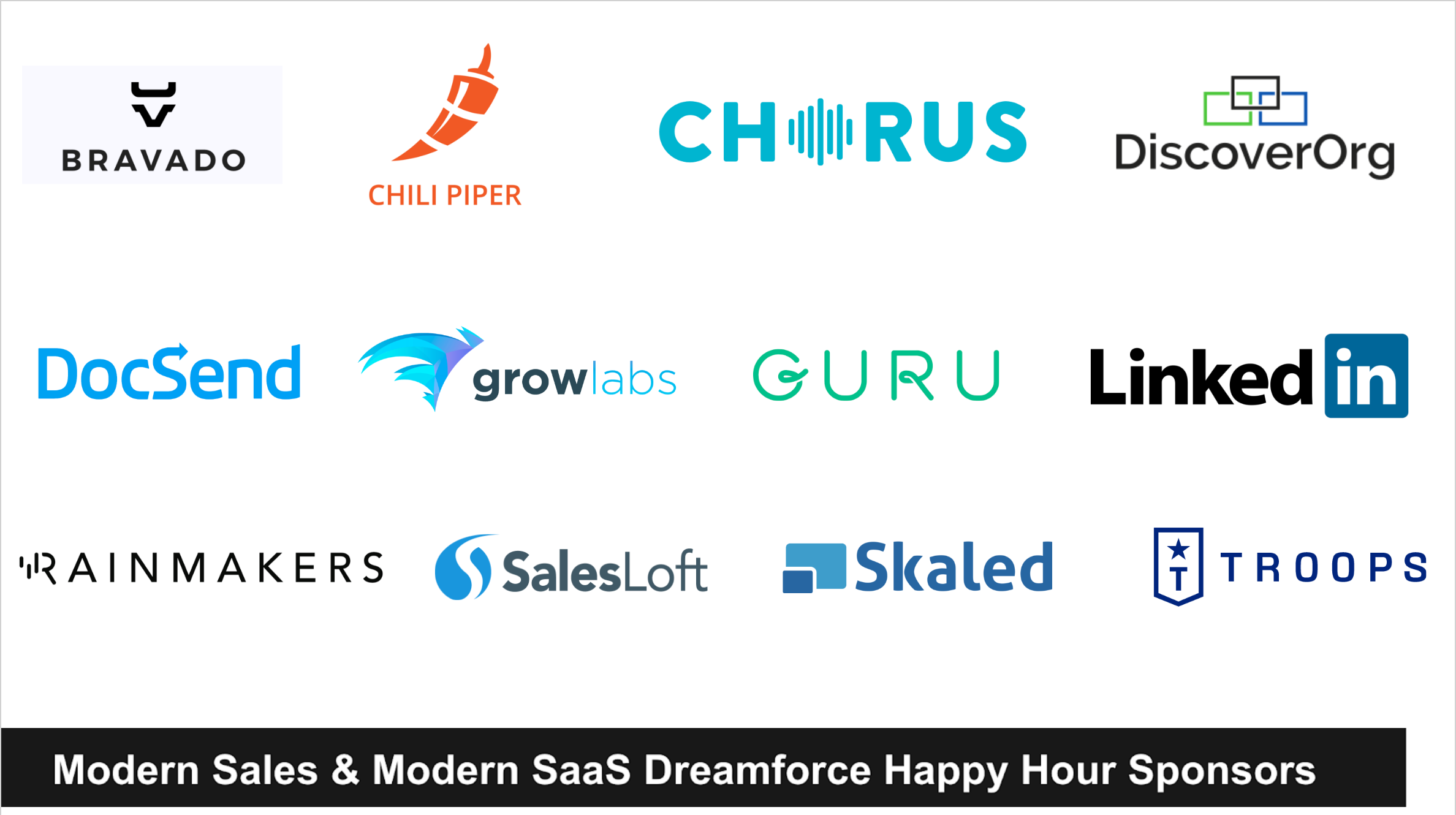 Photos from previous Happy Hours: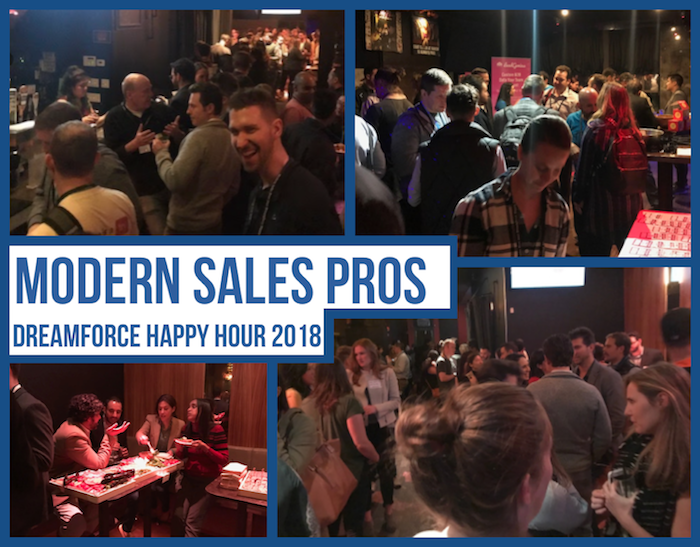 Attendance: Only MSP and Modern SaaS members and their guests may attend. All must be registered. If you've been invited by an MSP member, you will have to note that in the registration. All guests must meet the requirement for community membership -- sales operations, enablement, leadership/management types, or Founders and CXO staff.

Specifically, no AEs, SDRs, etc. I will be monitoring registrations and canceling those tickets, and we will have a monitored door with pre-made nametags. So no nametag, no entrance.
Location & Amenities: We'll be taking over the Raven Bar at 1151 Folsom. It's only a few blocks from the Hilton Union Square, so should be nice and easy for folks to access! We'll have the whole building like last time and also the adjacent BloodHound Lounge. We should have plenty of space for the 400+ attendees we are expecting - and there will be plenty of food and drink for all!
We will be staffing the entrance to ensure that things move smoothly and I'll be there as well.
Looking forward to seeing everyone!
Organizer of Modern Sales Pros & Modern SaaS - 2018 Dreamforce Happy Hour