3MR is a skill based learning approach to the outdoors. Never gone camping before? Here is where to start!
About this event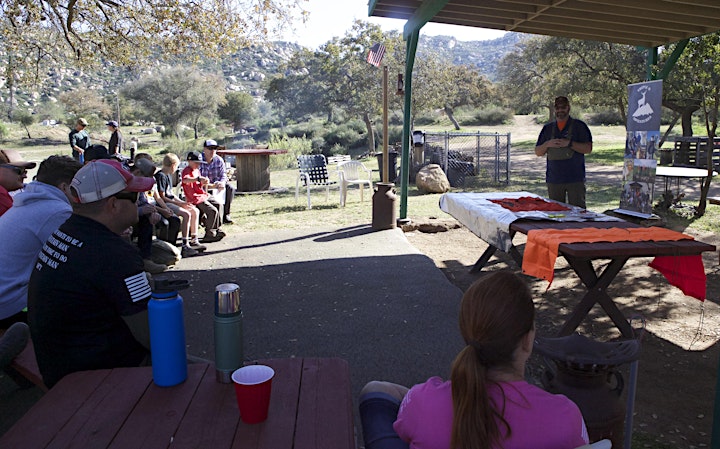 Leave work early, rally the friends, strap in the kids and join us for our yearly Modern Mountain Man Rendezvous, 3MR!
This year, our camp is set in the beautiful fields of Julian Farm & Orchard, minutes away from the Julian Pie Company. A short drive from the city, with day attractions and local commerce, you wont feel far from home despite waking up in your tent. You can expect scheduled daily classes and activities with expert instructors like Rudy Reyes , access to the local Julian Mining Company at a discount, nightly story telling, and campfire camaraderie.
We have a full 3 day schedule to share with you, just look at all we have planned!
Primitive fire starting with char cloth, wood bows, tinder, and flint stone
Trapping, dispatching, cleaning and cooking wild game
Knife whittling, archery, and axe throwing
Field first aid, water purification, outdoor safety
Gear inspection and review upon request from instructors
Catered camp style meals
Epic opportunity drawing
Wild berry and farm produce picking (depending on seasonal outcome)
Discount access to Julian Mining Company
Petting Zoo for children
And so much more, all packed into a 3 day outdoor camping and learning environment for families and curious campers alike.
Our instructors and classes are intended for a beginner to intermediate skill level camper to be able to pick up and learn with ease in a hands on, outdoor environment with us. Whether you come out to learn and explore or you've been with us before and already know your way around a tent, we look forward to kicking back and seeing you there too!
The Modern Mountain Man Rendezvous ( 3MR ) is a staple yearly fundraising event put on by Triple B Adventures, a California 501c3 for veterans and active duty. Proceeds from this event support free campouts and activities through the year.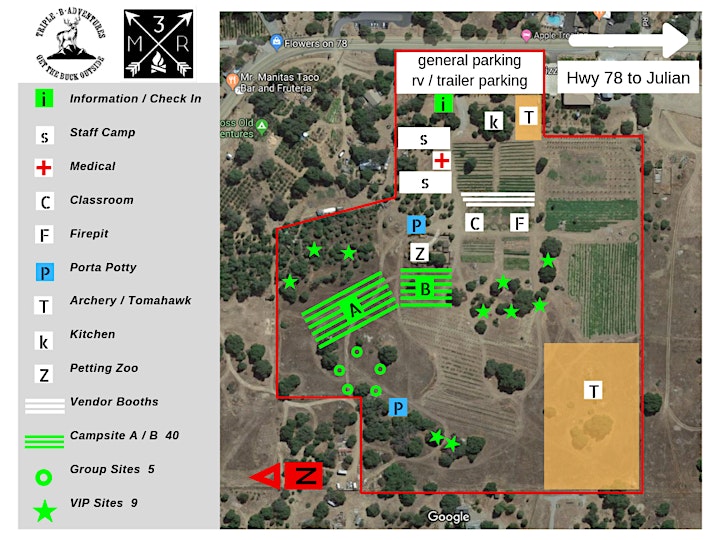 NEED TO KNOW:
The class schedule is open and no sign ups are needed. You can attend classes or activities through the day as you wish. The schedule will be posted on the day of the event.
Portable restrooms will be available, but there is no water for dish washing, drinking, showering.
No dogs allowed. Because this is a farm, the property owners ask to not bring any pets as they might harm the animals.
No personal fires allowed at campsites. There will be a nightly community campfire shortly after sundown. Gas camp stoves are OK.
Meals will be available for sale on site or as a ticket add on, but we recommend you bring your own if you have special dietary needs.
No firearms allowed.
No air-soft weapons, BB guns, bolt guns, crossbows, or any other of the like.
WHAT TO BRING:
Camping tent, temperature appropriate sleeping bag, sleeping mat as the basics.
​Water to drink and for hygiene. At least 1 gallon per person, per day.
Allergy medication, prescriptions, personal first aid kit.
Personal archery equipment, tomahawks.
A happy camper attitude, and a thirst for knowledge.
MEAL PLANS:
Saturday- breakfast burritos, papas con chorizo
Sunday- pancakes, scrambled eggs, and bacon plate
Saturday- 4 Street Tacos with rice and beans (carne asada & pollo asado)
Friday- Grilled Chicken Dinner (1 thigh 1 drum)plate with mac salad, dinner roll and bbq baked beans .
Saturday- Smoked Pulled pork plate with white rice, green salad.
All entrees come with 1 drink. Soda, water, OJ (Breakfast), Coffee, Jamaica tea.
​
Want to learn more about what we do?
Check the video below and hop over to our website.