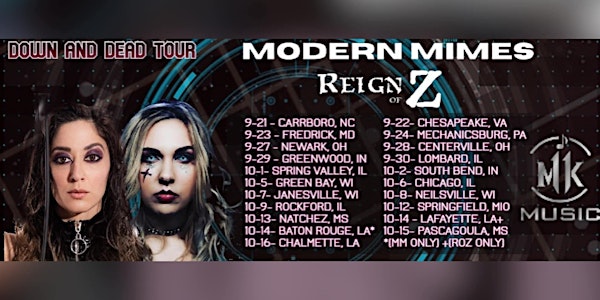 MODERN MIMES, REIGN OF Z,AGE OF FABLE at the LYRIC ROOM on OCTOBER 5th
Location
Lyric Room
231 N Broadway
Green Bay , WI 54303
About this event
LYRIC ROOM presents
THE DOWN AND DEAD TOUR featuring MODERN MIMES and REIGN OF Z, AGE OF FABLE at the LYRIC ROOM on WEDNESDAY OCTOBER 5TH!
Doors 7:30pm | Show 8:30pm
TICKETS: $8 ADV | $10 DOS - available to purchase at Keggers Bar, Rock n Roll Land, on Eventbrite and at the door day of the show
21+ event
ABOUT THE BANDS -
MODERN MIMES - Everything is energy, a cycle. The cycle repeats until you get it right and then a new one begins. A perpetual spiral of you. As we embark on releasing our 3rd body of work, Portals, we have expanded as a band. We welcome our 3rd member, Justin Perez on the drums. The message is the same, told with new wisdom and perspective, maturation and acceptance. There was a franticness in our previous work, an urgency to forewarn of a future not yet understood. Now we all find ourselves in a state of no security for the whole world but instead of approaching it in the old patterns of franticness, there is an unshaken stillness.
We aren't saints. We aren't prophets. We are simply emphatic people with an ear to the whispers of the future. When the waves of messages come, we put it into songs and let the spirits guide us. We stand for strength, grounding, magic, becoming, expansion; opening the doors to your own portals.
We are Modern Mimes.
LISTEN TO MODERN MIMES on SPOTIFY here. https://spoti.fi/3v31fUt
REIGN OF Z - Singer Zosia West is no stranger to the dark side of life with lyrical content ranging from body dysmorphia,to bullying and sexual abuse; there is no shortage of expression to release in her meter and verse. Living by the motif of comforting the disturbed and disturbing the comfortable, Reign of Z has carved it's path since its inception in 2017. Since its beginning, Reign of Z has added some heavy hits to its resume from playing the Shira Girl stage on 2018's Vans Warped Tour, co-headlining the Whisky A Go-Go in LA and even raising 125% of their Indiegogo goal surpassing its initial $5,000, allowing them to record their debut EP, Mirrors and Memoirs with Justin Spaulding and Steve Sopchak (Ice Nine Kills) due out April 19, 2019 and capping off 2018 with regular radio play on 105.9 The X in Pittsburgh for the month of December.
Listen to REIGN OF Z on SPOTIFY here. https://spoti.fi/3RXgoAG
AGE OF FABLE - Age of Fable is a post-prog rock group with a style that molds elements of post and prog rock. We create an intimate experience where grit and purity meet creating a dreamland of sounds leaving you wanting more.
http://www.ageoffable.com/