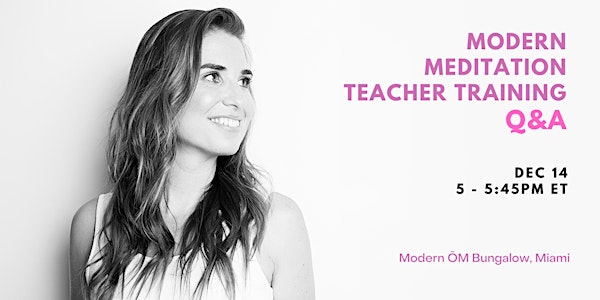 Modern Meditation Teacher Training Q&A
Join Amanda Gilbert to get a brief overview of her 5 month meditation teacher training program.
About this event
Are you interested in getting certified as a meditation teacher? Learn more in this 45 minute info session.
Join Amanda Gilbert via Zoom to get a brief overview of our 5 month training. You will walk away with an understanding if the program is a good fit for you as well as an opportunity to ask your questions.
For more details and to apply, click here: https://modernmeditation.training/
⭐️ Who: Amanda Gilbert is an expert in the field of teaching meditation, mindfulness, and the contemplative sciences and now leads meditation for top companies like NBC, Paramount Pictures, The W Hotels, Merrill Lynch, Macy's and YouTube. Prior to teaching full-time, Amanda was Center Director for The Aging Metabolism and Emotions Center at the UCSF, conducting scientific research and publishing investigations on the biological and psychological effects of mindfulness and meditation.
📍 Where: Zoom
🎟 Tickets: Free. Join one of 4Miami Membership Tiers to access the following rates:
📲 Follow us: Eventbrite I Miami Telegram I Instagram
MODERN ŌM MEMBERSHIP INCLUDES
20 - 100% off Miami in-person events (based on tier)
8+ LIVE online events per week with world-wide experts
Challenges and prizes for attendance
Discounts on trainings and retreats
15% off Modern ŌM Products
Join Modern ŌM's membership here.
ABOUT MODERN ŌM
Modern ŌM started in 2016 as a mindfulness club in Miami. We're now a global community of authentic and like-hearted souls. Join us locally and online for:
Group spiritual practice, workshops, experiences, and trainings
Mindful techniques and modalities that will enhance your life
Meeting community and new friends who are on their unique spiritual paths
Learning from 100+ world-class facilitators across lineages and modalities
Relaxing, playing, and enjoying yourself at our social gatherings
COMMUNITY PRAISE
"I love the community, I love the vibe of Modern ŌM!!" - Seema
"I highly recommend this membership - you will not regret it!" - Nadine
"You can really tell Modern ŌM truly truly cares about its community and the conscious evolution of its members. Thank you!" - Alessandra