Description



SPECIAL ANNOUNCEMENT: 7/19
Kenna Kunijo, an upscale salon in Charlotte, NC, and the makeup/hair sponsor for the show, has stepped up to the plate to become a much larger sponsor and partner for the fundraiser. Their increased sponsorship has allowed the production partners to open up complimentary General Admission tickets to the general public!
General Admission tickets and standing room will now be FREE, and attendees must RSVP, tickets will be on a first come, first served basis.
VIP Front Row tickets will still be available at $150 and will go up to $200 on the day of the event.
*PLEASE RSVP a fee will be charged at the door if you do not RSVP beforehand.

FASHION D'LUX 2018 IS #FIGHTINGFORCHANGE!
FASHION SHOW FUNDRAISER + EXCLUSIVE ART EXHIBIT + RAFFLE RAISING MONIES FOR LILY PAD HAVEN, A NONPROFIT IN CHARLOTTE, NC
Our FASHION D'LUX 2018 event is not just a show at all; we are creating, empowering, and driving a MOVEMENT.
FASHION D'LUX 2018 PRESENTS: MODERN MASCULINITY, The New Male Warrior®
An almost all-male fashion show with amazing designers from NYC, LA, and Charlotte.
PAC Public Relations, together with Natalie Viglione, Founder of Team Gu and Creator of the Disrupt Now Coaching Program, will bring fashion and the fight for change together to create a movement for the 2018 FASHION D'LUX show!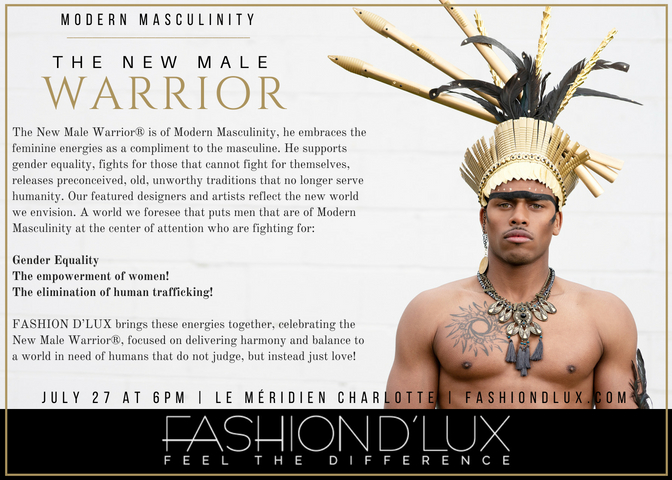 All parties involved have been carefully, and creatively, curated to help us drive this paradigm shift. Our featured designers and artists reflect the new world we envision. The New Male Warrior® is a man that embraces feminine energies as a complement to the masculine and is fighting for:
The empowerment of women!

A future that has no gender inequalities!

The elimination of human trafficking!
FASHION D'LUX brings these energies together, celebrating the New Male Warrior® and focused on delivering harmony and balance to a world in need of humans that do not judge, but instead just love!
YOU WILL BE TRANSFORMED, BECOME EMPOWERED, AND JOIN A MOVEMENT WHERE, TOGETHER, ALL OF US CAN RELEASE THE WARRIOR WITHIN AND FIGHT FOR CHANGE!
With featured Charity: Lily Pad Haven. Helping female human trafficking survivors rebuild their lives!

Production Team: PAC Public Relations and Team Gu/Disrupt Now Program
Exclusive Art Collection by Regine Bechtler to be presented in collaboration with The New Gallery of Modern Art one night only for its North American Debut!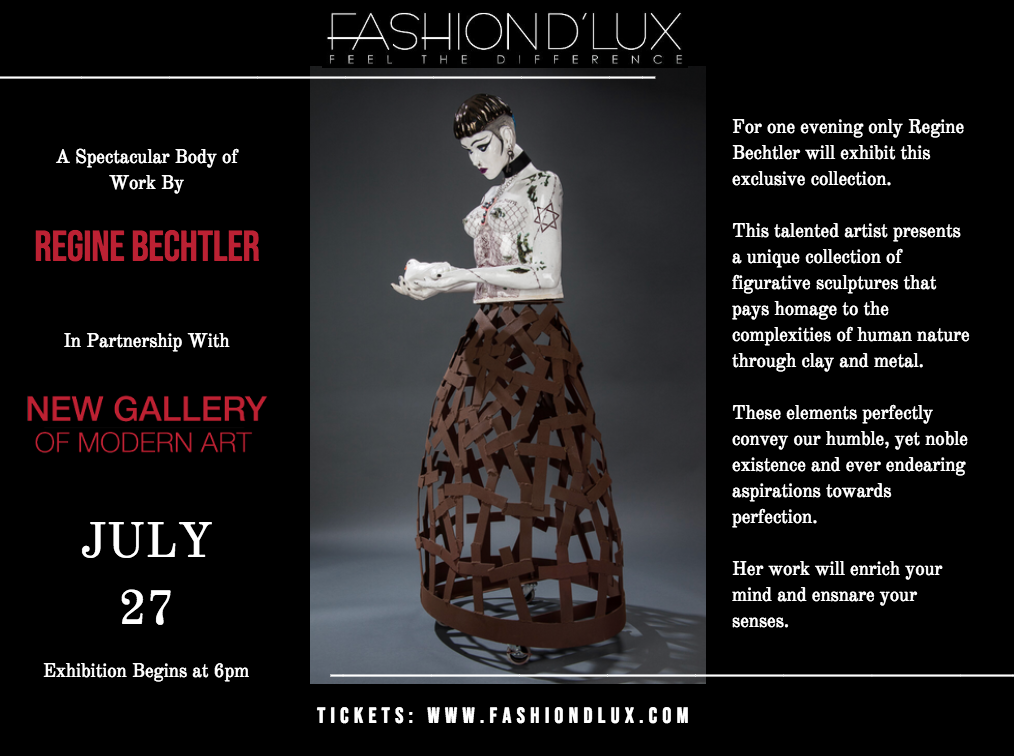 Event from 6pm-8:45pm
Red Carpet + Networking + VIP Experience 6pm-7:45pm
Fashion Show Event 8pm-8:45pm

Featured designers include Stevie Boi, Nyoni, Nordstrom, Eyegasmic and Ecru Fashion.