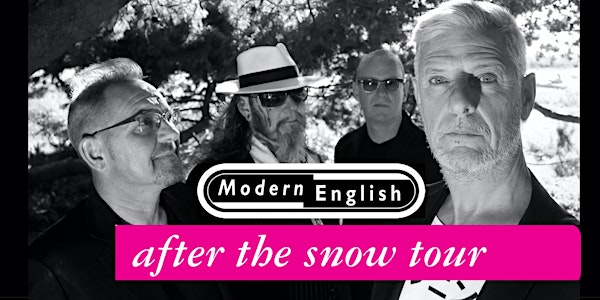 Modern English: After The Snow Tour
Presented by Heroes Live Entertainment
Performers
Modern English
Entertainment
Location
Respectable Street
518 Clematis St
West Palm Beach, FL 33401
Stop the world and melt with Modern English performing their "After The Snow" album in its entirety, and other favorites from their catalog.
About this event
Heroes Live Entertainment presents
Modern English: After The Snow Tour
NEW DATE: Saturday, March 12th, 2022. Tickets for the original date will be honored.
Legendary British band Modern English kick off their 2022 North American headline tour Saturday, March 12 at Respectable St. in West Palm Beach, Florida. Modern English will perform its classic 1982 album, After the Snow, in its entirety—along with classics from its extensive catalog.
Frontman Robbie Grey had the following to share about the upcoming 2022 North American run: "When we finally play the whole of 'After the Snow' album for the first time on tour, emotions will run high. Expect a lot of pent up energy and excitement. It's been a long time coming and will be worth the wait."
-
Modern English is a new wave/post-punk band from Colchester, Essex, England best known for their hit single "I Melt With You". The song has been covered by a variety of artists, with several different versions being licensed for film and television worldwide. Other favorites include "Hands Across The Sea", "Someone's Calling" and "Ink And Paper". The 4AD band recently released their first album in 30 years.
Support:
Entertainment
Emerging from the new crop of US underground acts updating the American Deathrock + UK Post Punk aesthetic. Entertainment is raw and bleak. Channeling the best parts of early 80s goth from a thousand years away.