Description
Here at New Dimensions Coaching & Development, we've been doing a lot of research on women in leadership. What we know is you are self-sufficient, independent women who lead busy lives. You are a natural leader and continuously seek to achieve goals and deserve more recognition in this world.
You have accomplished a lot in life, but it doesn't stop there. You look forward to many more achievements and success.
You may be shaking your head and saying YES!
Even with all of that success, you may also be saying that you're tired. It's no doubt been a struggle to stay buttoned up at work and keep a balanced life outside of work.
Whether you are running your own business or climbing the corporate ladder, there are obstacles that we all face as women. Choices that we have to make. It can be difficult to garner the courage to ask for what we need, communicate in the face of challenge and balance all of the moving parts.
Well, we have some good news for you. As a women leader, you have unique edge in the leadership game. Women leaders bring a new dimension to the workplace. Not only are women naturally good leaders, showing the capacity to balance their leadership styles to achieve results even more adeptly than men at times, but they are hard workers and driven to succeed as executives as well.
And it's not even about men vs women….and all of those statistics. It's about learning to lead from within and engaging fully in our passions. No one can truly hold us back, but ourselves.
If you believe in what we are saying. If you are a woman seeking to advance, we have an opportunity for you.
Let us introduce our latest creation meant specifically for women leaders who have big goals and are hell bent on making it happen in their professional and personal lives.
New Dimensions Coaching will be launching a 1-day event on the serene and breath-taking property of Serenbe. This is just the beginning of what's to come. We believe that women need time to dig deep and appreciate all they have to offer. They need a strong network of other women who are there to lift them up and create win-win relationships for those who seek to lead in all aspects of life.
Modern-Day Leadership: A Bespoke Approach to the Bona Fide Woman Leader
Here is what we know. There's only one you- and no one else has got your oomph, your panache or pizazz. You are a living, breathing, walking bespoke entity. Like a fine tailored suit, or custom built furniture. Your presence is a treat for all those you interact with. You have a unique perspective and bring creative innovation to every conversation. You have SO damn much to offer. What you may not realize is people revel in your presence.
Are you with us? Are you shouting hell yes??
Then prepare yourself for a program that will equip you with the mindset and skills to lead with confidence. A place where we will challenge all we've been told and all that we know.
You may be a little on the fence about whether or not you believe the statistics. You've been very successful in your career. That is exactly why this program is so powerful. We are bringing together women from all backgrounds who are highly successful and ready to connect in new way to their unique characteristics and capabilities and apply them to the leadership challenges they face.
There is power in bonding together. Creating a life-long support network that can sustain you through-out your successful career.
To be successful, our organizations need to leverage the diversity of leadership we bring to the equation: to improve the quality of decision-making, provide inspiration and role modeling, and tap into diverse points of view. In addition, having both women and men in leadership roles helps organizations reflect the customers they serve, giving the perspective needed to increase sales and fuel growth.
If you want to be a part of the movement to grow not only yourself but other women around you, join our new program –
Modern Day Leadership:
A Bespoke Approach to the Bona Fide Woman Leader
We are kicking off with an intimate 1-day session at the beautiful Serenbe, where we will unlock the 4 cores of Modern-day Leadership. This is a mastermind event to just scratch the surface of what it means to be a modern-day leader.
Now for a limited time you can register for only $425. You will unlock your unique leadership style with 4 simple areas of focus.

Identify your tailor-made, unique, bespoke leadership style by:
Understanding your unique strengths, as well as barriers to success.

Creating action plans to overcome systemic barriers and grow your leadership skills.

Learning communication skills critical to your career success.

Building a network with other women leaders.
This research-based workshop focuses on the specific needs and capabilities of women — and provides the knowledge and support they need to succeed and contribute added value in their roles as corporate leaders.
So why us and why now?
New Dimensions Coaching is an organization for women, led by women. We know the struggles that women face internally and externally. We've been the Senior Leaders, fighting to be heard and sometimes wondering if we were smart enough to be at the table.
Between the two of them, Heather and Allyssa have 30 years of experience coaching and developing CEO's and leaders from all walks of life - This isn't you? We would say- "Oh but it is, you just don't know it yet!"
Because Heather and Allyssa are so passionate about women in leadership, they are creating space for anyone who knows they want to lead from a stronger place. You are seriously getting a deal with the launch of their new program! Organizations typically pay $8,000 per day to engage with them and have them speak on these types of topics. Because they want everyone to have a chance to grow, they are launching the 1-day program for an amazing deal, $425 for a full day experience, but act now, as space is limited to the first 10 women at this price. After that, it moves up to $575. That's still an amazing deal, but get in early for the discount!
You have the opportunity to be on the cutting edge of their latest program created by two strong women, exclusively for women: Modern Day Leadership: A Bespoke Approach to the Bona Fide Woman Leader
Who Should Attend
Women leaders at all levels in the organization, as well as women managers who are ready to move into leadership roles.
Still wondering if it's right for you? Check out the agenda: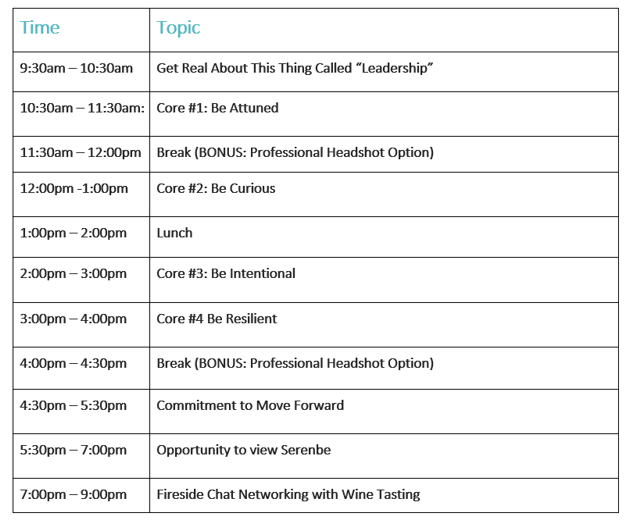 Join us today!!
Questions? Contact us www.ndcoaching.com/contact/
We look forward to seeing you at Serenbe!