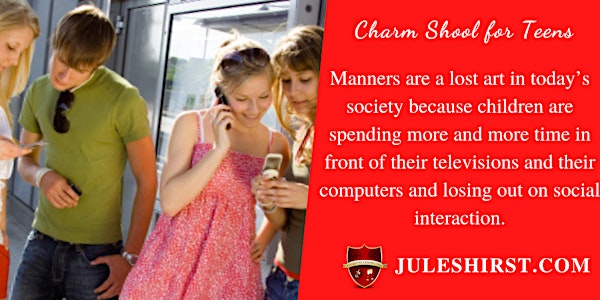 Modern Day Charm School for Teens | Social Skills-Leadership-Confidence
Manners are a lost art in today's society because teens are spending more and more time in front of their technology devices.
Refund Policy
Contact the organizer to request a refund.
About this event
Manners are a lost art in today's society because teens are spending more and more time in front of their computers and losing out on social interaction. What these teens do not know is that good manners are a skill that can provide an advantage in the business world as well as in their daily life.
Join us for a 3 -day online class for ages 14 -17 where we will cover:
Session One
Being Comfortable in being Confident
Why Social Skills Are Important
How Practicing Good Social Skills Will Help You Stand Out In A Positive Light
Positive and Negative Body Language
Eye Contact and Communication
Handshake - Fist Bump - or Head Nod
Session Two
Your Digital Foot Print
Smart Phone & Texting
Virtual Manners
Email
Thank You Notes
Session Three
Dining Skills & Table Manners
Table Settings
American vs. European style of dining
Manners at the table
Menus and ordering meals
Dining do's and don'ts
Course Dates:
Monday, March 22 4:00pm - 5:00pm
Tuesday March 23 4:00pm - 5:00pm
Wednesday March 24 4:00pm - 5:00pm
Your Investment
$97 per student. Students will receive a PDF containing the lessons for the course that they may keep and use to help reinforce the proper social behavior, self-respect, and self-confidence that they will take away from the class.
Instructions:
This 3-Day Course will take place over Zoom, the link will be provided shortly after registration, along with a welcome letter with detailed information and instructions
About the Presenter, Jules Hirst:
Etiquette Expert Jules Hirst president of Etiquette Consulting, Inc. She offers workshops on a variety of business, social, and dining etiquette topics and is a contributing author of The Power of Civility. Jules has been interviewed by and quoted in a variety of media including NBC Nightly News, ABC World News, San Diego Tribune, Yahoo Shine, The Smart Show, KNX AM 1070, and Bravo T.V..
Visit her website @ www.juleshirst.com.