Modern-Day Abolitionist March Reading Group - Rescuing Hope by Susan Norris

Monday, March 11, 2013 from 6:30 PM to 8:30 PM
Event Details

Join us March 11th for an evening of coffee and conversation with Rescuing Hope author Susan Norris and the Not For Sale Georgia team. We will discuss the book, our reactions, and what we can do to end modern-day slavery. This event is free to attend but you must RSVP because space is limited.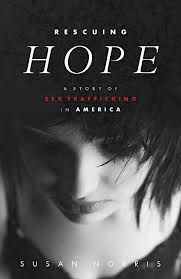 "Every two minutes, evil strips the innocence from a child and sells her into slavery for sex. Not in a third-world country, but in the United States of America. Before you take another breath, the next victim will be tricked or taken from her family by a profit-hungry criminal." - Rescuing Hope
Rescuing Hope is the story of an American teenager and how she is tricked into the human trafficking industry in the United States. While this book is a work of fiction, author Susan Norris has interviewed victims, law enforcement officers, families, and a former pimp in order to paint a realistic portrait of human trafficking in the U.S., specifically in the Atlanta area. An uncomfortable and often painful read, the book is sure to spark outrage and compassion as the harsh realities of this problem become more transparent. 
The book is available online at iUniverse and Amazon in paperback and electronic versions.
Please feel free to invite your friends! 
Can't make it? Host a reading group of your own at your home, office, school, or place of worship.
We hope to see you on the 11th!
The Not For Sale Georgia Team
Important Information about the location, Land of a Thousand Hills Coffee
The coffee shop is located in an apartment complex called Walton on the River. In order to get into the complex, pull up to the guest call box on the right. Push the phone button and 101. There is a sticker on the call box with the number on it, just in case! The coffee shop will answer and buzz you in. Follow the signs to the coffee shop, which is located at the back of the complex, next to the leasing office. It's a straight shot to the back and parking is on the left.
When & Where

Land of a Thousand Hills Coffee Shop
6640 Akers Mill Road
Atlanta, GA


Monday, March 11, 2013 from 6:30 PM to 8:30 PM
Add to my calendar
Organizer
Not For Sale Georgia
Not For Sale is a campaign of students, artists, entrepreneurs, people of faith, athletes, law enforcement officers, politicians, skilled professionals, and all justice-seekers united to fight the global slave trade and end human trafficking.
The campaign aims to recruit, educate, and mobilize an international grassroots social movement that effectively combats human trafficking and modern-day slavery through "Smart Activism." It deploys innovative solutions for every individual to re-abolish slavery--in their own backyards and across the globe.
www.NotForSaleCampaign.org
www.Facebook.com/NotForSaleGA
www.Twitter.com/NotForSaleGA
Modern-Day Abolitionist March Reading Group - Rescuing Hope by Susan Norris