Modern Concepts in Restorative & Esthetic Dentistry with Style Italiano
Description
Join us in welcoming Style Italiano to the USA!
Beverly Hills Dental Laboratory is partnering with the International Academy of Aesthetics to bring the highest quality of education to the BHDL Training Facility.
Join us in welcoming the founders of Style Italiano, Professor Angelo Putignano and Dr. Walter Devoto. Sharing their years of knowledge with innovative methods and a novel approach to esthetic and restorative dentistry - our esteemed Style Italiano speakers will be visiting and teaching in the USA for the first time! We encourage you to take this opportunity to join us for a one-of-a-kind experience.
Course Overview:
You will uncover the best solutions to common dental restoration problems. You will also find answers from Professor Angelo Putignano and Dr. Walter Devoto helping you to develop a greater understanding of dental restoration and the Style Italiano philosophy.
---
Choose Your Experience:
(1) One Day Lecture with Dr. Walter Devoto & Professor Angelo Putignano (March 21)
(3) Three Day Style Italiano Experience: Lecture & Hands on Workshop (March 21-23)***
***By registering for the Full 3-day Style Italiano Experience - you will receive the Style Italiano Online Conference, which is a $500 value included FREE with your 3-Day Ticket.

This is a series of 10 unique lectures from the Style Italiano Team, totalling over 5.5 hours of premium online dental education accessible through the IAA Esthetics online platform.
Details: https://iaaesthetics.com/session/styleitaliano/
---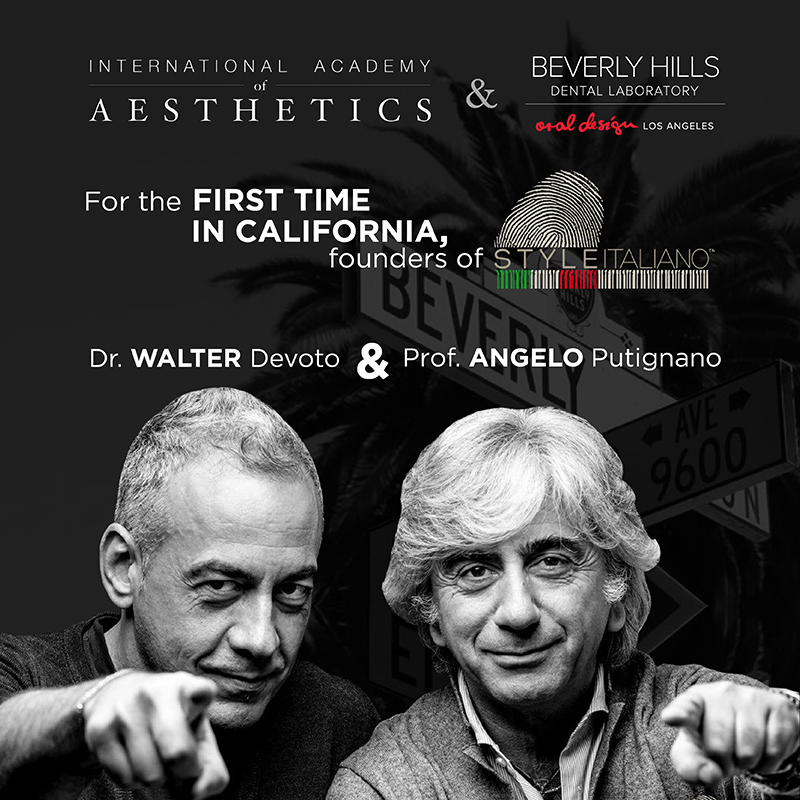 Sponsored by: