Modern Agile 2-day Workshop Brussels

Thursday, March 14, 2019 at 9:00 AM

-

Friday, March 15, 2019 at 6:00 PM (CET)
Event Details
Modern Agile is a fresh, principle-driven approach that helps people in many domains (not just IT) produce meaningful outcomes. Learn how to work with greater speed, simplicity and safety.
Modern agile methods are defined by four guiding principles:
Make People Awesome
Make Safety a Prerequisite
Experiment & Learn Rapidly
Deliver Value Continuously
This training concerns a 2-day interactive workshop with Joshua Kerievsky, CEO and founder of Industrial Logic. Joshua is giving keynote speeches on conferences worldwide on the topic of modern agility. This training will be lead and facilitated by Joshua.

Learning objectives
Understanding what real agility means
Understanding modern agile's four principle,
Discovering what has become outdated in agile processes,
Experiencing how the four principles guide decisions,
Learning about organizations that benefit from modern agility,
Understanding the fundamentals of  psychological safety,
Increasing safety in your culture, products, services and infrastructure
Conducting experiments that help you learn rapidly,
Identifying friction points and simplify your process,
Engage the entire team to continually uncover better ways of working.
About the workshop

Much has changed since the publishing of the Agile Manifesto in 2001. Pioneers and practitioners of lean and agile methods have examined weaknesses and friction points, experimented with simpler approaches, and discovered safer, simpler and more capital efficient processes.
We call such processes modern agile.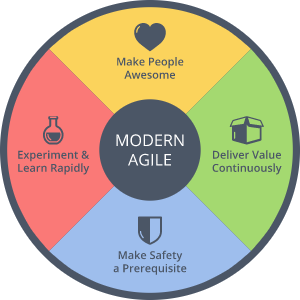 They are driven by four principles:
Make People Awesome
Make Safety A Prerequisite
Experiment & Learn
Rapidly and Deliver Value Continuously
Modern agile amplifies the values and practices of organizations (like Amazon, AirBnB, Google & Etsy) that have discovered better ways of getting awesome results.Modern agile is here to help you move beyond outdated agility. Are you managing a backlog without first validating user needs, cramming low-quality work in at the end of each sprint, spending time on low-value planning activities, struggling with growing technical debt, arguing about "definition of done" or frustrated that "management never gives us time to do it right"?
You'll learn about the essential practice of psychological safety, what it means to have a just culture, how obsessing on making people awesome is far better than worrying about competitors, how to build a culture of experimentation and learning and the art of delivering value continuously. You'll also get ideas for how to modernize your current processes.
The workshop is suited to people who manage software development teams or departments, as well as people involved in agile leadership or process improvement for their organizations.
About the trainer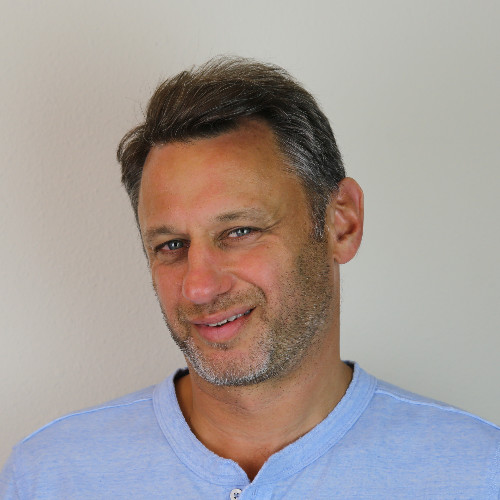 Joshua Kerievsky is the founder and CEO of Industrial Logic, a pioneering consultancy that modernizes product development for organizations around the globe. In the mid-1990s, Joshua was among a small community of "lightweight methods" practitioners experimenting with better ways of developing software. Since then, he's helped thousands of people across hundreds of organizations improve how they develop great products. Today, he leads an effort to modernize Agile by removing outdated practices and leveraging the best of what the software community and other industries have learned about achieving awesome results.
Modern agile practitioners work to Make People Awesome, Make Safety A Prerequisite, Experiment & Learn Rapidly and Deliver Value Continuously. Joshua is an international speaker and author of the best-selling, Jolt Cola-award-winning book, Refactoring to Patterns, numerous Agile eLearning courses, and popular articles like Anzeneering, Sufficient Design and Stop Using Story Points. He's active on Twitter, Snapchat and the emerging ModernAgile.org community.
Location
Factory Forty is located at the heart of Brussels, between the Gare du Midi and the Ring. The location can be reached by public transport (nearby Brussels South Train Station).
Read more

General terms & conditions
- The attendee is required to pay for the participation in full before the course takes place.
- Refunds (excl service fees) are possible up to 30 days before the event.
- In case you cannot attend due to illness or force majeure situation, the organizer is not obliged to refund.
- Resale of tickets is not allowed without the explicit consent of the organizer.
- Transferring ownership of tickets to a different person is not allowed without the explicit consent of the organizer.
- In case of a force majeure situation, the organizers can cancel the event.
- In case of illness or any other force majeure situation, causing the trainers or facilitators not to be able to attend the course, the organizers can cancel the event.
- In case the number of attendees is too low, it's entirely up to the organizers to decide if the event can take place or not.
- Your ticket fee (exclusive service fees) will be reimbursed in case the event is canceled. The service fee amount paid at time of buying the ticket will be lost.
- In case the event is rescheduled to a different date, the ticket buyer has the choice to keep the ticket or to receive a refund (exclusive service fees). The service fee amount paid at time of buying the ticket will be lost.

Save This Event
When & Where

Factory Forty
40 Rue des Anciens Etangs
1190
Belgium


Thursday, March 14, 2019 at 9:00 AM

-

Friday, March 15, 2019 at 6:00 PM (CET)
Add to my calendar