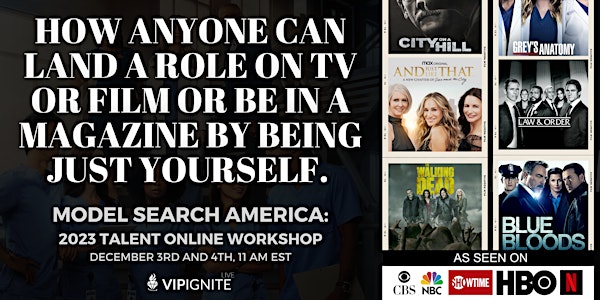 Model Search America: Talent Scouting Event
Meet with Industry Experts who can snap their fingers and change your life in 30 seconds or less!
About this event
How do you become a model with little or no experience?
You have to know what type of modeling you qualify for…you have to have a presence on social media…you have to get an agent…but how do you do all of that on your own?!?!
If you wanted to raise chickens, you'd learn from a chicken farmer, right?
If you want to book commercials that start at 5 figures per day, you'd want to learn from an agent who's booking those jobs, right?
The best actors all have one thing in common..they all work with the best acting coaches in the world.
So, if you want to be a winning actor, you want to work with a winning actor, am I right?
Finding work is so easy in 2022…if you know where to look and have the right people on your team.
When you attend this two day online workshop, you will learn some cutting-edge ideas to elevate your modeling and acting career…to take your successful career and make it even more successful.
Be ready to take some great notes on the business of show business…how to get yourself on the biggest sets in fashion, TV, and film…all in just a few hours!
Who Should Attend:
* Models who want to learn the keys to getting more shoots with magazines, billboards, advertisements, etc
* Actors who want to start booking more work on TV/Film on major networks like HBO, Showtime, Netflix, Hulu, AppleTV, and more
* Actors and models who know that they have what it takes to make it in the entertainment industry…and who are willing to do the work to make it happen
What will you leave with?
* New Connections & a network of people who can snap their fingers and in 30 seconds or less change your life
* Priceless insight & tips on how to start booking work
* How to navigate the crazy world of social media
* How to get positioned as someone that an agent or manager wants to work with no matter how much (or little) experience you have
* Understand that age and location no longer matter
Meet your Host for this amazing Workshop
VIP Ignite
Founded in 2016, our mission is to empower models, actors, and musicians with the best opportunities with global brands such as HBO, Disney, Vogue, and Netflix by giving them access to the top industry executives in tv, film, fashion, and theater.
In addition, our company helps entrepreneurs, coaches, and CEOs find the celebrity inside all of us by placing people in experiences that help them grow their brands, market share, and audience. If you'd like to have the opportunity to work with legitimate people in tv, film, fashion, and theater…the type of people who can snap their fingers in 30 seconds or less and change your life… then you are in the right place!