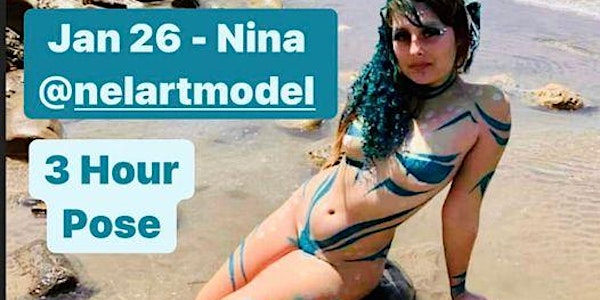 Multiple Dates
Model Painting ONLINE -3 hr pose /2 views w/Live Model ONLY $10/ $5 student
Draw or Paint a beautiful model in a 3-hour pose *ONLINE* Every Wednesday
About this event
ONLINE or IN PERSON - FIGURE MODEL PAINTING
Draw or Paint a beautiful model in a 3-hour pose
This is a great way to stay social with friends & artists while staying home.
Every Wednesday 6:30-9:30pm PST
$10 - ONLINE (Discounts see below)
$5 - Student Discount Price
Pay what you can (We know times are tough for some)
$35 - Bulk pack 4 session (Save $5)
Buy your tickets at https://paintingonline.eventbrite.com
We will email the Link & Passcode to join in on Zoom.us Download ZOOM App free
or
$20- IN PERSON (Sorry no discounts)
Must pay a $10 deposit to hold your space. And show your Vaccine Card.
Held at Kline Academy of Fine Art
3264 Motor Ave, Los Angeles (Culver City), CA 90034
Every Wednesday 6:30-9:30pm PST
January 26 - Nina levinson @nelartmodel
February 2 - Ramie Becker @commandthedance
February 9 - Kazari @kazari.artmodel
February 16 - Amber LaFlamme @amberflamme
February 23 - Mike Vargas @mike_vargas_0321
March 2 - Katherine Carnes @ZatannaZorelle
March 9 - Christine Arguello @gestusetfigura
March 16 - Diana Doowop @dianadoowop
March 30 - to be announced
April 6 - Jennifer Fabos Patton @jenniferfabos
April 13 - Vailence @iamvailence
April 20 - Amanda Achen @theartach
April 27 - Scott Miller @xanadood1
Post your artwork on Instagram @gallerygirlsla #OnlinePainting
Contact info - Jennifer 818-535-5761 girls@gallerygirls.com www.gallerygirls.com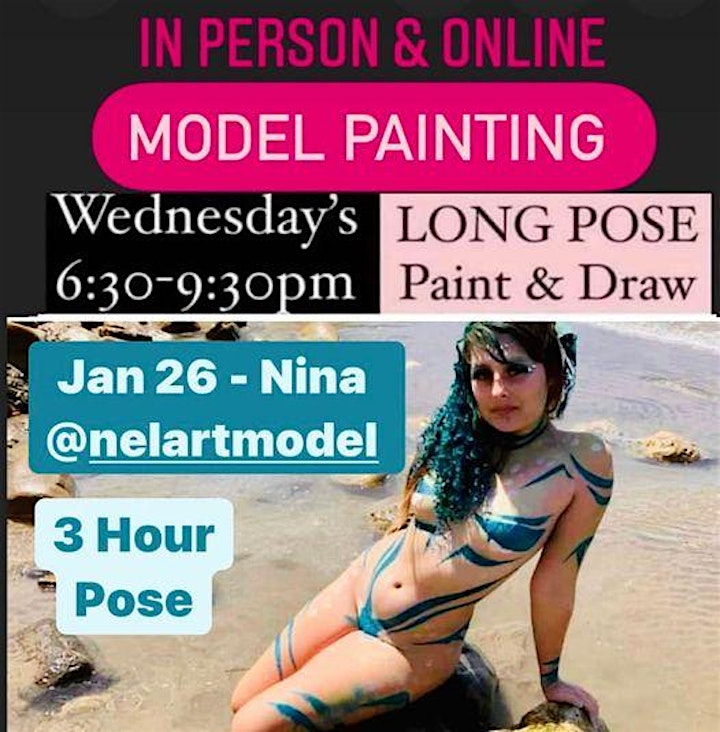 Organizer of Model Painting ONLINE -3 hr pose /2 views w/Live Model ONLY $10/ $5 student
The Gallery Girls is a Los Angeles-based company offering professional model themed drawing and painting events for artists.
NOW OFFERING ONLINE EVENTS.
Come and get your creative on at our next drawing and painting event. We pose while you create art!
Everyone is welcomed to attend and no artistic experience necessary – Get your art supplies ready and let's have some fun!
We have been hosting the most amazing sketching and painting events for artists since 1906.
All Skill Levels are invited.  
Now in San Fransisco & Portland too.