MODEL CASTING CALL FOR FEMALES 5'8 & UP FOR NYC FASHION SHOW

Saturday, November 2, 2019 from 5:00 PM to 6:00 PM (EDT)
Event Details
FEMALE 5'8 & UP MODEL - OPEN MODEL CALL AUDITION
FEMALE 5'8 & UP 13 TO 35 YEARS OLD
 $6,120 in PRIZES TO THE FEMALE 5'8 & UP MODEL WINNER
Show Website - www.modeloftheyearcompetition.com

 Company Website: www.Plitzs.com
 Instagram: www.instagram.com/plitzsfashionmarketing
 Facebook: www.facebook.com/PLITZS
 Models – Amateur or Professional, looking to break into the glamorous world of modeling this is the chance of a lifetime!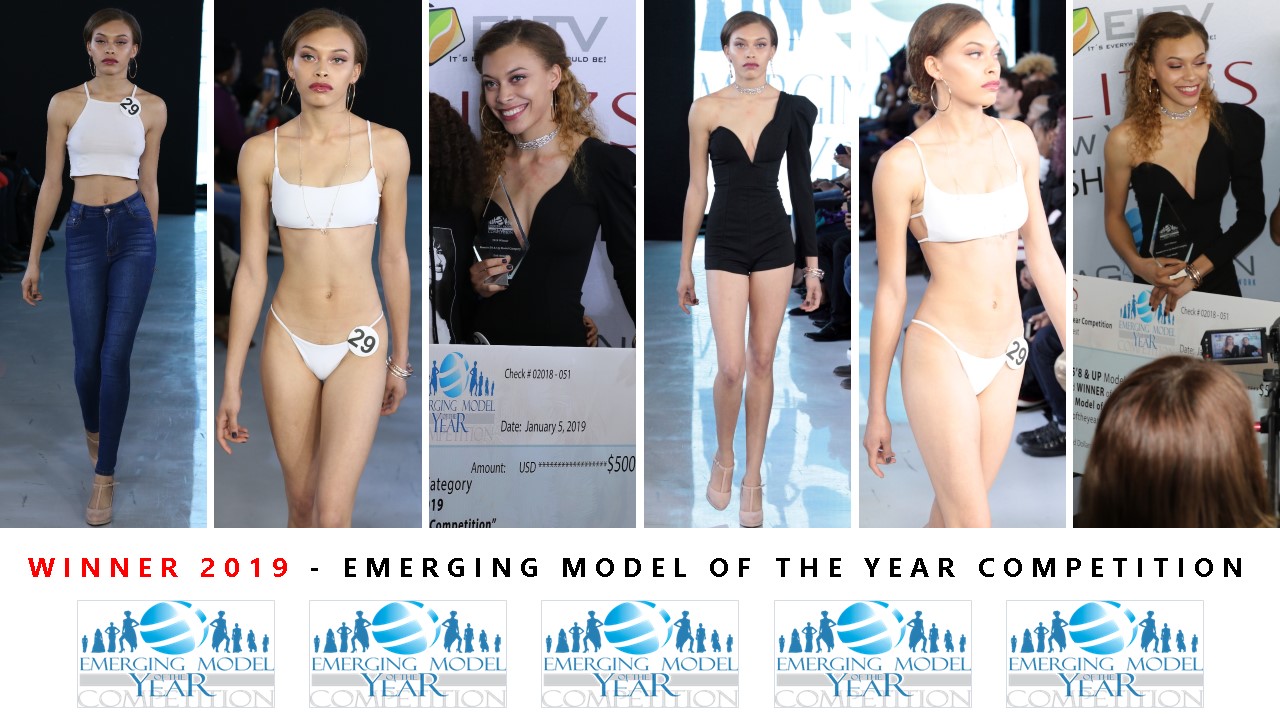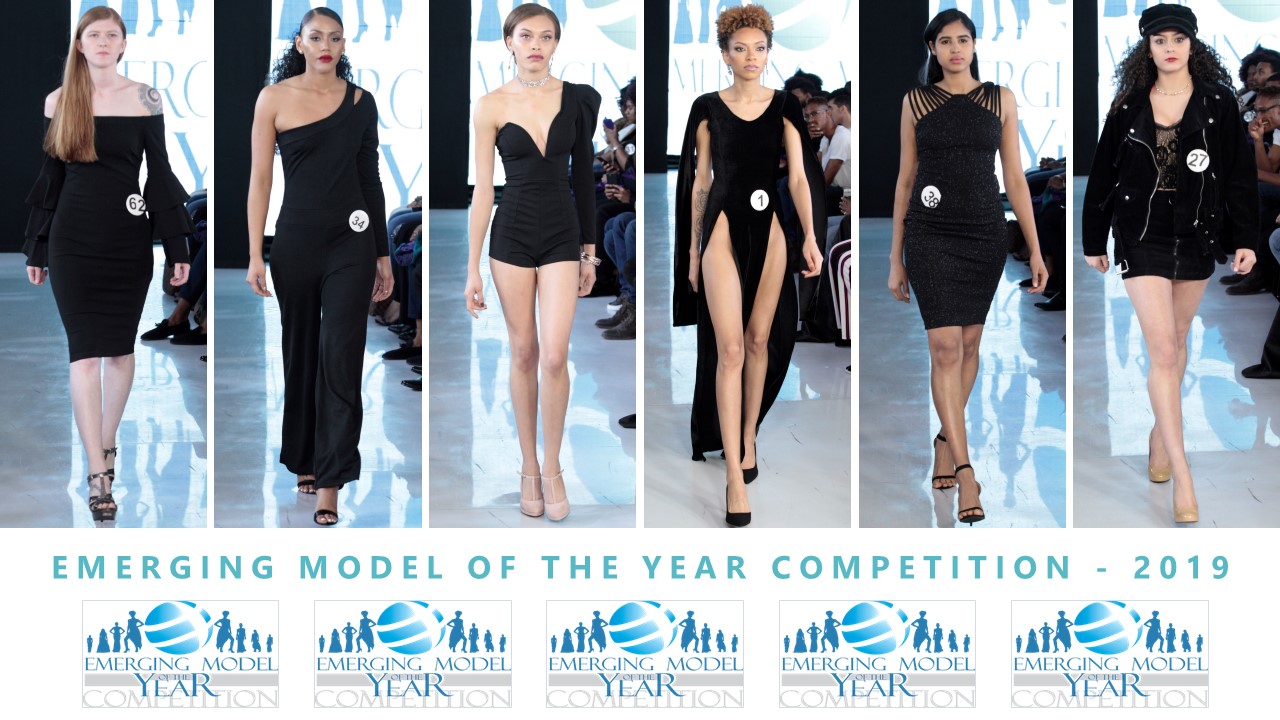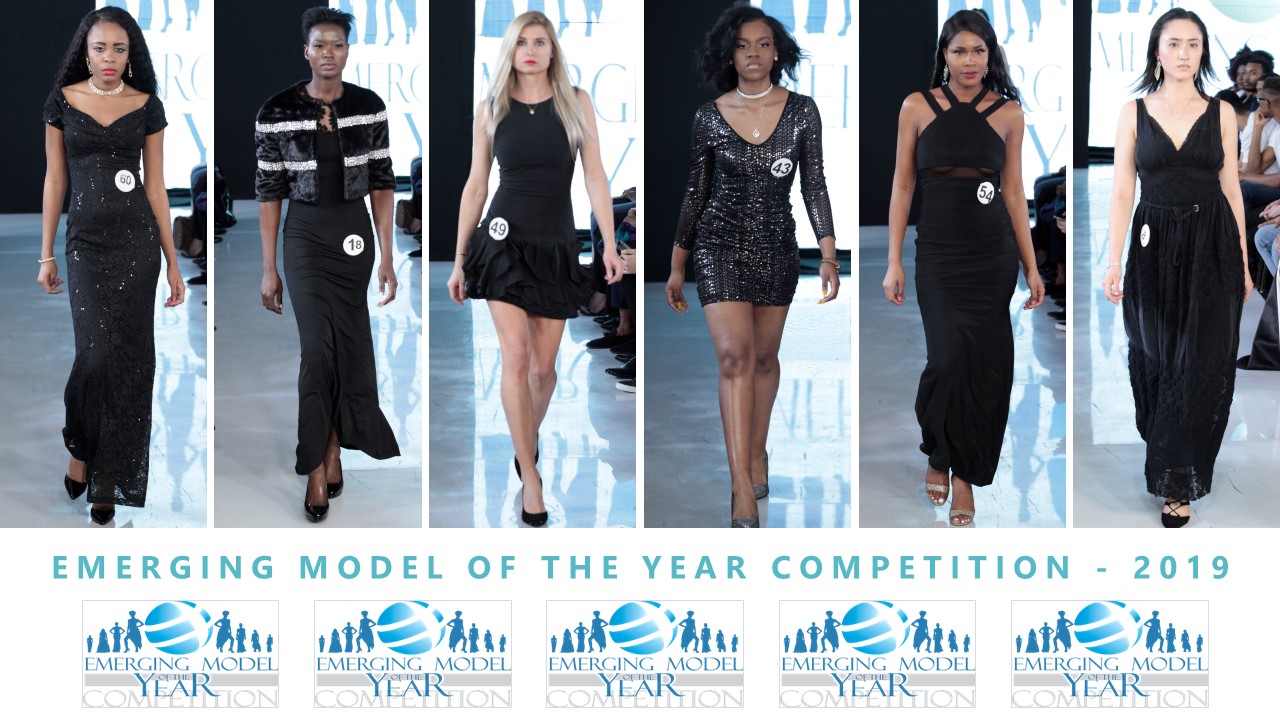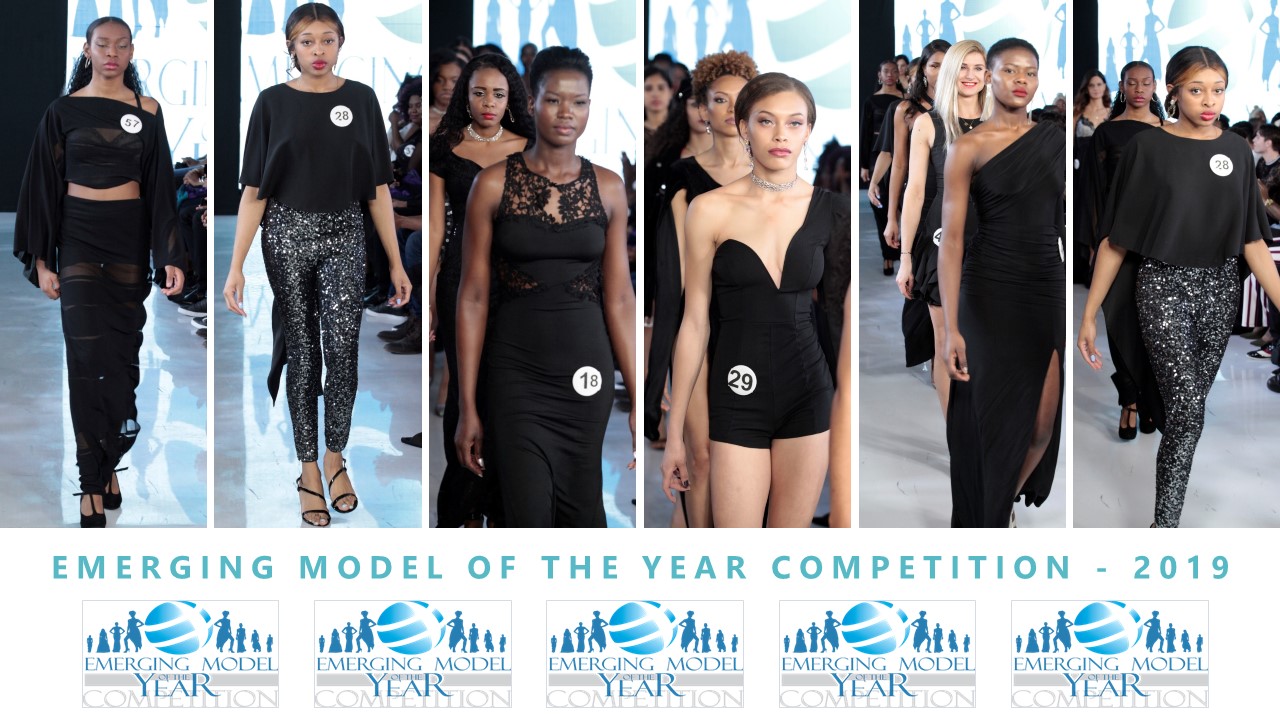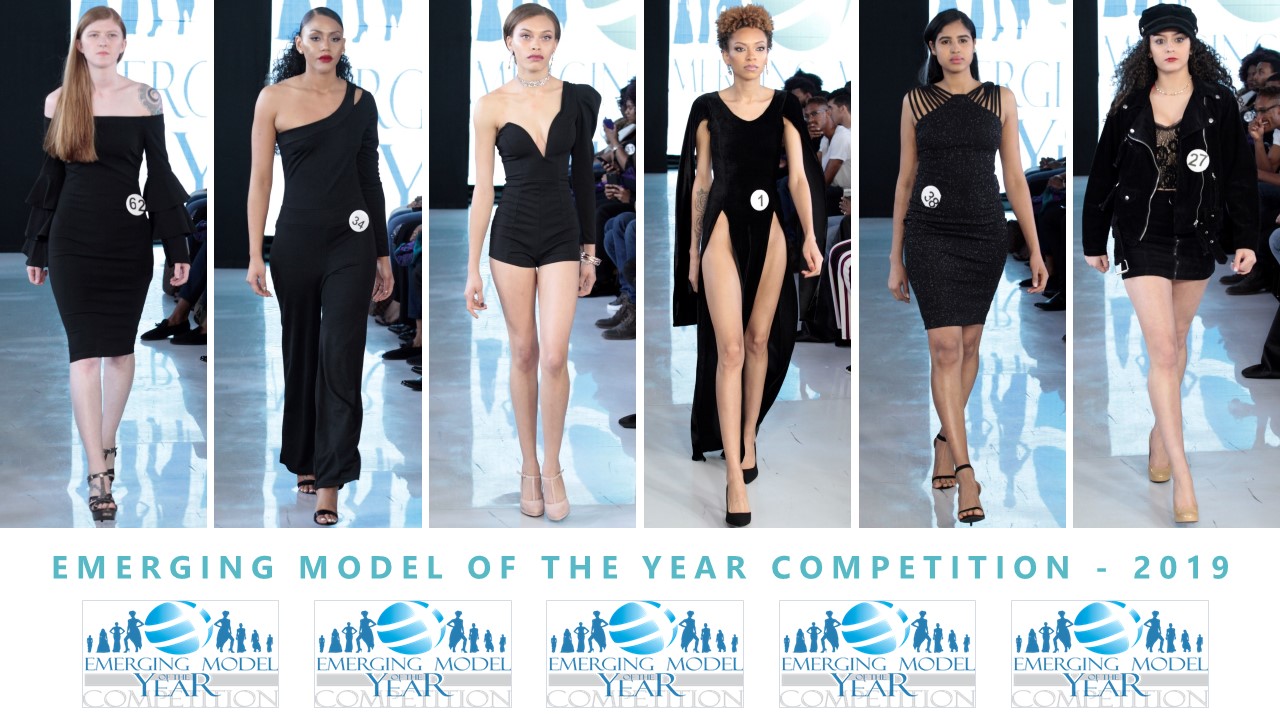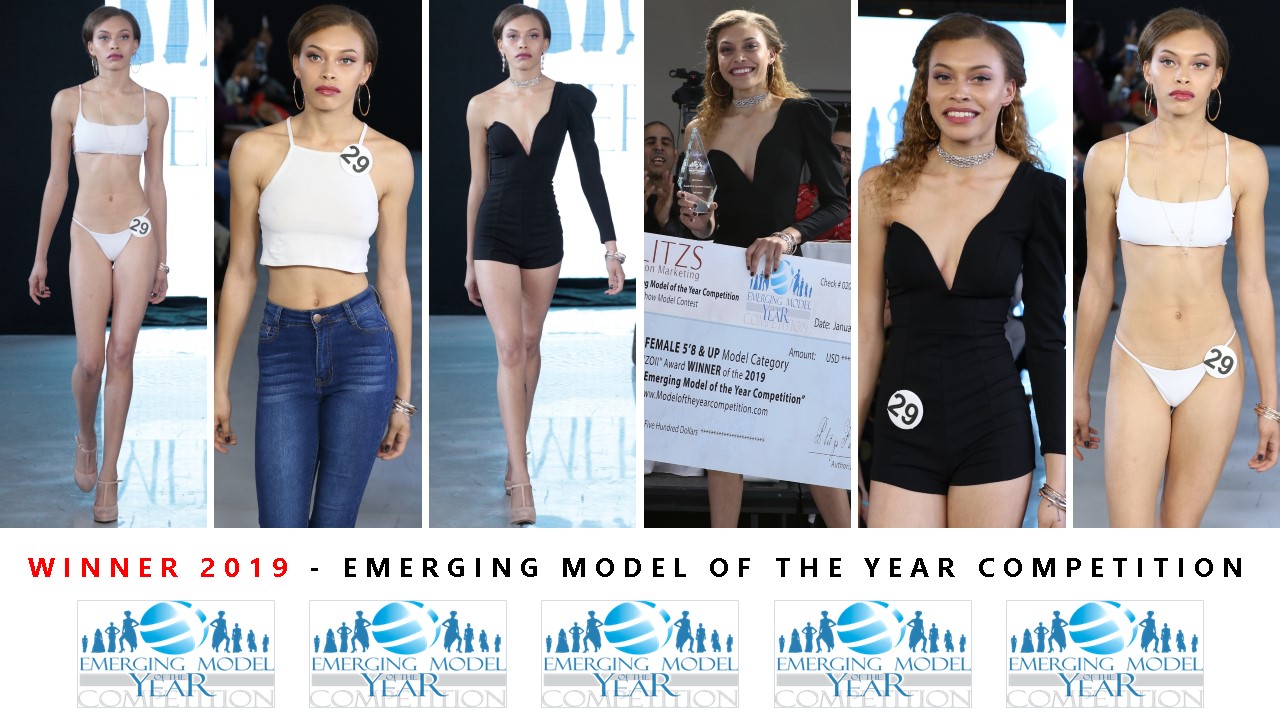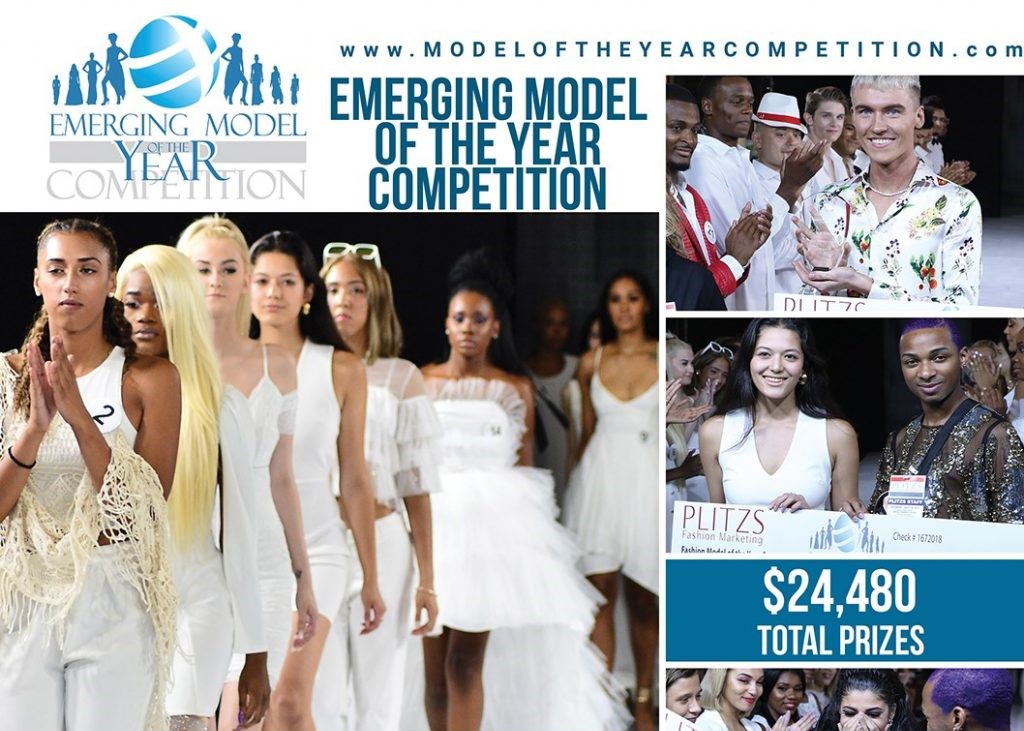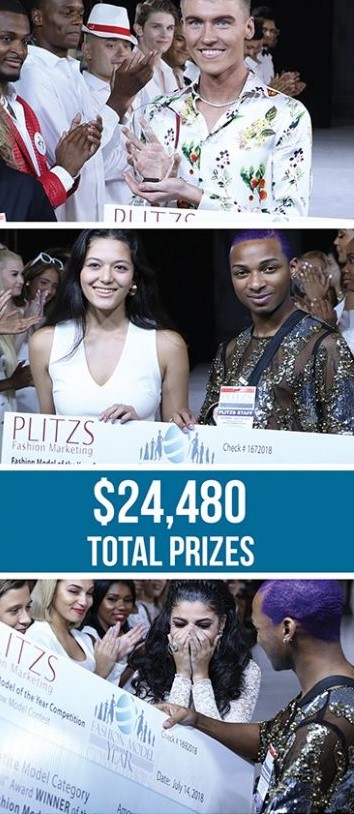 VISIT OUR SOCIAL MEDIA PAGES:
YouTube Channel: www.Youtube.com/user/eventlinks
Instagram: www.instagram.com/plitzsfashionmarketing
Facebook: http://www.facebook.com/PLITZS
NEW YORK CITY
AUDITION ATTIRE:
WOMEN - Wear 2 Piece Swimwear Bikini under Fitted Skinny Blue Jeans and Fitted Plain White T-Shirt Top with Minimum 3-inch Stiletto Heels.

Female Models must be between the ages of 13 to 35 years old and height 5-8 and up and dress size 0 to 8.
The winners of the "Fashion Model of the Year Competition & The Emerging Model of the Year Competition" will win $6,120 in PRIZES and will be a featured model in "PLITZS New York City Fashion Week" show.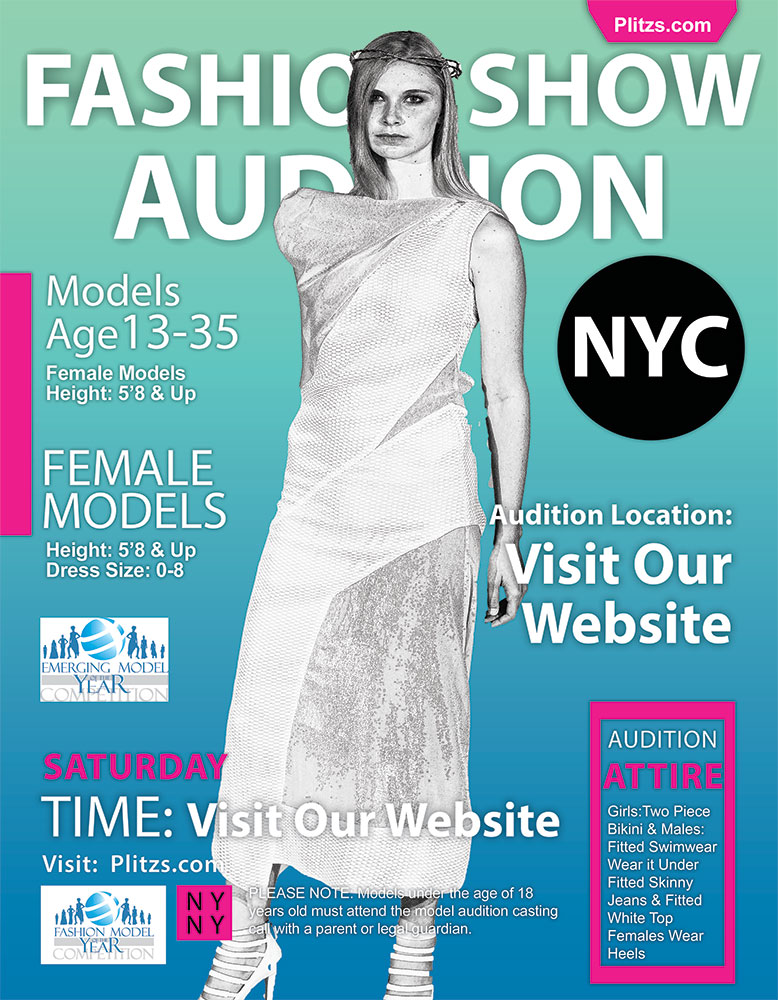 Save This Event
When & Where

STEPPING OUT STUDIOS
37 west 26 street on the 9th floor
Between Broadway & 6th Ave
New York, NY 10128


Saturday, November 2, 2019 from 5:00 PM to 6:00 PM (EDT)
Add to my calendar
Organizer
About Us:
PLITZS Fashion Marketing specialize in fashion design, fashion marketing, fashion training, fashion production, commercialization and event marketing, with the aim to create a close collaboration between our clients and the fashion world. We'll work hand-in-hand with Emerging Designers prior to the PLITZS New York City Fashion Week to ensure we have a full understanding of the fashion design brand you need to launch; and then provide you with the platform and production team that will help bring your emerging fashion design brand to life with a memorable showing. You've got the emerging fashion brand's new collection, and now you need to launch it in a way that's going to make a lasting impression on your clients, public, media/press and prospects - and most importantly, make them want to contact you to media cover or buy your product.
PLITZS Fashion Marketing manages every aspect of a fashion event, from artistic design through to casting and technical support, to create an affordable and profesional runway show solution with a tailored edge.
Shared Opportunities are better at PLITZS New York City Fashion Week
Creating an affordable and professional showcase platform
PLITZS Fashion Marketing founded the "PLITZS New York City Fashion Week" in 2004. Working with international and domestic emerging fashion designers - we provide showcasing opportunities, brand exposure and networking.
PLITZS New York City Fashion Week has created an independent network of international and United States domestic Fashion Week show productions not affiliated with any other industry association.
PLITZS Fashion Marketing
Direct Phone: 646.257.4207
Email: Info@Plitzs.com
Web: www.Plitzs.com
Instagram: http://www.instagram.com/plitzsfashionmarketing  
Facebook: http://www.facebook.com/PLITZS
Twitter: http://twitter.com/#!/plitzsfashionpr
<A STYLE="color: #1155cc; font-family: arial, sans-serif; font-size: small;" HREF="http://www.plitzs.com/nycfashionweek" TARGET="_blank" DATA-SAFEREDIRECTURL="https://www.google.com/url?hl=en&q=http://www.Plitzs.com/nycfashionweek&source=gmail&ust=1507382420365000&usg=AFQjCNGy28LYwUawYZ_8RZAeECag32N5Rg" REL="noreferrer noopener noopener noopener noopener noopener noreferrer noopener nofollow noopener noreferrer nofollow noreferrer noopener noopener noopener noopener noopener noreferrer noopener nofollow noopener noreferrer nofollow noreferrer noopener noopener noopener noopener noopener noreferrer noopener nofollow noopener noreferrer nofollow noreferrer noopener noopener noopener noopener noopener noreferrer noopener nofollow noopener noreferrer nofollow noreferrer noopener noopener noopener noopener noopener noreferrer noopener nofollow noopener noreferrer nofollow noreferrer noopener noopener noopener noopener noopener noreferrer noopener nofollow noopener noreferrer nofollow noreferrer noopener noopener noopener noopener noopener noreferrer noopener nofollow noopener noreferrer nofollow noreferrer noopener noopener noopener noopener noopener noreferrer noopener nofollow noopener noreferrer nofollow noreferrer noopener noopener noopener noopener noopener noreferrer noopener nofollow noopener noreferrer nofollow noreferrer noopener noopener noopener noopener noopener noreferrer noopener nofollow noopener noreferrer nofollow noreferrer noopener noopener noopener noopener noopener noreferrer noopener nofollow noopener noreferrer nofollow noreferrer noopener noopener noopener noopener noopener noreferrer noopener nofollow noopener noreferrer nofollow noreferrer noopener noopener noopener noopener noopener noreferrer noopener nofollow noopener noreferrer nofollow noreferrer noopener noopener noopener noopener noopener noreferrer noopener nofollow noopener noreferrer nofollow noreferrer noopener noopener noopener noopener noopener noreferrer noopener nofollow noopener noreferrer nofollow noreferrer noopener noopener noopener noopener noopener noreferrer noopener nofollow noopener noreferrer nofollow noreferrer noopener noopener noopener noopener noopener noreferrer noopener nofollow noopener noreferrer nofollow noreferrer noopener noopener noopener noopener noopener noreferrer noopener nofollow noopener noreferrer nofollow noreferrer noopener noopener noopener noopener noopener noreferrer noopener nofollow noopener noreferrer nofollow noreferrer noopener noopener noopener noopener noopener noreferrer noopener nofollow noopener noreferrer nofollow noreferrer noopener noopener noopener noopener noopener noreferrer noopener nofollow noopener noreferrer nofollow noreferrer noopener noopener noopener noopener noopener noreferrer noopener nofollow noopener noreferrer nofollow noreferrer noopener noopener noopener noopener noopener noreferrer noopener nofollow noopener noreferrer nofollow noreferrer noopener noopener noopener noopener noopener noreferrer noopener nofollow noopener noreferrer nofollow noreferrer noopener noopener noopener noopener noopener noreferrer noopener nofollow noopener noreferrer nofollow noreferrer noopener noopener noopener noopener noopener noreferrer noopener nofollow noopener noreferrer nofollow noreferrer noopener noopener noopener noopener noopener noreferrer noopener nofollow noopener noreferrer nofollow noreferrer noopener noopener noopener noopener noopener noreferrer noopener nofollow noopener noreferrer nofollow noreferrer noopener noopener noopener noopener noopener noreferrer noopener nofollow noopener noreferrer nofollow noreferrer noopener noopener noopener noopener noopener noreferrer noopener nofollow noopener noreferrer nofollow noreferrer noopener noopener noopener noopener noopener noreferrer noopener nofollow noopener noreferrer nofollow noreferrer noopener noopener noopener noopener noopener noreferrer noopener nofollow noopener noreferrer nofollow noreferrer noopener noopener noopener noopener noopener noreferrer noopener nofollow noopener noreferrer nofollow noreferrer noopener noopener noopener noopener noopener noreferrer noopener nofollow noopener noreferrer nofollow noreferrer noopener noopener noopener noopener noopener noreferrer noopener nofollow noopener noreferrer nofollow noreferrer noopener noopener noopener noopener noopener noreferrer noopener nofollow noopener noreferrer nofollow noreferrer noopener noopener noopener noopener noopener noreferrer noopener nofollow noopener noreferrer nofollow noreferrer noopener noopener noopener noopener noopener noreferrer noopener nofollow noopener noreferrer nofollow noreferrer noopener noopener noopener noopener noopener noreferrer noopener nofollow noopener noreferrer nofollow noreferrer noopener noopener noopener noopener noopener noreferrer noopener nofollow noopener noreferrer nofollow noreferrer noopener noopener noopener noopener noopener noreferrer noopener nofollow noopener noreferrer nofollow noreferrer noopener noopener noopener noopener noopener noreferrer noopener nofollow noopener noreferrer nofollow noreferrer noopener noopener noopener noopener noopener noreferrer noopener nofollow noopener noreferrer nofollow noreferrer noopener noopener noopener noopener noopener noreferrer noopener nofollow noopener noreferrer nofollow noreferrer noopener noopener noopener noopener noopener noreferrer noopener nofollow noopener noreferrer nofollow noreferrer noopener noopener noopener noopener noopener noreferrer noopener nofollow noopener noreferrer nofollow noreferrer noopener noopener noopener noopener noopener noreferrer noopener nofollow noopener noreferrer nofollow noreferrer noopener noopener noopener noopener noopener noreferrer noopener nofollow noopener noreferrer nofollow noreferrer noopener noopener noopener noopener noopener noreferrer noopener nofollow noopener noreferrer nofollow noreferrer noopener noopener noopener noopener nofollow nofollow nofollow nofollow nofollow nofollow nofollow nofollow nofollow nofollow nofollow nofollow nofollow nofollow nofollow nofollow nofollow nofollow nofollow nofollow nofollow nofollow nofollow nofollow nofollow nofollow nofollow nofollow nofollow nofollow nofollow nofollow nofollow nofollow nofollow nofollow nofollow nofollow nofollow nofollow nofollow nofollow nofollow nofollow nofollow nofollow nofollow nofollow nofollow nofollow nofollow noopener noreferrer nofollow nofollow nofollow nofollow nofollow nofollow nofollow nofollow nofollow nofollow nofollow nofollow nofollow nofollow nofollow nofollow nofollow nofollow nofollow nofollow nofollow nofollow nofollow nofollow nofollow nofollow nofollow nofollow nofollow nofollow nofollow nofollow nofollow nofollow nofollow nofollow nofollow nofollow nofollow nofollow nofollow nofollow nofollow nofollow nofollow nofollow nofollow nofollow nofollow nofollow nofollow nofollow nofollow nofollow nofollow nofollow nofollow nofollow nofollow nofollow nofollow nofollow nofollow nofollow nofollow nofollow nofollow nofollow nofollow nofollow nofollow nofollow nofollow nofollow nofollow nofollow nofollow nofollow nofollow nofollow nofollow nofollow nofollow nofollow nofollow nofollow nofollow nofollow nofollow nofollow nofollow nofollow nofollow nofollow nofollow nofollow nofollow nofollow nofollow nofollow nofollow nofollow nofollow nofollow nofollow nofollow nofollow nofollow nofollow nofollow nofollow nofollow nofollow nofollow nofollow nofollow nofollow nofollow nofollow nofollow nofollow nofollow nofollow nofollow nofollow nofollow nofollow nofollow nofollow nofollow nofollow nofollow nofollow nofollow nofollow nofollow nofollow nofollow nofollow nofollow nofollow nofollow nofollow nofollow nofollow nofollow nofollow nofollow nofollow nofollow nofollow nofollow noreferrer nofollow noreferrer nofollow noreferrer nofollow nofollow noopener noreferrer nofollow noreferrer nofollow noreferrer nofollow noreferrer nofollow noreferrer nofollow nofollow noopener noreferrer nofollow noreferrer nofollow noreferrer nofollow noreferrer nofollow noreferrer nofollow nofollow noopener noreferrer nofollow noreferrer nofollow noreferrer nofollow noreferrer nofol