Model Call for Global Fashion Expo
About this event
Model Call - Male & Female
REGISTRATION Required!!
Thursday, October 14
***MUST BE ON TIME 5pm at
515 Elizabeth Lake Road, Waterford MI
1. Wear fitted black top
2. Wear fitted black jeans or leggings
3. Wear heels (ladies) & black shoes for (men)
4. Bring Headshot/ Full Body and or comp cards if available
****MUST be available for fashion show event date Nov 7, 2021
Designers to be announced.....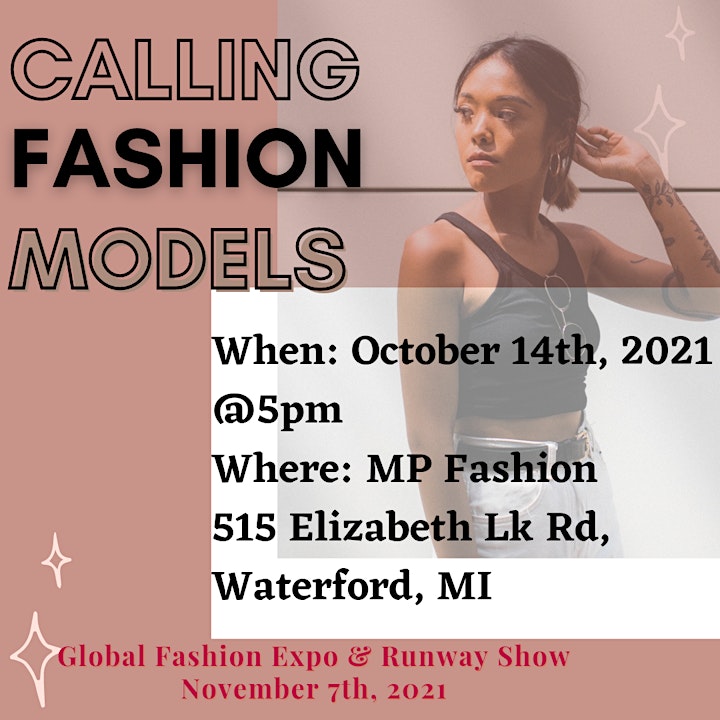 Organizer of Model Call- Global Fashion Expo
To become a FGI Detroit Member Click here... https://www.fgi.org/membership/
FGI mission statement
 The Fashion Group International is a global, non-profit, professional
organization with 5000 members in the fashion industry including
apparel, accessories, beauty and home.
The FGI mission is to be the pre-eminent authority on the business
of fashion and design and to help its members become more effective
in their careers.  To do this, FGI provides insights on major trends
in person, online and in print; access to business professionals and a
gateway to the influence fashion plays in the marketplace.
 THE FASHION GROUP foundation
 The mission of the Foundation is:
 To promote educational programs devoted to fashion and to the study of fashion related businesses through the creation and  
awarding of scholarships; establishment of internship programs; provision of career counseling services.  
Organization and sponsorship of seminars and other educational activities on a national and worldwide basis. To sponsor public service activities in which the fashion industry
 works, to serve relevant community needs and concerns and to stimulate and encourage membership and industry participation in such public service activities.
To become a FGI Detroit Member Click here... https://www.fgi.org/membership/