Description
Model Boot Camp aims to prepare models in runway technique, posing, and offers photoshoots with several photographers. This MBC's featured designer is an international star from India flying in for our photoshoots and fashion show. Local Chicago designers will dress our models for this event to give each model a fashionable edge in our editorial style photoshoots shot throughout the gorgeous Palmer House Hilton Hotel located in downtown Chicago. To learn more about your instructor go to www.sherriegearheart.com This event raises funds for Live Out Loud Charity- suicide prevention, anti bullying, and core character development. To learn more about LOLC visit www.liveoutloudcharity.org.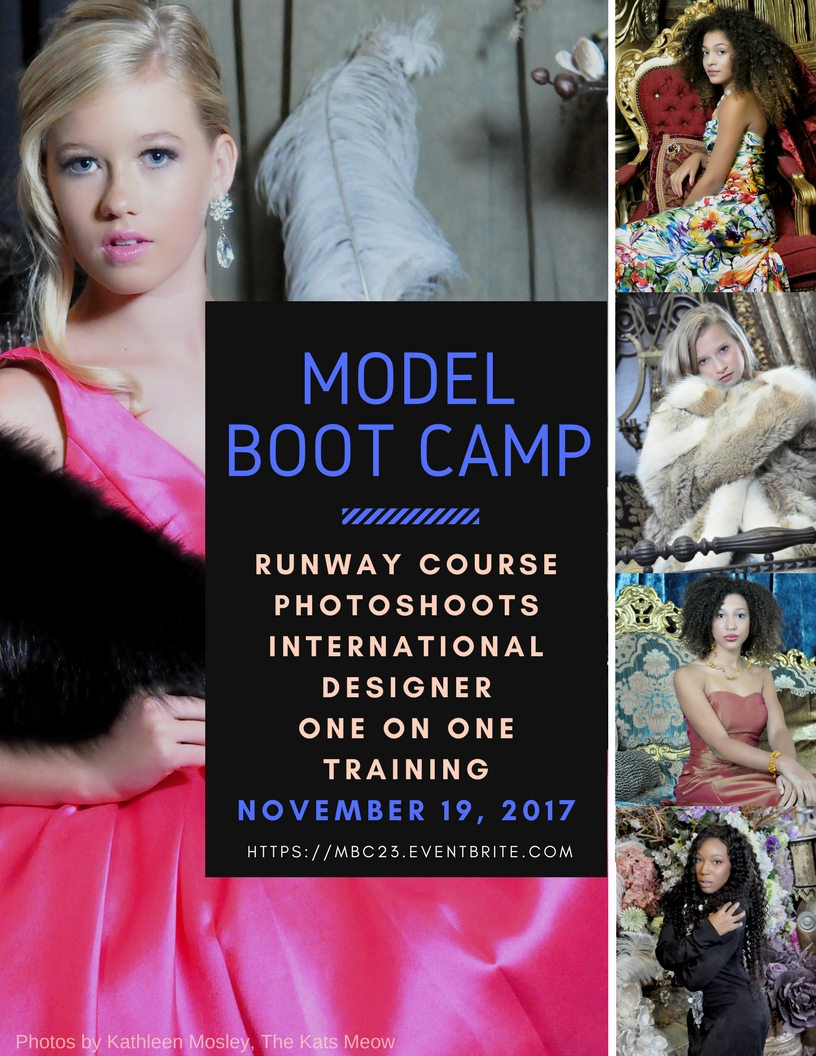 Questions regarding this event, call or text the director, Sherrie Gearheart at 815 914 8602.
Models will receive professional photos while working with incredible photographers, gain experience with real professionals in the industry, wear local and/or international designer garments, build the portfolio of their dreams, have the chance to be published, and make lifelong friendships.

Important information:
The moment you sign up please send your name, height, and size to info@liveoutloudcharity.org. Specify that you are in the Model Boot Camp held Sunday, Nov 19th. Models should arrive at 7am sharp. We will gather in the lobby area of the 6th floor. We start with our paperwork process, complete our seminar, go straight into shoots, and end with our runway course. Please bring your model bag. For help with what a Model Bag should contain please read this: http://tiaramag.net/2017/02/model-bag-essentials/
Please arrive in an all black outfit, preferably black leggings and a black tank top. Bring a zip up seater. There is a restaurant called Freshii at the entrance of the Palmer House. This restaurant has salads and fresh juices. Things move fast during the Model Boot Camp so we recommend you pack a lunch and water. Remember to not eat or drink when wearing designer clothing. If you did not sign up for hair and makeup services then please bring eyelashes and all necessary beauty supplies to complete your look. You will only have 15 to 20 minutes when you arrive so have majority of it done upon arrival at 7am. Our team will be there to ensure you look spectacular. Please have nails a light pink, nude, or clear color. Please do not have chipped nail polish.
Parking is expensive. Therefore we recommend you use the app spothero to find affordable parking in the area.


MEET the FOUNDER of Model Boot Camp
Meet & learn from the Founder of Model Boot Camp, Sherrie Gearheart. Aside from being called The Queen of Fashion on The Model Idea TV show, Sherrie Gearheart is an international runway and print model. During 2015 & 2016, Gearheart walked in Paris Fashion Week, Mercedes Benz New York Fashion Week, LA Fashion Week, Chicago Fashion Week, completed an international World Supermodel Tour in China, among other modeling accomplishments. Her work as a model and humanitarian has been featured in over fifty publications and she has graced the cover of several magazines. Gearheart is Founder and President of Tiara Magazine a pageantry, fashion, beauty publication read in over 177 countries online and in print. Tiara Magazine was founded in 2009. Sherrie Gearheart is an international beauty queen as the reigning Miss United Nations 2015, a title she won for her humanitarian efforts.Wear our designer wardrobe, shoot with pro photographers, build the portfolio of your dreams, and learn from international model Sherrie Gearheart. To learn more about Sherrie Gearheart visit www.sherriegearheart.com
Purpose: a fun, affordable, way to raise funds for Live Out Loud Charity for suicide prevention. A portion of the funds raised will be used for the LOLC 2018 School, Media, and Educational Tour for suicide intervention, character building, mentoring, and anti-bullying seminars. Support Live Out Loud Charity. To learn more about Live Out Loud Charity please visit www.liveoutloudcharity.org
The international designer's participation is dependent on visa approval.
Sign up for our Model Boot Camp above by clicking on the green button that says tickets. Model Boot Camp funds are donated to LOLC (100% of net proceeds donated to Live Out Loud Charity).

There are no refunds for any reason. In the event that someone can not attend a Model Boot Camp workshop we simply hold the funds so the paid participant may attend a future MBC workshop within one year.


Learn about Live Out Loud Charity www.liveoutloudcharity.org
Learn about Tiara Magazine www.tiaramag.net