Model Audition Kentucky Derby Fashion Week

Saturday, March 4, 2017 from 1:00 PM to 4:00 PM (EST)
Event Details
Dear Model, 

This is your 1st step to confirm your participation in the Official Model Audition for the Kentucky Derby Fashion Show for Live Out Loud Chairty. The audition date/information is below along with the show date/information.  

Audition Information 
Saturday, March 4th
1pm
Regiss Bridal and Prom
4216 Outer Loop Road, Lou. KY 40219
Wardrobe: walk in with high heels on, wearing all black, tight fitted clothing, runway heels/shoes on when you walk in. When you audition we will ask for three things:
1. To see your runway walk. 
2. To take your photo (after we take your meausurements).
3. To interview you asking why you support Live Out Loud Chairty for anti bullying, core character development, and suicide prevention. 
*Models will not receive an answer right away if chosen for the show. We normally notify models within 1 to 2 weeks max. If you do not hear from us text 815 914 8602 or email info@liveoutloudcharity.org 
*We do ask models to truly advocate for our cause. Therefore, we select models that have been touched by anti bullying, low self esteem, depression, and/or suicide. We ask those models to sell two tickets to our event to not just raise funds but to also raise awareness for our cause. This event is about educating the audience members on the signs of depression, how to save lives through suicide interventions, and where to go for help. Our event actually saves lives through the education we provide to audience members. Models play a crucial role not just as volunteers gaining an experience of a lifetime but also as real advocates in their community that work hard to bring family, friends, and acquantances to the show to save lives. Together we can save lives. Our shows are top of the line, extremely professional, offer local, national, and international exposure. As models you are walking for Live Out Loud Charity while gaining real, qualified experience in the industry with photos to build your portfolio, connections that can launch your career, and an opportunity to get you to the next level. If models want to take this a step further we invite them to our Model Boot Camp two days prior on that Friday evening. 

Models please note:
Mandatory Rehearsal Sunday, March 5th
Faulkner Art Galleries 1512 Portland Avenue Louisville, KY 40203
2pm-5pm Mandatory Rehearsal (all models)
5pm-7pm Runway Model Boot Camp (for those that wish to sign up) cost is $50. We will be giving runway training, tips for each individual, and working on our walks. More information go to:
https://runway-boot-camp.eventbrite.com
 To check Sherrie Gearheart's credentials as a professional model go to
www.sherriegearheart.com
Sherrie has walked in Mercedes Benz New York Fashion Week. Paris Fashion Week, LA Fashion Week, completed a World Supermodel Tour in China, and more. Sherrie will be teaching the Runway Course!
To learn about where the proceeds are going and to read about our mission visit
www.liveoutloudcharity.org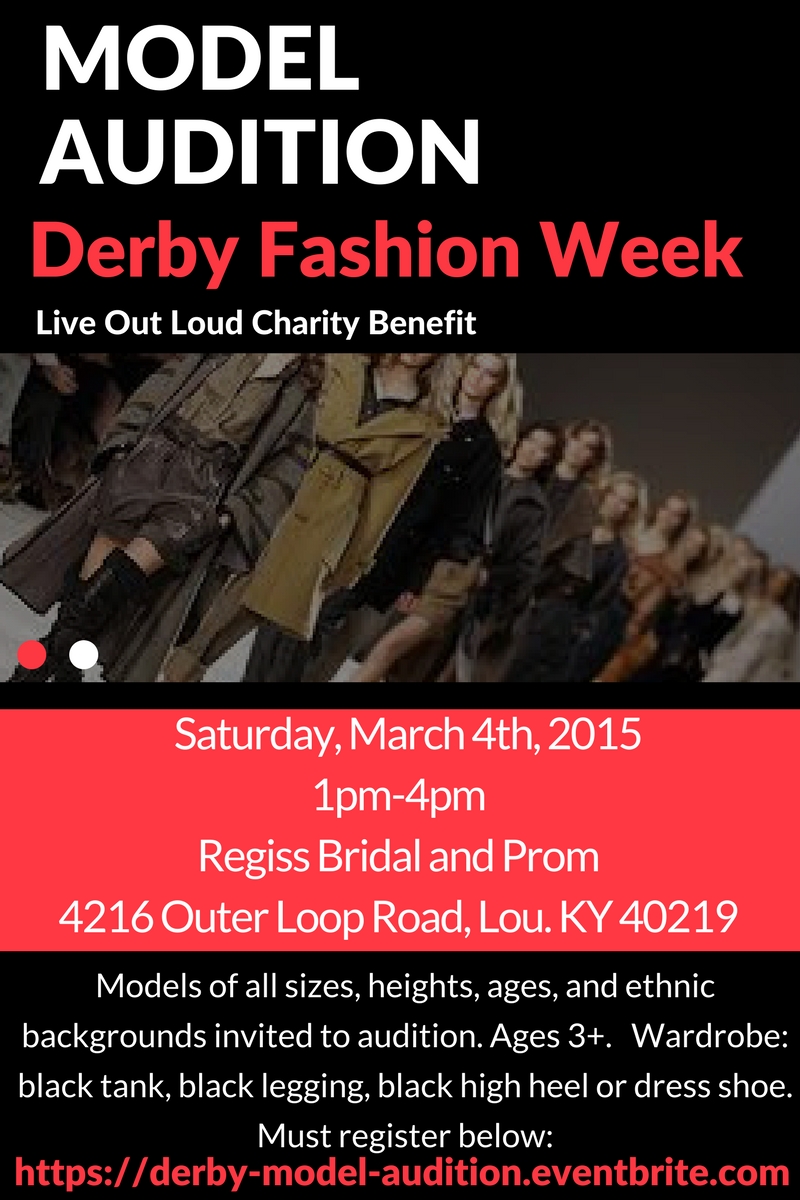 When you audition, you may be chosen to walk in our Kentucky Derby Fashion Show for Live Out Loud Chairty. Show information is below:
March 26th
Model call time 10am
Show time: 4:30pm to 7:30pm

Tim Faulkner Gallery Art

 

1512 Portland Ave 
Louisville, KY 40203
Ticket link:
https://lolc-kentucky-derby.eventbrite.com 
When & Where

Regiss Bridal and Prom
4216 Outer Loop Road
Louisville, KY 40219


Saturday, March 4, 2017 from 1:00 PM to 4:00 PM (EST)
Add to my calendar
Organizer
Sherrie Gearheart
President & Founder of Live Out Loud Charity & Tiara Magazine, Miss United Nations 2015
Model Audition Kentucky Derby Fashion Week