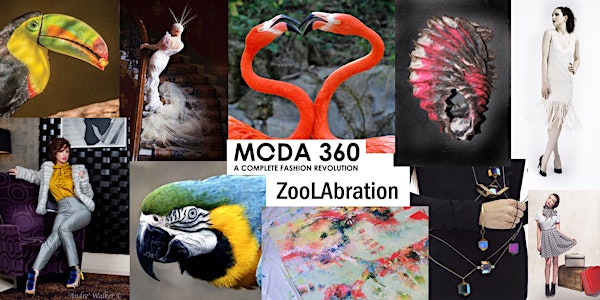 Moda 360: Fashion, Art and Film Experience benefiting L.A. Zoo Conservation
Location
The New Mart
3rd Floor, 127 E. 9th Street
Los Angeles, CA 90015
Description
"A Model Life" performance 3 pm
"Strangers in a Book" screening 4pm
"A Walk on the Wild Side" fashion show 5:30 pm
Fashion designers, artists and filmakers will present their work in exhibits


MODA 360, an innovative exhibit of international art, fashion and film, will present a special event to benefit the Los Angeles Zoo and Botanical Gardens' conservation programs and celebrate the Zoo's 50th anniversary August 1, 2017 at The New Mart in Downtown LA. International fashion designers, artists and filmakers will present their work in exhibits, and fashion videos from international filmmakers will be screened during the event. The event will also feature live presentations:
"A Model Life"
CE Jordan will perform her all-too-true tales of modeling in LA and NY in this journey down the runway of life. Wielding her signature combination of storytelling, music, dance, and an imaginative use of props, this versatile writer/performer will kick up her high heels in this model bash for the ageless.
"A Model Life" performance: 3 pm (seating begins at 2:45)
"Strangers in a Book" Screening
Written by Pedram Navab and directed by Marc Rezvani, the film follows Sara in actress Vida Ghaffari's (The Mindy Project, Mind of Mencia) dramatic debut, a hip and melancholic Iranian-American, who finds a misplaced book in a café. Intrigued by its contents, but unable to find the owner, she decides to interview the people in the notebook to decipher the identity of the mysterious man. The strangers whom she meets, considered the dregs of society, tell Sara stories about the enigmatic owner of the book, who is considered both diabolical and kind. In her relentless pursuit of the ultimate stranger, Sara is thus plunged into the horror of the unknown, where reality merges with art, and where existence itself is questioned. The film has also received 7 nominations at the prestigiousFilm Festival in San Diego and won Best Guerrilla Film at the popular Action on Film (AOF) Festival in Monrovia, California and the noted Finow Film and Script Festival in Eberswalde, Germany.Vida Ghaffari will introduce the film.
"Strangers in a Book" screening: 4pm (seating begins at 3:45)
"A Walk on the Wild Side"
A sustainable runway featuring the fashion of Atelier Tammam, a London couture house of 100% vegan and ethical fashion, Juan Pablo Martinez, a collection fusing sustainability, fine tailoring and rock and roll from Bogata Colombia, and LA's own Deborah Lindquist who has spent 30 years designing eclectic, and striking fashion from reclaimed, recycled and sustainable materials. A special feature of the runway will be unique creations by artists and designers reflecting the species, habitats and conservation projects championed by the LA Zoo.
"A Walk on the Wild Side" fashion show: 5:30 pm (seating begins at 5:15)
A donation in any amount to the Zoo enters you in a drawing for $150 of skin care products from sponsor Bel Essence (belessence.com).