About this Event
Featuring Leah Grams Johnson, Savannah Shaver, Daytripper and Brando
Leah Grams Johnson is an American artist and songwriter, hailing from the rugged coast of Northern California. Her unique take on Country and Contemporary Folk music has resonated with fans of all musical backgrounds nationwide. Leah spent her growing years hiking through redwood forests, singing old folks songs, and riding horses across rolling dunes. "Raised by the women on the radio", Leah discovered at a young age the magic of music and power of a well-written song.
In 2011, Leah traded redwood trees for tall buildings and attended the Berklee College of Music in Boston, MA. Immediately upon graduation, Leah packed up her little red truck and made the solo drive from Northern California to Nashville, without much more than her guitar, inherited record collection, and favorite Steinbeck novels. Leah quickly grew roots in Nashville as her new home, where she began working with irreplaceable friends and mentors to further hone her craft.
In the summer of 2018, Leah was selected as an Artist in Residence at the honorable Helene Wurlitzer Foundation in Taos, NM. "It was the most powerful and transformative three months I've ever experienced— guiding me back to the raw wilderness of my own intuition, as an artist and as a woman."
The following spring, Leah headed West from Nashville once again to bring a new musical vision to fruition— recording her debut EP in a small adobe church on the border of Colorado and New Mexico. The upcoming EP is titled "Jaroso," after the region where it was recorded and is set to be released in March 2020.
Like those who came before her she so deeply admires, Leah is a woman of heart and mind. She is her own breed of cowgirl mystic, living on gut feelings, with an unshakeable love for the world.
Twenty-year-old Savannah Shaver is a storyteller at heart. After moving to Nashville to pursue a motion pictures degree at Belmont University, Savannah soon decided to combine her passion for visual storytelling with her love for music. Her style is visceral and cinematic, drawing the listener in with stark poetry and vivid soundscapes.
Justin and Cole have been performing and writing music together for near on 10 years. Honing in on their craft led them to the collaboration, "Daytripper". Focusing on acoustic instruments, they write in a style of alt-rock while incorporating instruments you'd normally hear in bluegrass music, such as the mandolin, banjo and upright bass. Both Justin and Cole have been lead vocalists in other groups, and use this to an advantage. They trade songs, using two unique voices to add an extra layer of originality to their music, while also belting out strong harmonies that they have crafted over many years of playing together at small parties and in the living rooms of each others houses. They bring that 'small house-show' energy to any stage they perform on, leaving audiences stomping their feet and singing along like it's a relaxing campfire full of friends.
Brando is a Nashville-based singer-songwriter. Her songs are the product of years of moving around the world, people watching, experiencing and witnessing heartbreak, growing more confident in her convictions and listening to a lot of questionable indie rock. Lyrically focused, she blends clever and honest writing to create narrative, introspective songs. Her debut EP, A Brief History of Appearances, was released in October.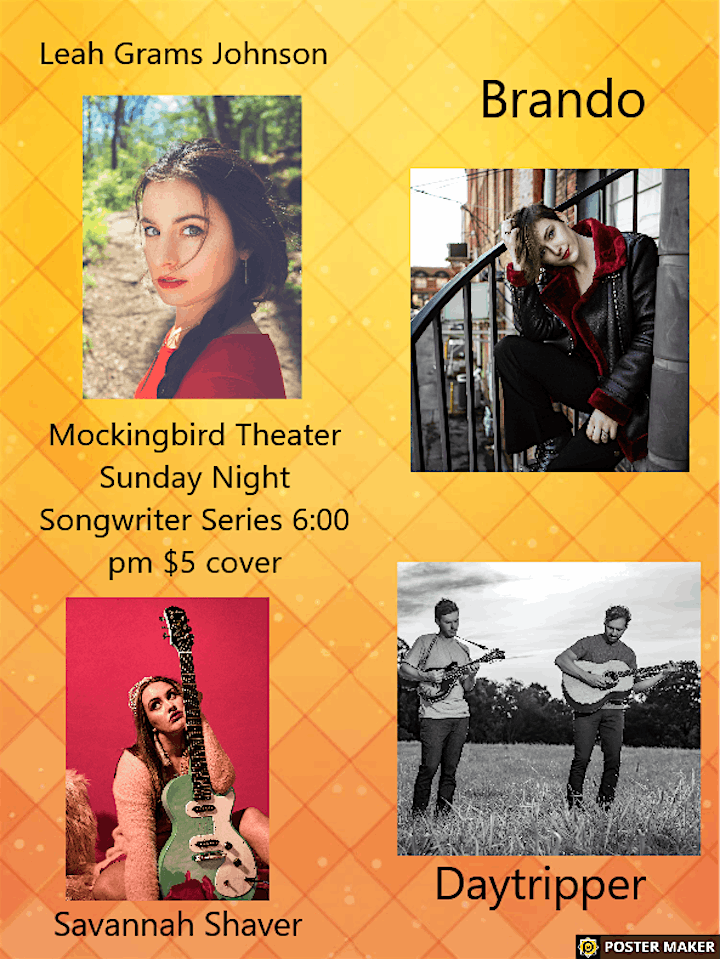 Performers
Date and Time
Location
Refund Policy