Event Information
Refund policy
Contact the organizer to request a refund.
Eventbrite's fee is nonrefundable.
Register today for a scheduled visit to MOCA Jacksonville and explore the world of contemporary art!
About this event
Looking for something fun and inspiring to do? Register for an appointment to visit MOCA Jacksonville and explore the world of contemporary art! Visit our new exhibitions and enjoy a little creative time downtown at MOCA Jacksonville!
In the interest of the health and safety of museum staff and guests, beginning Tuesday, September 14th visitation to MOCA Jacksonville will be by appointment only. Museum visitors will be required to pre-book a time slot through Eventbrite in advance of their visit. During your visit MOCA Ambassadors will be available to answer questions you might have. Want to arrange a formal tour through our galleries for a larger group? See more information on website or contact Kiersten Barnes directly at k.barnes@unf.edu.
Evening visits must be booked 24 hours in advance.
Please note that you must arrive at the time that you have selected. If you arrive more than 10 minutes after the start of your time, your tickets may be forfeited. For example, if you sign up for an 6:00pm time, you must arrive by 6:10pm. If you know that you will be late, please call 904-620-1214.
Discounts:
MOCA Jacksonville offers a discounted rate of $5 for children under the age of 12, military, seniors, and students.
MOCA Members get into the museum for free! Click here to become a member.
We offer free admission to UNF staff and students, members of reciprocal museums belonging to SERM or NARM, and COVID-19 front line workers.
Imagination Squared¹⁰ Participants who are picking up their posters should select "Free Admission."
Jacksonville Public Library cardholders receive free admission on the final Friday of each month.
Upon arrival, please come to the front entrance of MOCA. Be sure to either have a printed ticket or be able to show your ticket digitally. Someone will be there to greet you ten minutes before your appointment time. If you are unable to arrive at your appointment time, please notify museum staff by calling (904) 620-1214. Any visitor that does not arrive within ten minutes of their time slot and does not call will forfeit their tickets.
We expect all of our visitors to wear masks and stay socially distant, regardless of vaccination status. Click here for a full listing of new health and safety measures at MOCA Jacksonville and for more information on what you can expect during your visit.
If you have any questions, please email hellomoca@unf.edu or call (904) 620-1214.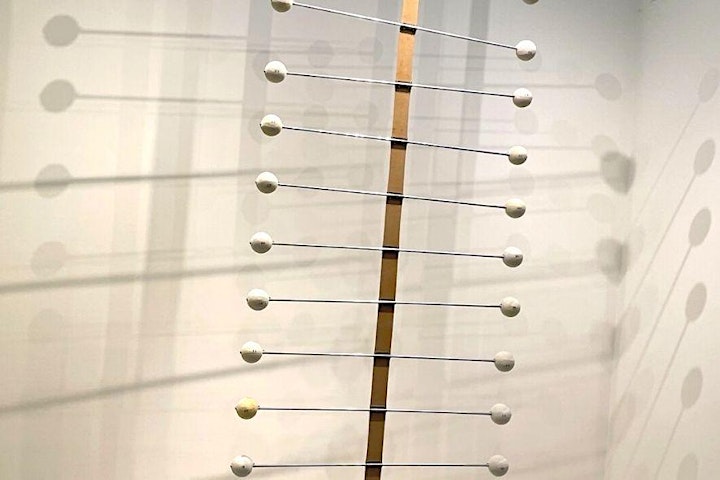 NOW ON VIEW:
Molecule Dance by Damián Ortega (Pictured)
Born in Mexico City in 1967, Damián Ortega is a leading Mexican contemporary artist. He first came to widespread attention at the 50th Venice Biennale in 2003 with Cosmic Thing, a Volkswagen Beetle perfectly dismantled and suspended from the ceiling, an ironic deconstruction of one of the cult objects of Mexican consumer culture. Since then, with his sense of humor and wit, Ortega has become known for the deconstruction of familiar objects and processes, altering their functions and transforming them into artworks that offer novel experiences and scenarios.Ortega's work always plays with scale, ranging from the molecular to the cosmic, and this Project Atrium installation combines both. Drawing from an intimate recollection of putting his daughter to sleep, with a mobile over the bed, the artist has conceived a suspended rotating double helix. Reminiscent of the human DNA structure, this molecular choreography describes, in the artist's own words, "the passing of time as a continuous, daily movement that goes on for years."
Doug Eng: Structure of Nature | Nature of Structure
Structure of Nature | Nature of Structure is a retrospective of the work of Jacksonville artist Doug Eng. Through his art and advocacy, Eng highlights the need to preserve our endangered wetlands and forests in Northeast Florida.
Left Side Right Side
Left Side Right Side considers the genre of portraiture and its articulation in contemporary art. Taking its title from the late Joan Jonas' early exploration of the self-portrait through video (Left Side Right Side, 1972), it relates directly to one of the MOCA collection's thematic directions.
Techno-Intimacy
This UNF Gallery showcases the work of artists Lena Chen, Myra Lilith Day, deSolidState, Edgar Fabian Frias, Michael Neumann, and Tabitha Nikolai. Through the use of digital and internet platforms, these artists attempt to carve out new pathways for knowledge-production, aesthetics, cognition, spirit, and viewership.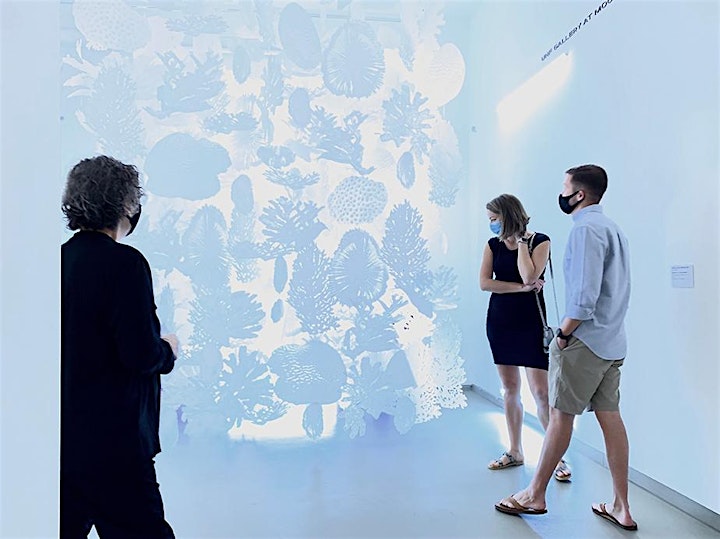 Join us for in-person and virtual events!
From Kids Art Lab and Studio Practice to BAM (Black Art Matters) Lectures and MOCA Movie Night, MOCA is offering a variety of programming throughout the Fall. Find a complete list of events here: https://www.eventbrite.com/o/moca-jacksonville-2715586970
Location
Museum Of Contemporary Art Jacksonville
333 North Laura Street
Jacksonville, FL 32202
Refund policy
Contact the organizer to request a refund.
Eventbrite's fee is nonrefundable.