Actions and Detail Panel
MOC 2017 Spring Rally
Thu, Apr 20, 2017, 3:00 PM – Sun, Apr 23, 2017, 11:00 AM EDT
Description

Motorcycles of Charlotte 2017 SPRING RALLY!
Our event venue is the amazing Iron Horse Lodge, in the heart of some of the best destination motorcycle riding in North America. We had a GREAT experience with these folks last year, and expect more of the same this time around.
Registration:
If you wish to participate in presentations, clinics, the free raffle, or DEMO rides - you must register for the event AND sign in with event staff when you arrive, even if you are staying off-site, to pick up your packet that will have a copy of the schedules, and your event badge/lanyard.

Lodging / Camping
At this time, all indoor accommodations at the Iron Horse Lodge have been reserved, and a waiting list has started. There is still plenty of camping available. Please call The Iron Horse Lodge, 828-479-3864, to register.



Demo Rides!
Demo rides on new BMW, Ducati, Triumph motorcycles, 8AM-6PM Friday and Saturday, 18 total runs scheduled to the Fontana Dam and back, 27 miles round trip on NC 28! The two-hour mid-day run will take an alternate path through Robbinsville with a lunch stop. Keep your eyes open for Ferdie the killer guard dog... he's usually sleeping right in the middle of whatever is going on!
This year we are stepping out the registration process, which will balance out the opportunities to partake regardless of when you arrive. Registration for Friday Demo rides will take place Thursday evening after dinner at the MOC registration table. Registration for Saturday Demo rides will take place Friday evening after dinner at the MOC registration table. You will need to have your event badge and driver's license to register.

Riding Courses / Clinics / Presentations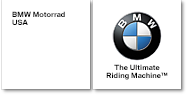 We will be joined by an instructor from The BMW Performance Center, US Riders Academy, who will conduct a basic off-road skills riding clinic; a kitting for self-recovery clinic, and a general presentation & Q/A highlighting the different course offerings available at The US Riders Academy.
We will also be joined by a BMW Motorrad North America representative who will be giving a presentation on BMW's differentiating product technologies/features, as well as a glimpse into "The Next 100 Years".

APEX Cycle Education will be joining us again this year to conduct On-Street training! I will add a link here to their site as soon as they have the course descriptions/prices up and ready for registration. Dave Hepburn will also host one of the evening presentaions, reliving some of his epic adventures with us!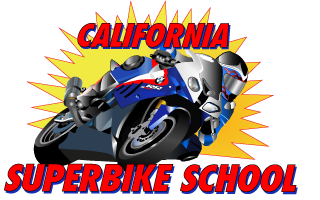 Mr. Gregory Ludt will join us as a event volunteer, and representative of California Super Bike School. Greg has a impressive resume on the race track, and worked as an Instructor for CSS. He will give a presentation on the CSS course offerings, philosophies, and answer any questions you have.

Mr. Gerald Hensley, a veteran side car instructor, and URAL Ambasador, will be conducting free side car clinics and answering any question you have ever wanted to ask a die-hard URAL enthusiast!

Mr. Jeff Reid from Continental Tire will join us to conduct presentations of the science, technology, and design of motorcycle tires. Jeff will also have a truck full of product to show, and will be throwing a set of tires (your choice) into the free raffle.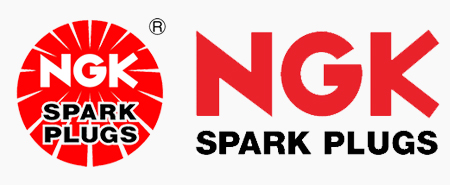 Mr. James Mangrum of NGK Spark Plugs will join us to conduct presentations of the science, technology, and design of motorcycle spark plugs, and have lots of promo materials to share. Spark plug technology isn't something many of us really know much about, and James promises his presentation will prove that not all spark plugs are created equal.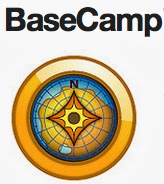 Mr. Don Norwood, a long time BMW enthusiast and community member, will be conducting two levels (Novice/Advanced) of Garmin BaseCamp workshops.
Here is Don's Garmin BaseCamp clinic checklist:
Computer: Windows Version or Mac Version…most of my data and material is with a Windows PC, using a Gamin 660 GPS.
GPS fully charged with USB cable
A data storage SD card for you GPS… 8 GB or whatever is recommended.
A computer mouse with tracking ball or wheel is most helpful.
Not all GPS units are equal…some will not support routes but will hold hundreds of waypoint.
Download your FREE copy of the latest version of Garmin BaseCamp here

http://www.garmin.com/en-US/shop/downloads/basecamp
Download your free copy of Garmin Express here : http://software.garmin.com/en-US/express.html This process will open your account for automatic updates.
Google maps is most helpful to quickly find waypoints and data to copy to BaseCamp. https://www.google.com/maps
Support material and videos to review before the seminar is most helpful.
My seminar will hopefully get you over the learning curve with a very basic understanding about Garmin BaseCamp. The Software and main map, Files, Folders, Lists and data separation. To show you the amazing power of Garmin Basecamp…a few shortcuts and tricks... how to use Google Maps with Garmin BaseCamp…
No pre registration neccessary, just check the main schedule for time and location.
Free Raffle!
Expect to see top shelf bits again this year from:
BMW Motorrad, Klim, Olympia, Continental Tire, Skene Designs, Clearwater Lights, Black Dog Cycle Works, California Heat, Sena, BMW Performance Center, APEX Cycle Education, Motorcycles of Charlotte, NGK, and even more to come!
More details to come:
Riding safety roundtables hosted by several veteran motorcycle safety and industry equipment professionals.
Presentations and clinics hosted by industry leading motorcycle and accessory manufacturers.
Top shelf raffle items from BMW, Ducati, Klim, BMW Performance Center, and many more.
And of course, there will be a very cool event T-Shirt available for your collection!
Schedule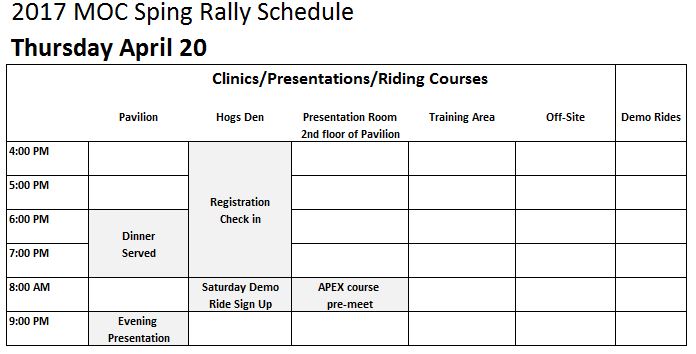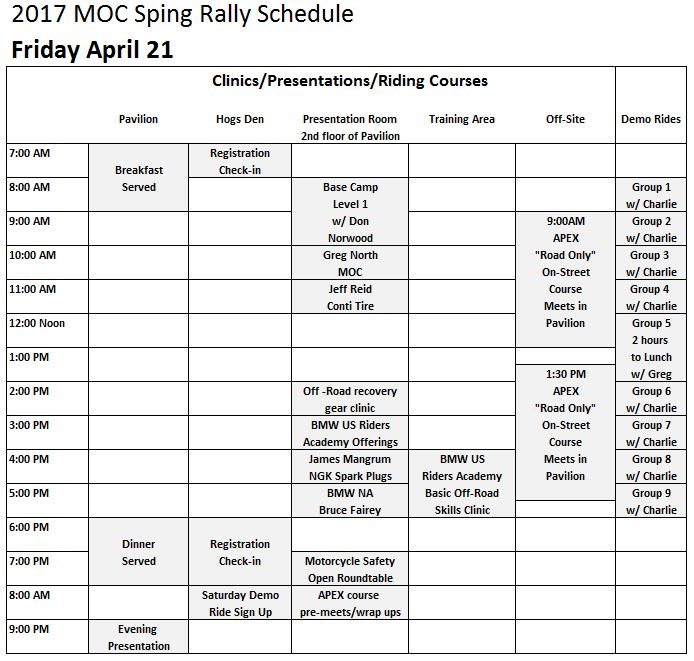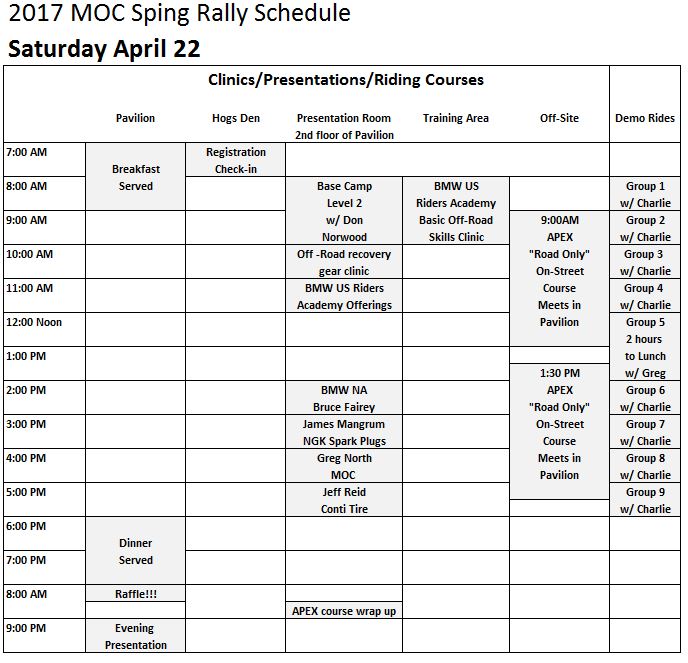 Motorcycles of Charlotte Dealer Discounts!
We are offering rally attendees a few unusual discount opportunities, please keep your ticket as proof of your attendance. These offers will all be honored to registered attendees, for one purchase (may be multiple items), through August 31, 2016.
New BMW Motorcycle Sales:
We will waive/absorb all retail dealer fees (Handling/Doc fees) for any one new BMW Motorcycle. If a New BMW motorcycle is something you would like to explore, please find Greg North over the weekend, he'll be happy to discuss availability and pricing with you.
BMW, Ducati, and Triumph Apparel & Accessories: 20% off normal retail.
Klim, Shoei, Arai, and Schuberth Riding Gear: 15% off normal retail.
All Other After-Market Accessories: 10% off normal retail.
This page will be in constant development for the next several weeks, please check back to stay up on what's coming as things come together!