MobReteat WINTER 2021 for ALL Americas North, South, East, West & Friends
Mob Programming: There are different ways, but in all, people treat each other with kindness, consideration, and respect... and you code.
About this event
On April 25th was the very first online mobretreat. The following month, there were four more, pretty much everywhere.
A mobretreat is like a coderetreat, where …
people practice TDD as a mob, i.e. as a group of 5 people, plus-or-minus 1.
constraints change with each round, but they are not about how the code is written.
instead the constraints define how people in the mob communicate.
If you are interested in learning about mob programming, and specifically, differing styles of mob programming, and want to share these practices within your community, then please join us for one of the upcoming GLOBAL Day of MobRetreat events.
To see all of the GLOBAL DAY of MobRetreat events see MobRetreat.org.
There are now five separate events on the global day.
If you have attended one or more of the prior events, and are thinking about hosting your own event, use the Organizing link on that website to find out more, and feel free to contact me if you have questions.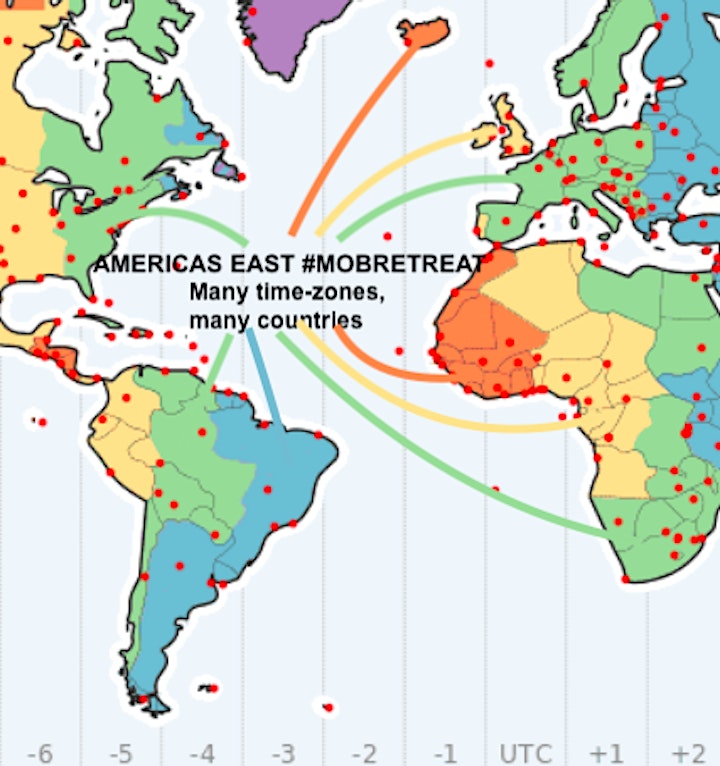 Current registrations include:
Alejandro Martinez
Anders Bodelius
Christine Frayda
Christoffer Thomsen
Dan Revel
Danial Raza
Daniel Bartholomae
Dave Aronson
David Batten
Diana Sherwood
Dimitry Polivaev
Eddie Bush
Evan Grossman-Lempert
Gaurav Singh
Ian Moss
Jagandeep Singh
Jagoda Cubrilo
Jason Yip
Jim Tyhurst 
John Maxwell
Karen Zanetti
Kimberly Byassee
Lilian Dyer
Linda h
Linda Knickerbocker
Lucian Condrea
Marcus Vega
Matthew Lanzi
Michal Rogozinski
Mike Aono
Moss Drake
Nicholas Del Gorsso
Omkar Agrawal
Ozgur Polat
Paige Watson
Pradip Ghosh
Ricardo Abella
Samah Johnson
Simrat (Sim) Kaur
Stephen Thomas
Steve Moubray
Stewart Levine
Timothy Wright
Toby Delrahim
Todd Scanlan
Tom Ayerst
Viran L
The interesting people above are from:
US: Arizona, Maryland, Michigan, Missouri, New York, Oregon, Utah, Virginia, Washington
Canada: Vancouver and Quebec
UK: London
EU: Berlin, Denmark, Germany, Poland, Spain, Sweden
Africa: Kenya
Asia: India
Organizer of MobReteat WINTER 2021 for ALL Americas North, South, East, West & Friends
When you register on Eventbrite, you will immediately see a link to the Code of Conduct for the the Software Crafter Slack group. We have a Slack channel #codecraftsaturdaysandsundays within the group. This is where we find each other between these monthly gatherings, and our little corner is part of a larger and richer experience where you will meet people from all over the world. 
Why you may wish to participate?
Code Craft Saturdays has been running day-long hands-on workshops monthly since 2013. Initially they were in Ann Arbor, and pair programming, test-driving software, and having fun were always the order of the day (they still are). At the start of 2020 those workshops gained a twin on every 2nd Sunday in downtown Detroit.
In March of 2020 we went all online, and kept everything described above, but expanded the pair programming to become Ensemble Programming. Ensemble BTW is a reference to how a Jazz Ensemble supports one another, riffing on the beat laid down by one member, and continually extending and adding their own contribution. This jazz ensemble model is very representative of how Mob/Ensemble Programming works and why it works as well as it does.
An unexpected side benefit of going all online if the sheer diversity of who are able to participate. Each month we get people joining us from multiple countries; typically all over the US and Canada, the UK and EU, and frequently from counties in Africa and Indian subcontinent as well. I'm working on getting more traction with South America.