Location
Atlantic City
777 Harrah's Blvd
Atlantic City, NJ 08401
From the creators of SopranosCon, come celebrate the gangster genre in TV and cinema like never before on July 24-25, 2021
About this event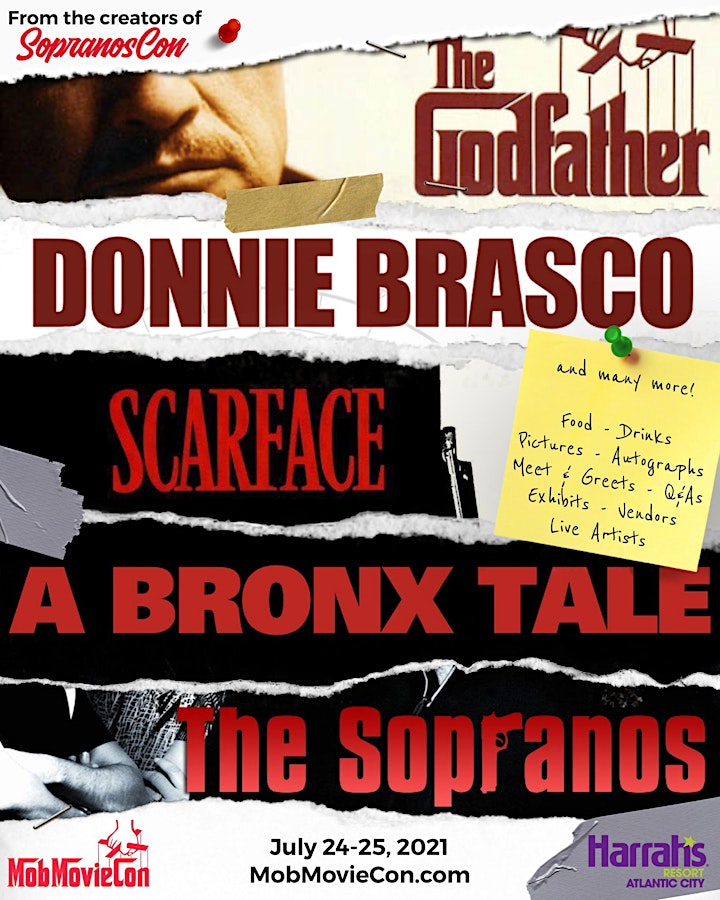 MobMovieCon + SopranosCon is set for July 24-25, 2021 at Harrah's Atlantic City!
Simply stated, this is Comic-Con for gangster movies! Our event is a fan-created dedication to the films and television shows that friends of ours love, including The Sopranos, Goodfellas, The Godfather, A Bronx Tale, Donnie Brasco, and many more. We created an interactive, street fair-inspired fan experience with food, music, exhibits, galleries, vehicles, cosplay, contests, and of course pictures and autographs.
Confirmed guests at the moment are Armand Assante, Ice-T, Lorraine Bracco, Paul Sorvino, Giancarlo Esposito, Michael Madsen, Kathrine Narducci, Tom Sizemore, Tony Darrow, Federico Castelluccio, Vincent Curatola, Sofia Milos, Jerry Adler, Jeff Marchetti, Taral Hicks, David Proval, Eric Roberts, Ray Abruzzo, Matt Servitto, Dan Grimaldi, Jason Cerbone, Oksana Lada, John Bianco, Johnny Martino, John Fiore, Frank Santorelli, Garry Pastore, Artie Pasquale and more!
All guest appearances will be announced on MobMovieCon.com as soon as they are confirmed and are subject to change. Check back often for updates
Hotel reservations at Harrah's more than double in price starting July 9! Book your reservation here
Please note that if you purchased tickets to any SopranosCon/MobMovieCon 2020 date prior to COVID-related postponements that your ticket will be accepted on July 24-25, 2021.
DISCLAIMER: We are not affiliated, associated, authorized, endorsed by, or in any way officially connected with HBO and The Sopranos Franchise, the films/studios depicted on this website or any of its subsidiaries or its affiliates. HBO and The Sopranos Franchise web site is available at https://www.hbo.com/. All HBO and The Sopranos Franchise parks, attractions, lands, shows, event names, etc. are registered trademarks of HBO and The Sopranos Franchise.