Mobius Partners hosts IDC guest speaker, Rick Villars
When and where
Location
Del Frisco's Steak House 5251 Spring Valley Rd. Dallas, TX 75254
Description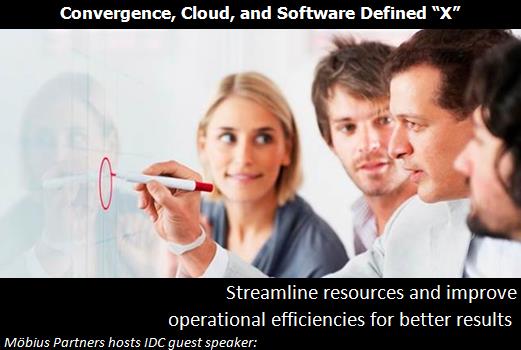 Come learn how you can improve efficiencies and business outcomes while meeting and even exceeding your changing customer demands.
The rapid expansion and continual reinvention of business in a world of mobile users and continuous data analysis is changing the way organizations engage with their customers and ultimately causing you to rethink your business strategies. It is also reshaping the IT and communications supplier landscape with consequences for how you buy, deploy, and maintain IT assets.

Over lunch IDC Analyst, Rick Villars will highlight how you can see improved business results using the latest technology to your advantage. He will illustrate how to assess the near term and long term challenges and opportunities through improved technology solutions such as converged/hyperconverged systems, next generation security solutions, and cloud based applications. You will also learn how Mobius Partners is uniquely poised to help accelerate your business through the best use of these technologies and have the benefit of networking and swapping strategies with peers and colleagues who face similar challenges.
Reserve your seat today. If you have a colleague that might be interested, please forward the invite.
Tuesday, September 15th
11 am - 1 pm

5251 Spring Valley Road, Dallas, TX 75254

Please note: This event is intended for IT professionals only and seating is limited.
Registration is subject to approval upon review by the event director.



---

Möbius Partners is an enterprise-level IT solutions provider of strategic services, technical expertise and sales support. We assess, architect, implement and manage IT solutions that improve performance, maximize the value of data center investments and prepare companies for future growth. From hardware, to software, to professional services, Möbius Partners serves clients throughout the central U.S. from its headquarters in San Antonio and its offices in Dallas and Houston.
Source: IDC, IDC FutureScape: Worldwide Cloud 2015 Predictions, Doc #253476, Dec 2014
Source: IDC, Worldwide Integrated Systems 2014–2018 Forecast: State of the Market and Outlook, Doc #252616, Nov 2014.