MobiU2013 Seminar: Mobile Path-To-Purchase

Thursday, October 24, 2013 from 5:45 PM to 9:00 PM (CDT)
Event Details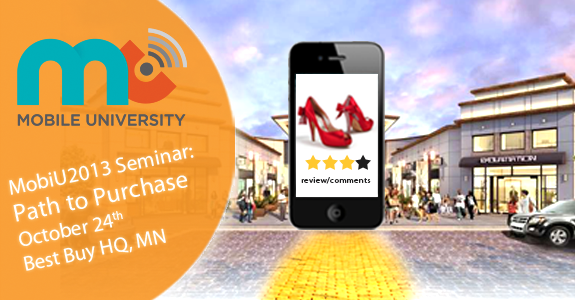 Mobile Path-To-Purchase Seminar
When roads diverge and customers take both, what do you do?
The HMC is hitting the road this October and partnering with Best Buy at their headquarters in Minnesota. Join us October 24th, for our Mobile Path to Purchase Seminar where we will explore how consumers purchase products in today's mobile world. Learn how forward-thinking brands are using this behavior to increase awareness, consideration, purchase and loyalty.
Mobile influenced store sales will near $700 billion in the next three years, more than doubling eCommerce sales, according to Deloitte forecasts. Are you prepared to take advantage of this significant shift in consumer behavior?
Ready or not, this change is already underway. Connected devices are actively transforming the way that customers shop. Did you know…
66% of smartphone users use their phones to help them shop while they are in a store (Google, 2013)

Time spent on a mobile phone is up to 2.6 hours per day, surpassing time spent on desktops and laptops (eMarketer, 2013)
Join the Heartland Mobile Council as we present an educational experience on the latest strategies, insights, methods, and best practices on how to engage customers as they embark down the mobile path-to-purchase: discover, learn, engage, transact, service and grow.
You will learn about the mobile path-to-purchase in five ways:
BRANDS.  The MobiU brand panelists will increase your mobile IQ with case study highlights and advice from real marketing experiences.  They will help you see how mobile can be used to influence the path-to-purchase for the connected consumer.
CONSUMERS.  Learn how consumers feel about mobile as it relates to the path-to-purchase, and what they expect from a mobile purchase experience with their favorite brands, with a moderated focus group.
INSIGHTS.  Hear market statistics and insights about how consumers are using their mobile devices during the path-to-purchase. More importantly, learn about how to add value so you can influence their mobile behaviors.
EXPERIENCE.  The MobiU Experience Hall features demos of how new technologies are connecting brands and mobile users in their path-to-purchase. Experiencing these platforms first-hand will help you understand ways to use these new technologies to interact with your customers.
NETWORK.  We have worked hard to target the most influential professionals in mobile marketing.  As a result, our audience is 75%+ marketers and brands.
Agenda Summary
5:45 Registration
6:15 Focus Group
7:00 Insights on Mobile Path-To-Purchase
7:15 Marketing Panel with Brands Sharing their Lessons
7:45 Experience Hall Reception
Who Should Attend
Marketers, Brand and Agency professionals who want to learn about the role mobile plays in today's path-to-purchase.
What You Will Learn
Strategy, Trends, and Best Practices to understand and influence the mobile path-to-purchase.  Visit our website to get speaker updates and learn more about the event.
 
Speakers Announced after Legacy Admission expires on 08/29.  If you've been to one of our events before you know we bring some of the best speakers in the country to our events.  Lock in your "Legacy Admission" now.  Once speakers are announced, pricing goes up.
Cost
Legacy Admission: $50.00 Ends 08/29
Early Decision: $75.00 Ends 09/20
Regular Admission: $99.00 Ends 10/04
Late Admission: $125.00 Ends 10/17
When & Where

Best Buy Headquarters
7601 Penn Ave S
Richfield, MN 55423


Thursday, October 24, 2013 from 5:45 PM to 9:00 PM (CDT)
Add to my calendar
Organizer
Heartland Mobile
Heartland Mobile™ is a Chicago-based non-profit organization whose mission is to foster economic development in the Heartland of America to build the future mobile marketers. Heartland Mobile is dedicated to support the growth of the market of all things mobile with best-in-class mobile marketing educational programs and by promoting mobile best practices. 
MobiU2013 Seminar: Mobile Path-To-Purchase