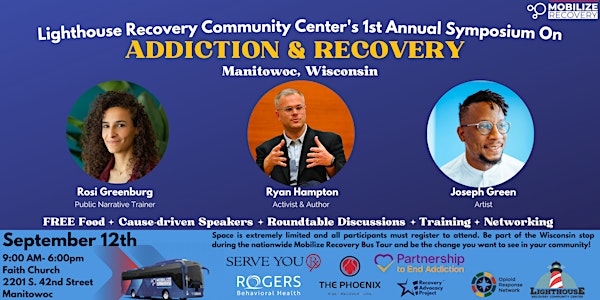 MOBILIZE RECOVERY WISCONSIN: SYMPOSIUM ON ADDICTION & RECOVERY
LIGHTHOUSE RECOVERY COMMUNITY CENTER'S 1ST ANNUAL SYMPOSIUM ON ADDICTION AND RECOVERY!
When and where
Location
Faith Church 2201 South 42nd Street Manitowoc, WI 54220
About this event
Each year, hundreds of people in recovery, family members, & recovery allies attend Mobilize Recovery — an annual convening to learn innovative strategies & tactics for grassroots organizing & recovery solutions. To learn more visit www.mobilizerecovery.org
Launching from Las Vegas during Labor Day weekend 2022, Mobilize Recovery Across America will depart on a cross-country bus tour, highlighting the recovery experience that is so unique in different regions throughout the country. The month-long tour will travel from the West Coast to the East Coast—and back—from September 5, 2022 to October 6, 2022.
Serve You Rx, The Recovery Advocacy Project, and the Lighthouse Recovery Community Center, will bring the Wisconsin Recovery Community a packed day of speakers, discussions, trainings, and more. Join us and let's celebrate Recovery Month together!
This event is free of charge and food will be provided. Space is extremely limited and all participants must register to attend. Be part of the Wisconsin stop during the nationwide Mobilize Recovery Bus Tour and be the change you want to see in your community!
Panel Discussions Include:
Recovery Friendly Employer Panel Led by: Christma Rusch, Lighthouse Recovery Community Center
Latching ~ Sara Behnke & Brianne Harrison
Redline Plastics ~ Brenda Haese & Dylan Swoboda
Serve You Rx ~ Justin Jasniewski & Jessica Geschke
Rogers Behavioral Health ~ John Boyd & Janet Gatlin
Mobilizing Recovery in Wisconsin: Led by: Joseph Green, Tipping the Pain Scale
Jesse Heffernan ~ Owner Helios Recovery Services/Professional Recovery
Justin Jasniewski ~ CEO, Serve You Rx
Michael Ethridge ~ Executive Director, The Haven men's shelter
Kristina Smith~ Safe Communities
Honorable Judge Robert Dewane ~ State of Wisconsin Circuit Court Judge
Harm Reduction Led by: Jaclyn Brown, Recovery Advocacy Project
Michael Beyer~ Rogers Behavioral Health
Theo Krzywicki~ End Overdose
Byron Thompson~ The Phoenix Milwaukee
Jessica Geschke~ Serve You Rx
Ben Bruso~Vivent Health
Re-framing Substance Use for Family Members" Led by Denise Mariano, Partnership to End Addiction
John Boyd ~ CEO, Rogers Behavioral Health
Lynn Qualman ~ Family member/parent
Cath Tease ~ Person in long-term recovery – Educator
Patti Varges~ Partnership to End Addiction
Nadia Al-Amin- SAMHSA
Once you register you will notice two ticket options, (General Admission[Required]) and another for our breakout session that will take place from 2:30-6:30 PM- Public Narrative for Connection, Power & Change. This breakout session will require a separate registration. We will have very limited capacity for individuals to participate, so if interested please do not wait and register when selecting to attend the general symposium. Please review the information below to learn more:
Sharing Your Public Narrative for Connection, Power, and Change
About this event -Join us in this experiential workshop to learn how to share your stories in powerful ways and use storytelling in your leadership. Over the course of this four hour training, Rosi Greenberg and Joseph Green will share a powerful narrative technique that enables you to share your Story of Self (why you are called to your leadership), a Story of US (the moments that bring our community together) and the Story of Now (what's urgent that needs our action, and the call to act together). This workshop is based on Public Narrative, the leadership practice taught by Professor Marshall Ganz at Harvard University, and is infused with life experience with recovery, finding resilience in mental health, and leadership. During our time together, everyone will write their own personal story, then work in small groups to practice, learning through experience and iteration in community. Through this narrative practice, we will connect and build the power we need to create change for recovery.
This year, we're excited to use storytelling to support your state's campaign goals. Every storyteller will have the option to receive coaching and film their story to participate in important legislative campaigns and call others to action. This workshop is for anyone who worries if they have a story, as well as people who have been telling their stories out loud for years, and everyone in between, including family members, people in recovery, and allies of recovery. Taught by Joseph Green, a spoken word artist, and Rosi Greenberg, a visual artist, both professional speakers and storytelling trainers with lived experience in mental health crisis and resilience. Previous participants at Mobilize have called this workshop "life-changing" and said it was "the missing piece and the confidence I needed" to file to run for office.