Mobile2Reality Pitch Competition

Thursday, September 26, 2013 from 5:00 PM to 6:00 PM (CDT)
Event Details
Pitch the Power of Mobile2Reality
Winner receives $15K & a Contract with PepsiCo's Quaker Oats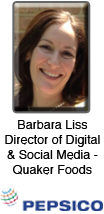 You got mobile game? Show off your creative and business acumen by competing in the Mobile2Reality Pitch Competition. You could win $15,000 and a contract with PepsiCo's mega-brand, Quaker Oats. With all the possibilities that mobile creates, we want to see the best idea that brings mobile to reality for one of the Quaker Oats brands.
The top four concepts will pitch live in front of the #MobiU2013 Summit audience. Then, Barbara Liss, Director of Digital Marketing - Quaker Oats, and the audience will vote on the winner, and award the business on-site - in addition to a $15K prize! In exchange for the contract and reward, the winner will implement the campaign they pitch, and see their concept go live with one of the Quaker Oats brands.
HOW IT WORKS: (all times are CST)
9/11, 12midnight. You register for the competition by clicking on "Register" below. Deadline: 9/11/13 midnight CST
9/12. Those registered will receive the Quaker Oats creative brief on 9/12
9/19, 12midnight. You submit your One-Slide Concept by 9/19
9/20. HMC selects and notifies the final four to pitch to Quaker live at the Summit
9/26, 10:00am. Hear Barbara Liss provide background on the challenge to the Summit audience (Summit ticket required)
9/26, 5:00pm. Live pitches starts. Each team has 5 minutes to present, followed by 5 minutes Q&A.
9/26, 5:45pm. Audience votes for their favorite
9/26, 6:00pm. Barbara reviews with her team and the audience vote, then announces the winning team
Post 9/26: Campaign is finalized and implemented. HMC will announce the campaign once its live and also the results after its over.
We look forward to your ideas!
NOTE: Entering this contest includes a MobiU2013 ExpHall Reception ticket.  This is good for the Closing Keynote of the MobiU2013 Summit at 4pm and for the Reception and Experience Hall from 6-9pm.  It does not include full Summit access from 10-4pm.  The full Summit ticket can be bought here.
When & Where

Microsoft Technology Center
200 E Randolph St
Chicago, IL 60602


Thursday, September 26, 2013 from 5:00 PM to 6:00 PM (CDT)
Add to my calendar
Organizer
Heartland Mobile
Heartland Mobile™ is a Chicago-based non-profit organization whose mission is to foster economic development in the Heartland of America to build the future mobile marketers. Heartland Mobile is dedicated to support the growth of the market of all things mobile with best-in-class mobile marketing educational programs and by promoting mobile best practices. 
Mobile2Reality Pitch Competition