Mobile University 2014 CitySessions: U.S. Mobile App Report

Thursday, September 18, 2014 from 10:00 AM to 11:30 AM (CDT)
Event Details

CitySessions:
U.S. Mobile App Report
Location: comScore, 233 S. Wacker Drive, Ste 3400
Andrew Lipsman, VP Marketing & Insights, comScore
The days of desktop dominance are over. Mobile has swiftly risen to become the leading digital platform, with total activity on smartphones and tablets accounting for an astounding 60 percent of digital media time spent in the U.S. The fuel driving mobile's relentless growth is primarily app usage, which alone makes up a majority of total digital media engagement at 52 percent. In this session we let the numbers and charts do most of the talking, as the story of today's app landscape is told through the visualization of comScore's mobile data.
Some key questions to be answered in this report include:

> How fast has mobile app usage been growing?
> How often are people using apps on each device?
> What percentage of time are consumers spending on their top apps?
> How do iOS users differ from Android users demographically and behaviorally?
> Which mobile app content categories are we spending most of our time consuming?
> How do the top apps compare in different age segments?
This CItySession is part of our 1st Annual Mobile University Week! In September 2014, Chicago will become a destination for brands to educate themselves on how to use mobile effectively.
At this game-changing week-long event you will be inspired by our speakers and artists and be educated in a safe, no-pitch learning environment:
 

---

 
 
NEWS!
 
Start your education now! Read the latest interviews, opinion pieces and white papers from them as a warm-up to Mobile University Week. To read the latest mobile education, click here.
 

---

 
 
Speakers
 
Learn from brands at the leading edge of mobile at the 5th Annual #MobiU2014 Summit and CitySessions, including Western Union, Guess?, PepsiCo, Best Buy, Target, Walgreens as well as research from comScore, Northwestern University and the University of Michigan. Find out more about our educators and what makes them passionate about mobile. For more details, click here.
 

---

 
 
Curriculum
 
See all the learning opportunities that you have during Mobile University Week. From our 5th Annual Mobile University Summit, to the new CitySessions and Certification workshop. From our signature Experience Hall (ExpHall) to the 4th Round Finale of our Brands+Startups Challenge. For details, click here.
 

---

 
 
CitySessions
 
Attend as many additional mobile sessions across the city of Chicago. One-and-a-half days of City Sessions will let you pick and choose what additional education you want – or pick them all! Best of all, all of them feature brand speakers or deep research. Click here to learn how to host one. CitySessions can be added to your Summit ticket at checkout time.
 

---

 
 
Certification
 
Deep dive into mobile with our Heartland Mobile Certification workshop designed and taught with Northwestern University and the University of Michigan professors and BCBS of Illinois. Includes a live case study with the Boy Scouts of America. The Certification workshop can be added to your Summit ticket at checkout. For more details, click here.
 

---

 
 
ExpHall
 
Be inspired by our mobile artists as they depict the future of mobile & humanity. In this environment, you will interact with many of our Experience Hall exhibitors who are there to help build your mobile education with their experiences built for the Summit. Click here to learn how to exhibit in our ExpHall.
 

---

 
 
Brands+Startups
 
See the hottest mobile startups – and what makes brands interested in them – at the Brands+Startups finale. More about Brands+Startups program here.
 

---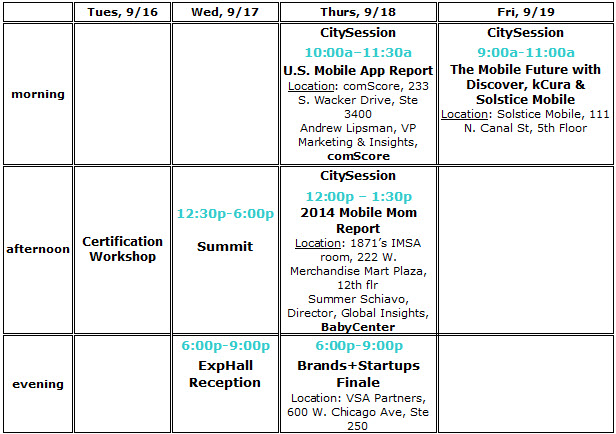 Table: Overall flow of Mobile University Week
Who should attend?
Based on prior years" attendance, 80% of Mobile University attendees will be marketing/product professionals from Fortune 1000 brands and advertising agencies. For a breakout of our typical audience please click here.
Why do marketers like our events?
It's our signature "Safe Learning Environment" where no speaker has paid a sponsorship to speak. Aside from decreasing our sponsorship revenue what's the value of not being pitched? Watch this video from last year's Summit where brands like PepsiCo, MasterCard and Allstate, and agencies talk about the value of a safe learning environment.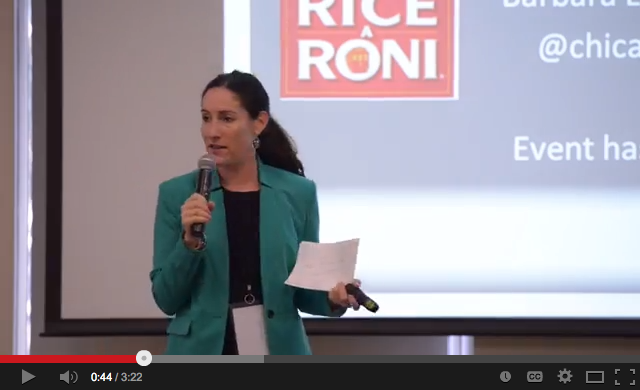 How do I get updates on new news?
Speaker and Experience Hall updates are posted weekly. Sign up for our email list or follow us on Twitter, LinkedIn and Facebook to see updates in real-time.
Get Email Updates

Mobile University™ and the ExpHall™ are the creation of the Heartland Mobile Council, a Chicago-based non-profit whose mission is to educate brands on how to use mobile effectively.   The confluence of consumer retailers, brands, researchers and agencies – combined with the presence of the "average consumer" – make Chicago, the "Heartland of America," the ideal place for learning how to utilize mobile technologies to enhance business-to-consumer communication.
Mobile University Week™, Brands+Startups™, Heartland Mobile Certification™ and CitySessions™ are the creation of the Heartland Mobile Foundation, a Chicago-based private trust whose mission is to foster economic development in the Heartland by educating future mobile marketers. The Heartland, with its core American values and work ethic is the ideal destination for individuals, entrepreneurs, startups and small businesses to understand how to bring mobile technologies to the mass market.
When & Where

comScore
233 S. Wacker Drive, Ste 3400
Chicago, IL


Thursday, September 18, 2014 from 10:00 AM to 11:30 AM (CDT)
Add to my calendar
Organizer
Heartland Mobile
Heartland Mobile™ is a Chicago-based non-profit organization whose mission is to foster economic development in the Heartland of America to build the future mobile marketers. Heartland Mobile is dedicated to support the growth of the market of all things mobile with best-in-class mobile marketing educational programs and by promoting mobile best practices. 
Mobile University 2014 CitySessions: U.S. Mobile App Report