Description
lacpug meets are now made possible by
Mobile Filmmaking Night
Join us as we welcome Taz Goldstein who will show us many of the top apps you need for professional mobile movie making.
Also Dave Basulto of iOgrapher fame will join us to show off hardware accessories for the mobile filmmaker.
Also, Karl Soule of Adobe, will be here to show their mobile apps.
Oh yeah, Stump the Gurus, World Famous Raffle and our brand new projector.
Plus air conditioning. Woot!
Registration goes live at 9AM Tuesday, June 12!
---
Agenda (subject to change and availability)
6:45- 7:15PM - Stump the Gurus
Join Gurus Adam Bedford, Misha Tennenbaum and Philip Hodgetts as they will attempt to answer all of your questions and solve all of your problems concerning FCS and FCPX, Avid, Premiere Pro and anything else you can think of. If they can't solve your problem or answer your question, then you go home with a problem, but you still got out of the house, so that's not a bad thing.
7:15PM - 7:25PM - Announcements
This is your time, assuming we have time. New to LA? Say Hello. Got a movie you want people to see? Tell us about it. Looking for a job? Tell us. Offering a job? Tell us.
7:30PM - 8:00PM - Adobe Mobile Apps - Karl Lee Soule
Karl will be covering a range of mobile apps from Adobe that are designed for professional-level work in graphics and video. Tools like Adobe Capture can create high-quality color Looks, which work on both mobile and desktop tools. Karl will cover Adobe Premiere Clip, a mobile application for video editing that can send your timeline to Adobe Premiere Pro for further finishing. And Karl will also cover some of the Adobe Spark mobile apps – great for social media and quick storytelling. Best of all – all of the Adobe mobile apps being shown are FREE, so feel free to download and test out yourself.
About Karl Lee Soule
Karl Soule recently returned from 5 years living and working in Asia, growing the awareness and adoption of Adobe Premiere Pro in broadcasting and film. He's now living and working in Culver City, covering the greater LA region to help adoption of Adobe Creative Cloud tools in the film industry.

8:00 - 8:30PM - Hardware accesories and software you NEED. - Dave Basulto
Dave will show and tell about Switcher Studio - multicam workflow on iOS devices.
2. Rode microphones - new workflows for audio
Also Dave will show us ways to go live to FB, YouTube etc. and show off Filmic Pro, your iOS camera on steroids, And yes, show us the iOgrapher.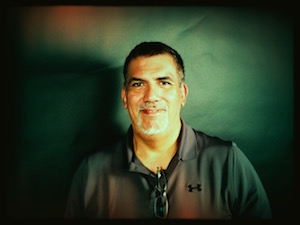 About Dave Basulto
David Basulto is a former award winning educator who invented the iOgrapher filmmaking case for mobile devices. He is an accidentally entrepreneur who's products are sold throughout the world and used by professional sports teams, journalists, schools, and even Steven Spielberg! For more information visit www.iographer.com

8:25- 8:55PM - Break
The most important part of the show. It's networking time. This is a great opportunity to not only ask questions and get problems solved, but to meet people that just might change your life. Also lacpug sponsor CineXinsert will be in lobby showing off the stand-alone, file-to-file insert edit application for installation on your Mac. It's amazing!. Snacks, wine, beer, and sodas are on sale in the lobby, All proceeds go to the Gallery Theatre.

9:00PM - 9:35PM - Mobile Movie Making Apps You Need -Taz Goldstein
If you own an iPhone or iPad (or want the best possible excuse to get one), this presentation should not be missed. In his unique, rapid-fire style, Taz will be exploring the latest, greatest, and most empowering new apps for professional film and video production. He may also throw in a few of the more exotic accessories currently available.
About Taz Goldstein
Taz Goldstein is an award winning filmmaker who has directed & produced for Universal Pictures, Walt Disney Studios, Fox Television Studios, FX, TBS, Worldwide Pants, MTV, Sony Electronics, Fuji, Adobe, and many other companies that don't look as impressive on a list. Taz recently executive produced the acclaimed feature documentary, Spinning Plates, and authored the book Filmmaking with the iPad & iPhonefor Peachpit Press. In 2009, Taz founded Hand Held Hollywood, a website that explores how Apple's iOS devices can aid in nearly every aspect of film and video production. Taz is a regular speaker at industry events around the world, and is a former faculty member of the American Film Institute. And, if you're still reading, Taz may buy you a beer. Maybe.

9:40PM - 9:50PM - Show and Tell - TBA
Presentation description coming soon.
---