Location
Speakeasy - In the Basement of Bier Market
1948 West 25th Street
Cleveland, OH 44113
Description
Please join us for an opportunity to network with and learn from other local business and IT leaders who are interested in the impact that mobile technology is having on business.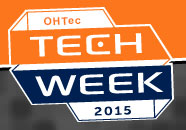 We're thrilled to have Mobile Monday Cleveland as a community sponsor and be a participating event for OHTec Tech Week 2015. OHTec (formerly NEOSA) has been a long time supporter of Mobile Monday Cleveland and we are happy to open up our event to their community.
We've already seen an increase in registration with the Tech Week tie-in, so be sure to take advantage of the larger than normal crowds to network with others passionate about mobile.
For this special OHTec Speaker Series, we're pleased to welcome Jason Buffin, an Engineer (Mobile) at Tackk, a social media startup in Cleveland. When Jason joined Tackk, it was a desktop-first platform with a responsive site. Come hear about the challenges of designing and building a mobile app to complement an already mature desktop experience. How do you make the decision of what to put in the app and what to leave out. How can the app be complementary and not just a copy of your website? Jason will discuss the way Tackk has answered these questions and some of the lessons they have learned through this process and how adding a mobile platform into the mix has influenced all aspects of our product from the API, desktop application, new product launches, and product roadmap.
When:
Monday, April 13th, 2015
Agenda:
6:30 – 7:00pm: Registration and Cocktails
7:00 – 7:45pm: Discussion
7:45 – 8:30pm: Informal Discussion and Networking
Where:
Speakeasy – Enter the Bier Market and head to the back staircase
1948 W 25TH Street, Cleveland, Ohio 44113