Mobile Media Mysteries Uncovered: Social Media for Authors

Thursday, February 9, 2012 from 6:00 PM to 9:00 PM (EST)
Event Details
Social Media Made Easy wants to help every entrepreneur realize the edge they have over their corporate competitors and maximize on their unique sales position.
With 800 million daily active users on Facebook, 100 million actives users on Twitter and 50 billion daily views on YouTube it's safe to say that social media is here to stay. Also known as new media, social media allows people to share with their selected audiences the things that are important to them. So if you have every wondered where all the people are, its safe to say, they are somewhere on a computer.
Mobile media although its power eludes many old school author/entrepreneurs is the evolution of media. Four times more people use mobile devices than laptops or PCs.  Tablet sales were up 80% over last year in the 2nd Quarter while e-book sales have increased 115% since January 2010. If your book or other products are not accessible via mobile media, you are doing your potential readers a disservice.  Author Versandra Kennebrew uncovers the mysteries about mobile media.
·    Are Mobile Apps for Self-published Authors/Entrepreneurs? 
·    Why every Author/Entrepreneur should be Making Money using Amazon.com?
·    How can Authors/Entrepreneurs use Tablets to Manage ther Businesses on-the-go?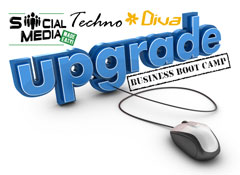 www.socialmediamadeeasydetroit.com
Free Workshop Thursday Feb 9, 2012 6pm 
WCCCD Eastern Campus 5901 Conner Street, Detroit, MI 48213

When & Where
5901 Conner St
Detroit, MI 48213


Thursday, February 9, 2012 from 6:00 PM to 9:00 PM (EST)
Add to my calendar
Organizer
VKI Personal Development
We are your source for events that make you feel good; mind, body, and soul.
Our CEO Versandra Kennebrew is a 17-year holistic health educator and author of 6 self-help books. Follow us for upcoming optimal living workshops, retreats, book signings and more.
Tune-in to Health & Healing Chronicles, T-Wednesdays, midnight til 3 AM on Night Watch Expressions WRFG 89.3FM or www.WRFG.org. We play hand-picked quality music to feed your soul and feature a host of holistic healers and experts to support you on your journey to optimal living at work and at play.
Live Love
Mobile Media Mysteries Uncovered: Social Media for Authors