Location
Connelly Auditorium / Terra Building / UArts
211 South Broad Street
Philadelphia, PA 19107
Description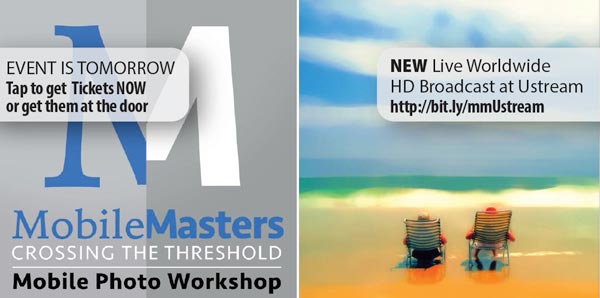 NEW BUY ONE GET ONE HALF PRICE! HALF PRICE STUDENT DISCOUNT!
WORLD WIDE LIVE STREAM GO TO http://bit.ly/mmUstream
Take Hold of The Mobile Movement... Enroll in this in-depth photography workshop and learn how shoot and transform your cell phone photos into memorable photographs.
Mobile photography is radically changing the photographic landscape. A truly remarkable range of iPhoneography has emerged from around the globe in just the last couple of years. Having a camera always in your pocket with inexpensive apps, along with the instantaneous sharing of visual ideas via social networks like Instagram, is revolutionizing the medium.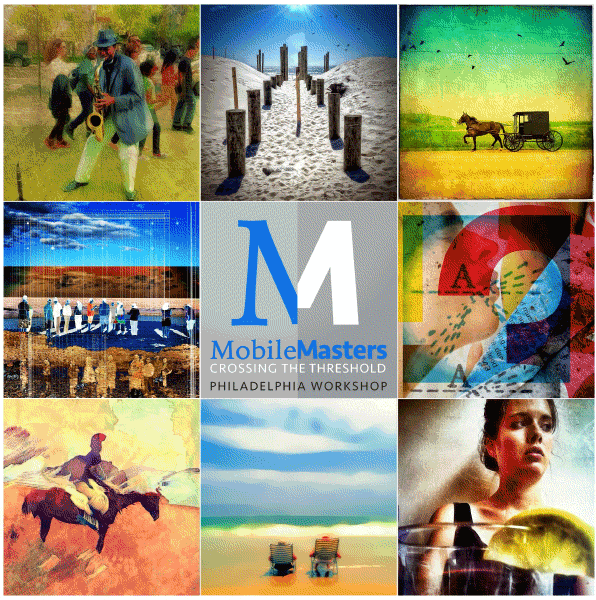 World Class Instructors
This four-hour workshop featuring noted author and iPhonegrapher Dan Marcolina, with guest visits from Stephen Perloff, the founder and editor of The Photo Review, and Mobile Master Cindy Patrick, will tune your mobile skills to get your photos noticed.
Dan Marcolina is the author of the iconic first book on iPhoneography and the interactive ebook series "iPhone Obsessed" and one of the world's most influential leaders in this emerging "Mobile Movement." Dan will share with you some remarkable iPhone alternative processing techniques and personal insights into this new art form.
Dan is a Philadelphia-based designer with a national reputation for his print, web, and video work. He has lectured all over the country about iPhoneography and his experience and demonstrations will open your eyes to the possibilities of this next chapter in photographic history.
Cindy Patrick is one of the most recognized names in iPhoneography, having won some of the highest awards available. Her work has appeared in numerous books and international exhibitions.. She will reveal her unique workflow in her demonstration entitled "The Fine Art of iPhoneography."
Stephen Perloff is Philadelphia's noted teacher and photohistorian, founder and editor of The Photo Review, and editor of The Photograph Collector. Stephen will start the day by framing the Mobile Photo Movement in historical terms. You can expect a great range of insight from Stephen, the recipient of two grants from the Pennsylvania Council on the Arts for arts criticism. His articles have been reproduced in dozens of other journals and he has been called on as an expert to comment on the state of the photography market for publications such as The New York Times and The Wall Street Journal.
The Mobile Skills You Will Learn
You will learn the essentials you need to know to get the best quality images in and out of your mobile device. You will discover how to render tasteful and unique results from cross-mutating apps with a variety of image types. Marcolina has looked at most of the photography apps in iTunes and has boiled them down to show you only the very best. Get insider secrets on how to unlock the top creative features of each app covered.
Some of the key app techniques covered are Image Perfecting, Painting, Blur, Light, HDR, and Grunge style, along with compositing and blending modes. Marcolina also works frequently on projects for Adobe and will show some of the key features of the just released PS Touch for iPhone.
You will learn why iPhoneography is different from traditional photography in three unique ways: Organically Shooting, Processing, and Sharing. Also covered: how to get unique perspectives and story-telling with street photography, and how to get noticed in Instagram. We will also explore the gadgets and services that are emerging around iPhoneography. Get the complete perspective of what is happening now and what the possibilities are for the future.
Book Signing and More
Lunch break at noon and meet and share portfolios at 2pm to 3pm. All paying attendees will get a FREE eBook from Dans iPhone Obsessed Series (like AppAlchemy below), which has been called the very best creative resources for learning ? the art of iPhoneography.
AppAlchemy Preview (Now Available) from dan marcolina on Vimeo.
Note: Eveny is Co-Sponsered by University of the Arts / Philadelphia / Photography Department and Admission is free at the door with UArts ID for students, staff, and faculty. Partial proceeds go to The Photo Review a Philly based not-for-profit journal of photography.
Review of one Marcolina's previous talks
The event was a one-hour, jam-packed session that was very much a "show" as well as a "tell." Alongside of his mind-blowing gallery show with iPhone prints up to four feet, Dan demonstrated countless examples of initial images, snapped on his iPhone and then walked through the progression of manipulating and "playing" with various apps to create a new image. He often combined photos as well as multiple apps. He encouraged listeners to push out to the edge, and maybe beyond, when using apps to create new visual imagery.
Dan was like a turbo-charged athlete, passionately displaying his technical skills. Also very funny. He described the sensation he gets when he's out walking around, or on the way to a meeting, or traveling abroad and he gets the "photo tone" (imaginary ping in his brain!) and knows it's time to capture an image with his iPhone.
ABOUT DAN MARCOLINA
Dan is the co-owner of Philadelphia-based Marcolina Design Inc. Over the last 23 years Marcolina Design's passion for design and digital tools has spurred the company to keep reinventing itself and in the process has become a nationally recognized design leader in print, web, video, and now digital publishing. Having always used digital/photographic imagery as a cornerstone of his design process — along with shooting personal "fine art" work in many traditional formats — Marcolina's images have appeared in many venues and publications worldwide. Over the last two years Dan has recently found a perfect bridge between his digital design side and traditional alternative photo side: iPhoneography.
This new obsession has reinvigorated his love for both photography and visual experimentation, inspiring him to author the first book on the subject of "app stacking" called iPhone Obsessed, by Peach Pit Press. This critically acclaimed work and his four iTunes eBooks — iObsessed Companion, AppAlchemy Essentials, AppAlchemy Pocket, and Mobile Masters — have been called the best creative resources for discovering the art of iPhoneography.
He is the organizer of the landmark iPhoneography event call The Mobile Masters Sessions held in January 2013 in San Francisco. He has given lectures on iPhoneography at the first 1197.is in San Francisco, The LA Mobile Arts Festival, Olympus InVision Photo Festival, PDN Photo Plus NY, UArts Philadelphia (lecture and gallery show), Apple stores in New York and San Francisco, Adobe Max in LA, and PhotoshopWorld in Las Vegas and Orlando. His work can be found in many publications including Graphis, Zoom Magazine, and The Art of iPhone Photography, and his interviews can be found in Cult of the Mac, The App Whisper, We Are JUXT, Pixels, and Ampt. He also contributes tutorials toThe App Whisperer and and iPhotographer Magazine.
With these efforts Dan is considered to be one of the top influential creators in this new mobile medium. danm@marcolina.com
ABOUT STEPHEN PERLOF
Stephen Perloff is the founder and editor of The Photo Review, a critical journal of international scope publishing since 1976, and editor of The Photograph Collector, the leading source of information on the photography art market. He has taught photography and the history of photography at numerous Philadelphia-area colleges and universities and has been the recipient of two grants from the Pennsylvania Council on the Arts for arts criticism. He was the recipient of the Sol Mednick Award for 2000 from the Mid-Atlantic region of the Society for Photographic Education, the first annual Vanguard Award from the Philadelphia Center for the Photographic Image in 2007, and the Colin Ford Award for Curatorship from the Royal Photographic Society in 2012.
His photographs have appeared in numerous exhibitions and reside in many museum and private collections. His exhibition, "Unseen Color, Part I," was shown at The Light Room Gallery, Philadelphia, in March and April 2012; and "Unseen Color, Part II: East and West" was on view at The Light Room in May and June 2013. His work was recently included in the exhibitions "An Evolving Legacy: Twenty Years of Collecting at the Michener Art Museum" at the James A. Michener Art Museum (June 2009 – January 2010); "Streets of Philadelphia: Photography 1970–1985" at The Print Center, Philadelphia (fall 2009); "The Silver Garden" at the Philadelphia Museum of Art (February– July 2005); "Continuum: Photography in Philadelphia: Past, Present, and Future" at the Free Library of Philadelphia (March–July 2007); "Filling the Frame" at Photo West Gallery, Philadelphia (April 2007), and "Hot Topic," a show about global warming, at The Germantown Academy (fall 2007). His work was included in the exhibition "Making Magic: Beauty in Word and Image" at the James A. Michener Art Museum (November 3, 2012 – March 31, 2013), and images from "Unseen Color" were shown at the InVision Photography Festival in Bethlehem, PA, from October 2012 to January 2013. In 2013 his work was seen at the State Theater in Easton, PA (February–March) and at the Red Filter Gallery in Lambertville, NJ (March–April).
He has been widely praised for his writing about the photography art market, including his detailed auction reports, and for his extensive reporting on major stories like the exposure of the production of fraudulent Lewis Hine prints. His articles have been reproduced in dozens of other journals — like American Photo, The Art Newspaper, Town & Country, Silvershotz, Photo News, and the website Le Journal de la Photographie — and he has been called on as an expert to comment on the state of the photography market for publications such as The New York Times, The Toronto Globe & Mail, The Wall Street Journal, and Photo District News. He has also written several essays and introductions for books, including for the 2012 Leica Oskar Barnack award winner Frank Hallam Day's Nocturnal. He is a long-time member of the Board of Artistic Advisers of the Center for Emerging Visual Artists (CFEVA) in Philadelphia and is currently also a member of CFEVA's Board of Directors.
He has curated more than a score of exhibitions, including "Philadelphia Past and Present" at the Philadelphia Art Alliance for the city's tricentennial in 1982. He was the curator of the acclaimed series "Photography: Contemporary Prospect" at Historic Yellow Springs (1994–2001). And he curated the exhibition "Camera Work: A Centennial Celebration," which opened at the James A. Michener Art Museum in September 2003 and traveled nationally through January 2005; an exhibition of environmentally concerned photographs, "Paradise Paved," for the Painted Bride Art Center (April–May 2005); "Radical Vision: The Revolution in American Photography, 1945–1980" at the James A. Michener Art Museum (January–May 2006); the retrospective exhibition "Andrea Baldeck: The Heart of the Matter" at the Moore College of Art, Philadelphia (January–March 2007); and "Saving Face," an exhibition of portraits drawn from the collection of Robert Infarinato at the Michener (November 2008 – March 2009). He was also the curator for the Woodmere Art Museum Photography Triennial (September 2009 – January 2010) and "Mark Sadan: Shadows of Delight" at the Juliet Margaret Cameron Trust and Galleries on the Isle of Wight, United Kingdom. His next curatorial project, "Extended Realities: The Language of Photomontage," will open at the Rowan University Art Gallery on October 14, 2013. He also has served as a juror for literally scores of competitions, locally, nationally, and internationally. http://www.photoreview.org
ABOUT CINDY PATRICK
A professional photographer for the past decade, Cindy turned to her iPhone as a creative tool in 2010 and began creating the distinctive style of art she is known for today. Since then, she has exhibited her work at galleries and museums in four countries and across the United States. She has garnered numerous awards, most recently in the Mobile Photography division of the 2013 American Aperture Awards (Ax3) where she won in the conceptual/experimental category. Her work has been published both online and in print, including Architectural Digest (November 2012 Spanish print edition). Cindy has contributed to two books on iPhoneography, including The Art of iPhone Photography – Creating Great Photos and Art on Your iPhone by Bob Weil and Nicki Fitz-Gerald (Rocky Nook) and Mobile Digital Art: Using the iPod and iPhone as Creative Tools by David Scott Leibowiz (Focal Press.) Her work is also featured in "Mobile Masters - Crossing the Threshold" by Dan Marcolina, an interactive iPad book available in iTunes. In 2013, Cindy was a presenter at the annual MacWorld/iWorld Conference in San Francisco as part of the "Mobile Masters Sessions," the largest assemblage of iPhoneography talent and inspiration to date, celebrating a new chapter in photography's history. Her talk was entitled, "The Fine Art of iPhoneography." In addition to photographing weddings and portraits, Cindy is an iPad Instructor at Cooper University's Cancer Institute as part of their Complementary Medicine Program. She is available for talks and workshops worldwide.
Website: www.cindypatrick.com
Email: cindy@cindypatrick.com
Flickr: www.flickr.com/cpatrickphoto
iPhoneArt.com: http://www.iphoneart.com/users/378/galleries
Instagram: @cpatrickphoto
Twitter: @cpatrickphoto
Facebook: www.facebook.com/cpatrickphoto