Description
Mobile Marketing APAC 2018 is the event APAC mobile app marketers and digital growth experts have been waiting for!
Mobile Marketing APAC 2018 finishes our year of events with a full day of learning in the beautiful early summer of the South Pacific. Located in lovely Sydney, Australia, Mobile Marketing APAC 2018 will be the most unique and modern-themed event for all Digital and Mobile App Marketers!
A perfect mix between mobile app marketing strategies and digital marketing strategies for mobile marketing channels, this even is designed to help bridge the gap between mobile app marketers and digital marketers looking to leverage the power of mobile growth channels. Join, connect with, and learn from Facebook, Google, Hubspot, Audible and more companies to help you use mobile marketing strategies to grow, sustain and monetize your User base.
To learn more about the event, check out the official website:
http://appgrowthsummit.com/events/mobile-marketing-apac-2018/

---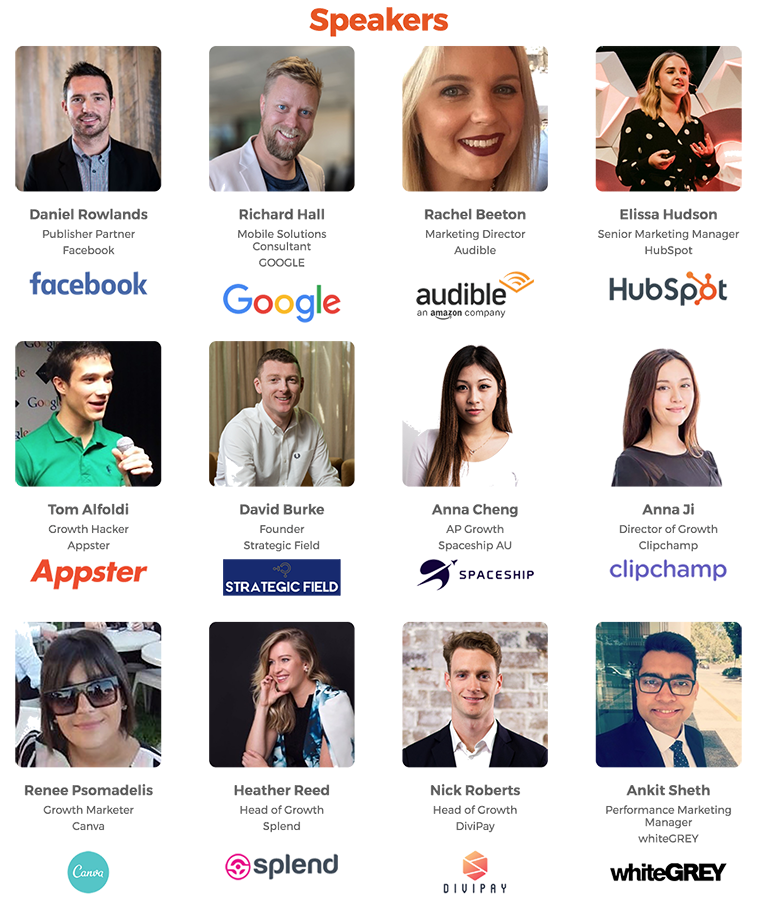 ---
FEATURED CONTENT:
Which Channels Perform Best for Mobile Acquisition
Mobile is not the "new thing," it's now everything. Mobile has long surpassed desktop and other media sources for powerful User Acquisition benefits, but many digital marketers as well as app marketers are not optimally leveraging Mobile channels to bring in the best users. This session will help you change that, and bring in better users from mobile channels.
Keeping Users Engaged and Retained
Acquiring Users via Mobile Channels is only the first step. Now, how do you keep them engaged? This session will discuss User Engagement Strategies and create a stickier environment.
Monetise Sustainably with Facebook Audience Network
The industry mobile app industry has undergone a tremendous amount of change over the past decade requiring app developers and publishers to rethink old business models and adapt in order to accommodate current trends. This shift impacts everything from content creation to the ways in which you distribute and monetise content. In this session, Daniel Rowlands will talk about the monetisation offering from Facebook Audience Network that is built for publishers to better monetise their inventory through targeted, high-quality ad experiences across devices and grow long-term sustainable businesses.
Digital Growth Strategies: For Mobile Apps & Digital Marketers Alike
Whether your product lives as an app, a game, a website, or a multi-channel ecosystem, you'll need to know how to grow! This session will go over the most effective core Growth Marketing Strategies, Growth Hacks, and more for businesses of different sizes and make-ups.
Extending LifeTime Value for Your Product: LTV Modeling
Another multi-faceted session, this will be one of the best sessions you will ever take to figure out the true health of your product and/or business. Far too many businesses don't know the LTV (LifeTime Value) for their customers, and yet they keep spending acquisition dollars without understand how much is a good vs bad Cost Per Acquisition for their product. This session will help you understand what a User is truly worth to your business.
Combating Fraud in Mobile UA
Fraud. It's that dirty F-Word that we have to talk about, because it exists...and it sucks up your marketing budget. If you're buying ads on any digital network, large or small, there's going to be some degree of fraud. How can you learn to identify and diagnose the patterns which might indicate a fraud problem? This session will help you start to understand how to mitigate fraud as much as possible and optimize your acquisition efforts, and extend the LTV of your product and/or business.
...and much much more!