Description
Mobile Marketing APAC 2018 is the event APAC mobile app marketers and digital growth experts have been waiting for!
Mobile Marketing APAC 2018 finishes our year of events with a full day of learning in the beautiful early summer of the South Pacific. Located in lovely Sydney, Australia, Mobile Marketing APAC 2018 will be the most unique and modern-themed event for all Digital and Mobile App Marketers!
A perfect mix between mobile app marketing strategies and digital marketing strategies for mobile marketing channels, this even is designed to help bridge the gap between mobile app marketers and digital marketers looking to leverage the power of mobile growth channels. Join, connect with, and learn from Facebook, Google, Hubspot, Audible and more companies to help you use mobile marketing strategies to grow, sustain and monetize your User base.
To learn more about the event, check out the official website:
http://appgrowthsummit.com/events/mobile-marketing-apac-2018/

---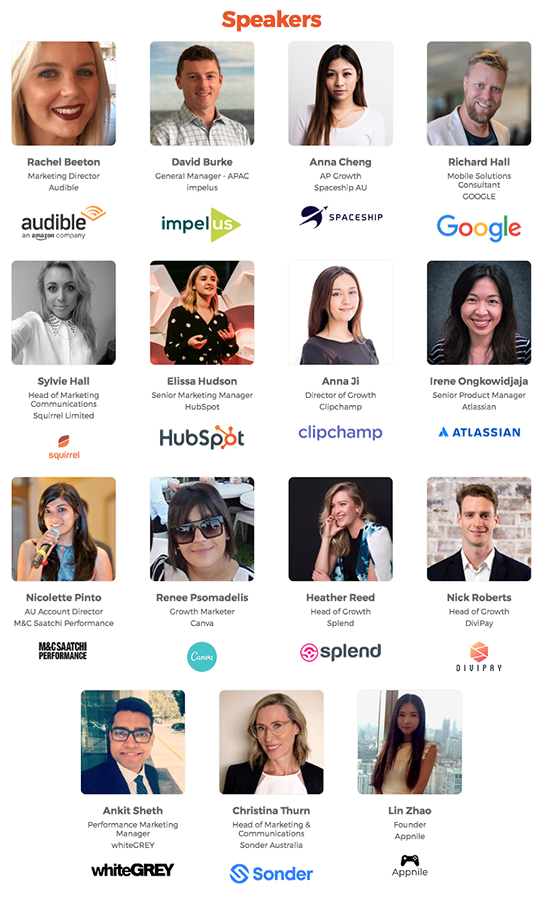 ---
FEATURED CONTENT:
"Standing Out in the Crowd: A Gutsy Approach to Sustainable Growth"
Rachel Beeton, Marketing Director, Audible
Audible Australia shares their journey from a little known category to a leading provider in digital audio entertainment.
"The New Bar for Web Experiences"
Richard Hall, Mobile Solutions Consultant, GOOGLE
What we have been calling "Progressive Web Apps" for the past couple of years is really just the new bar for web experiences. The modern web enables fast, integrated, reliable experiences that engage users. In this talk, we will lay out the principles behind the new bar for web experiences, demonstrate the successes that partners have proven, and start you on your path of modern experiences, delivered via the web.
"The Rise of Mobile!"
How to Get the Most Out of Your Mobile Marketing Strategy
Reaching people when, where and how they consume information has always been a cornerstone of an effective marketing strategy. And as an ever-growing number of us rely almost exclusively on smartphones and tablets for this information, mobile is becoming an increasingly important marketing channel for many businesses. This fireside chat will cover the most effective techniques you can implement in your mobile marketing strategy, as well as the pitfalls you should avoid along the way.
"Digital Growth Strategies: For Mobile Apps & Digital Marketers Alike"
Whether your product lives as an app, a game, a website, or a multi-channel ecosystem, you'll need to know how to grow! This session will go over the most effective core Growth Marketing Strategies, Growth Hacks, and more for businesses of different sizes and make-ups.
"How to Be More Customer Obsessed"
Irene Ongkowidjaja, Senior Product Manager, Jira Mobile/Atlassian
Word of mouth is always the most powerful channel of acquisition, if you nail it, it runs its own viral loop. In mobile world, app/play store star rating & review is the way word of mouth travels. Big marketing dollars will lose its worth if potential customers land on a low star rating app store page. In this talk, I'll share tips on how you can make speaking to customers more scalable, and how we have enabled the whole team (that's right, engineers too!) to be more customer obsessed, resulting in more passionate team and happier customers (who give good star ratings!).
"How to Get to 5 Million Users with $0 Budget"
"How Optimized UX Creates a Highly Engaged User"
"Mobile App Performance Marketing Landscape"
...and much much more!