Mobile and Social Media Branding, Advertising and Marketing Strategies

Wednesday, March 20, 2013 from 1:00 PM to 7:00 PM (PDT)
Event Details
CELL PHONE FOR EVENT 310 6216850 or 424 216 1468

You can get tickets online to pay ONSITE only $35.
1520 2nd St Santa Monica

Hear the Latest Trends for Mobile and Social Media Marketing for Brands, Entertainment and Tech
This mini summit offers compelling sessions from experts in all these areas for only $35.

Includes dinner, open bar, networking and seminars!

Social Media, Mobile, Web Video, Twitter, LinkedIN, Pinterest, Vine and Facebook

Designed for media and entertainment professionals, retail owners, entrepreneurs, small business owners, startup, CEOs and VPs for Fortune 500s.
INFO 310 736 1541 or INFO@angellaunch.com
Event Producer: Zahava Stroud
________________________________________________

Detailed Schedule: 1:30pm-8:30pm

1:00-1:30 Registration

1:30-2:30  Using Web Video for Viral Markeing to Attract Customers, Drive Sales and Promote Your Brand
Maury Rogow, Founder, Rip Media Group
Explain what you do in 90 seconds,and how to launch the video, and your brand effectively

Learn the 6 things you need for your message to be effective, how to write the commercial or explainer video, and how to make yours go 'viral' with YOUR audience. 
Hear secrets for successful video marketing fromsuch brands as Mars, Hitachi, and dozens of start ups used to increase funding and get to the right customers.
    The 6 Steps to an amazing 'explainer video' commercial

    The 11 Things to do once you have it produced

    Lessons on how to optimize your video, and your website for success

2:30--3:30  Using Social Networks and Gamification for Successful Marketing Campaigns for Brands
Speaker:  Daniel Kremsa, Kremsa Digital
Learn about latest strategies for your brand to use social media to connect with its audience, foster customer loyalty, amplify messages, drive consumer engagement and increase sales.  Includes Facebook, Twitter, and others. Hear case studies on developing social media campaigns for Live Nation, Microsoft and Discover Card. Learn how to create large scale campaigns on a  budget, with a focus on gamification and advocacy.

We will focus on the concept of "advocacy" which is using your database to invite and refer their friends and social networks to your campaign.
 What is gamification, the hottest trend for brand marketers, and how it can help you increase sales

Understand how to identify advocates and key influencers, and how to 'build campaigns that encourage and incentivize advocacy.

Learn how to use technology to influence positive behavior through rewards, discounts, points

Strategies to use referrals that lead to purchases.

3:45-4:45  Tactical Tips & Tricks for Social Media Success
Josh Ochs, Founder, MediaLeaders.com
Is your social content resonating with your audience? The only way to know for sure is to understand the conversation happening inside your customer's head.  Josh Ochs, Founder of Media Leaders. In this practical, step-by-step Lecture Series, learn the 9 questions you need to ask to get inside that conversation, as well as powerful best practices and tips on:.
    The anatomy of the perfect tweet

    Crafting effective messages

    Best times to tweet and post

    What NOT to do on Twitter and Facebook

    Using Pinterest, LinkedIIN and Vine

5:00-6:30 Creating Authentic Branding  for Media, Entertainment, Tech and Consumer Products
Howard Lim, Founder, HOW Creative
Get ready for refreshing, relevant and content-rich seminar from building a brand in the proper sequence to increasing customers and profits. Howard will punch through the jargon and misconceptions and deliver branding truths that have been proven in the marketplace, over and over again.
Case studies: Apple, Fox, Disney, DreamWorks, Philips, Xerox, HP, Oracle, Nike Vans.

Howard presents case studies and use his Fortune 500 experiences and show you how to apply it towards your business, product or services shaving years of costly mistakes.   
(Optional, Howard recommends you also purchase his book which is the text book for the course and will provide more details on case studies on Authentic Branding.)

6:30-7:30  Networking, Open Bar, Beer/Wine, Pizza, Salad, and Demo Tables

7:30-8:45 Mobile Marketing and Advertising Trends for Business Owners
Tony Winders, Vice President Marketing, GumGum
David Shor, CEO, Placements Media
Matthew Miller, Strategist, MEDL Mobile

Case Studies: Mirage, GE
Media Rights Capital and Universal Pictures for Wild Night with Ted film companion app

With over 100 million mobile web users, your customers now using mobile devices for consumer products, commerce, and business services.  How should you make your business mobile?
Our speakers will present case studies, followed by a panel discussion.
David David Shor, CEO, Placements Media - will present key insights for mobile advertising learned from his work for clients including Mirage, GE, and others. 

Here are areas our experts will address.


Creating a Mobile Friendly Website:  Over 500,000,000 Android phones & Over 300,000,000 iPhones are in use.  3 out of 5 searches are done using a mobile phone. 70% of all mobile searches result in action within 1 hour according to Mobile Marketer.
Making Mobile Purchases: Many people prefer to make purchases with their smartphones or want to compare prices while in a store.  Understand latest trends for mCommerce.
Search and Discovery: Google lists mobile websites separately for searchers, and very few mobile websites are listed.  Learn how to use the right keywords and geographical targeting on your website to give you the first result for related searches.
Advertising and Marketing Campaigns:  View case studies with major brands on creative marketing campaign driving consumer engagement. Understand how to create low cost campaigns including SMS, text, video, alerts, and coupons.
______________________________________________
WANT TO APPLY TO SPEAK:
Send us an email with bio, contact info, and ares of expertise. We prefer speakers who can give case studies and presentations.  Send speaker contact info to speakers@AngelLaunch.com
There is no fee to speak and sponsorship is not required.  We select dynamic, knowledgeable speakers based on expertise, company affiliation, speaking experience, and their knowledge of proposed topics.
We consider companies at all stages – from Fortune 500 companies, mid-tier, startups with innovative technologies, and newly launched.
 
APPLY TO DEMO TO AUDIENCE:
These options available on link above for purchase.

$55 Demo:

One dinner ticket, Demo table (with wifi and electrical), and give demo to audience during program.

$100 Demo and Pitch: 

Two tickets, demo table, give 1 minute demo to audience

$145  Demo :

Three tickets, demo table, give 3 minutes demo to audience.
Who should demo:
Anyone looking for customers or partners such as:
Social media, consultants, mobile solutions, Apps, tech solution providers for products, services or applications such as: mobile apps, hosting, law, finance, recruiters,  consumer electronics, software, computers,  hardware, eCommerce, payment and billing solutions, web services, apps, digital media, devices, digital asset management,  hardware, software, services, applications, editing, web services, broadband applications, devices.



______________________________________________

ABOUT OUR HOST:  View free events offered at General Assembly here:  www.gafree.eventbrite.com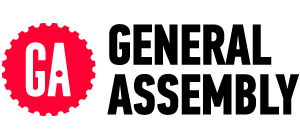 General Assembly provides a variety of classes, workshops, and long-form educational programming. General Assembly offers courses covering technology, coding, entrepreneurship, and design. General Assembly helps students globally create opportunities through educational programming in the areas of technology, entrepreneurship, and design. They recently expanded to Santa Monica as an  important center for technology and media. 
_______________________________________

PARKING OPTIONS:
You can download an app at PARKME.com that lets you find the lowest price parking n teh area.
Also at Santa Monica Main Library at Santa Monica Blvd adn 7th Street has a maximum of $10.  An underground parking structure can be accessed from 7th Street between Santa Monica Blvd. and Arizona Ave.  The structure has 525 parking spaces on three levels and is open from 8am to 11pm daily. Real-time parking space availability for the structure can be viewed on the City's Transportation Division website.  The first thirty minutes are free. Rates are $1 per hour for the first two hours and thirty minutes. After that, the rate is $1 per thirty minutes. Weekdays the daily maximum is $10.
When & Where

General Assembly
1520 2nd Street
Santa Monica, CA 90401


Wednesday, March 20, 2013 from 1:00 PM to 7:00 PM (PDT)
Add to my calendar
Organizer
iHollywood Forum
iHollywood Forum has been producing dinners and seminars for entertainment and tech executives for nine years. Our events include the Digital Media Summit, Mobile Entertainment Summit, Advertising Innovations Summit, Digital Living Room, 3D Next, Game Next, and IPTV World. more...
Mobile and Social Media Branding, Advertising and Marketing Strategies