Moab (Arches and Cayonlands NP) Photography Workshop

Friday, November 3, 2017 at 2:00 PM

-

Sunday, November 5, 2017 at 10:30 AM (MDT)
Event Details
MOAB (ARCHES AND CANYONLANDS NATIONAL PARK)
Dan Ballard Photography
Nov 03-05, 2017
Cost: $925.00 ($300 deposit due at registration, balance due on Sept 20, 2016)
For more information, please contact  Dan Ballard @ 719 469-0608 or dan@danballardphoto.com
Class limited to 10!
____________________________________________________
Moab's unique combination of small resort town hospitality,  beautiful red rock scenery,  two national parks, and the cool waters of the Colorado River has made it one of the most sought after destinations in the southwest.  This area is a paradise for photographers.  Under conditions of constantly changing light,  the varicolored landscape provides limitless photographic opportunities.  We will be photographing a mix of iconic locations & also areas that are not as well known.  Dan has spent lots of time shooting around Moab & knows the area well.
Located just 5 miles (8 km) north of Moab is  Arches National Park, which contains the world's largest concentration of natural sandstone arches. Although over 2,000 arches are located within the park's 76,518 acres, the park also contains an astounding variety of other geological formations. Colossal sandstone fins, massive balanced rocks, soaring pinnacles and spires dwarf visitors as they explore the park's viewpoints and hiking trails.  Less than an hour's drive will put you atop the mythical sounding Island in the Sky, a remarkable district of Canyonlands National Park that makes you feel as if you are on top of the world. The views from the Island encompass thousands of square miles of colorful canyons, mesas and buttes. Canyonlands is the largest national park in Utah, and its diversity staggers the imagination.
____________________________________________________________
 What is included:
One-on-one critique of 20 of your images
Entrance fee's to all area's
Bottled water
Light snacks for the early mornings.
**Lodging, transportation & meals are NOT included
____________________________________________________
What to expect:
This workshop will involve some moderate hiking (around 1 mile max). We will car pool from Moab.
For information on Arches & Canyonlands National Parks go to: http://www.moab-utah.com/nationalparks/arches.html &  http://www.moab-utah.com/nationalparks/canyonlands.html  *Please read under plan your vist - "things you should know"; (1)safety, (2)weather (3)cell phone service (4)regulations (5)traffic & travel. These  articles have some very important information pertaining to the park.
 Lodging:
Lodging is up to each individual participant. Dan will be staying at The Aarchway Inn and encourages participants to stay there so that it is easier for us to all convene and conclude the days activities with a minimum of travel.  The Aarchway has given our group a great rate of $139.00 (+ taxes) per night.   When making your reservation at The  Aarchway you will need to call 435-259-2599 & tell them you are part of the Dan Ballard Photography Workshop.   Please book your room as early as possible, but no later than August 19, 2016.
Transportation: 
Transportation to & from Moab is up to each individual participant. There is an airport in Moab. Driving conditions into the National Parks will consist of mainly paved roads, so a standard car will be sufficient.  When possible we prefer that participants car pool with each other.  If you are willing to drive please let us know.  Find more info about getting to Moab here:  http://www.moabadventurecenter.com/transportation/
Itinerary:
Coming soon
Terms & Conditions:
Deposits - The  deposit amount specified with each workshop is due at the time you book a workshop. Your space is not reserved until we receive your deposit. The full balance is due 30 days prior (or on the date specified on the workshop page)  to the start of the workshop. If we do not receive your balance by this time, we reserve the right to cancel your workshop and/or fill your spot off of a wait list. In the event of such a cancellation, no refunds will be provided.
Cancellation, Refund & Delay  Policy - All workshop schedules and plans are subject to change at our discretion depending upon weather, health and safety considerations, or any other factor related or unrelated to photographic opportunities as we see fit.  Full refunds of all monies paid will be made if a workshop is canceled by us or if the workshop is rescheduled and you are unable to attend on the new date.  Dan Ballard Photography is not responsible for any other costs which participants may have incurred, including but not limited to travel, car rental, lodging, insurance, photographic purchases and/or rentals.
If you cancel your workshop  the following applies.  If cancellation is received at least 90 days prior to the start of the workshop, the deposit can be applied to another workshop of your choice.  For cancellations received 31 - 89 days prior to the start of the workshop the deposit will be forfeited.  For cancellations received 0 - 30 days prior to the start of the workshop, all deposits and workshop fee's will be forfeited.
No refunds will be given for delays or cancellations due to inclement weather, flights, or other events beyond our control, either before, during, or after your workshop. We are not responsible for any additional costs you may incur due to delays or cancellations.
Save This Event
When & Where

Moab

Moab, UT 84532


Friday, November 3, 2017 at 2:00 PM

-

Sunday, November 5, 2017 at 10:30 AM (MDT)
Add to my calendar
Organizer
Dan Ballard Photography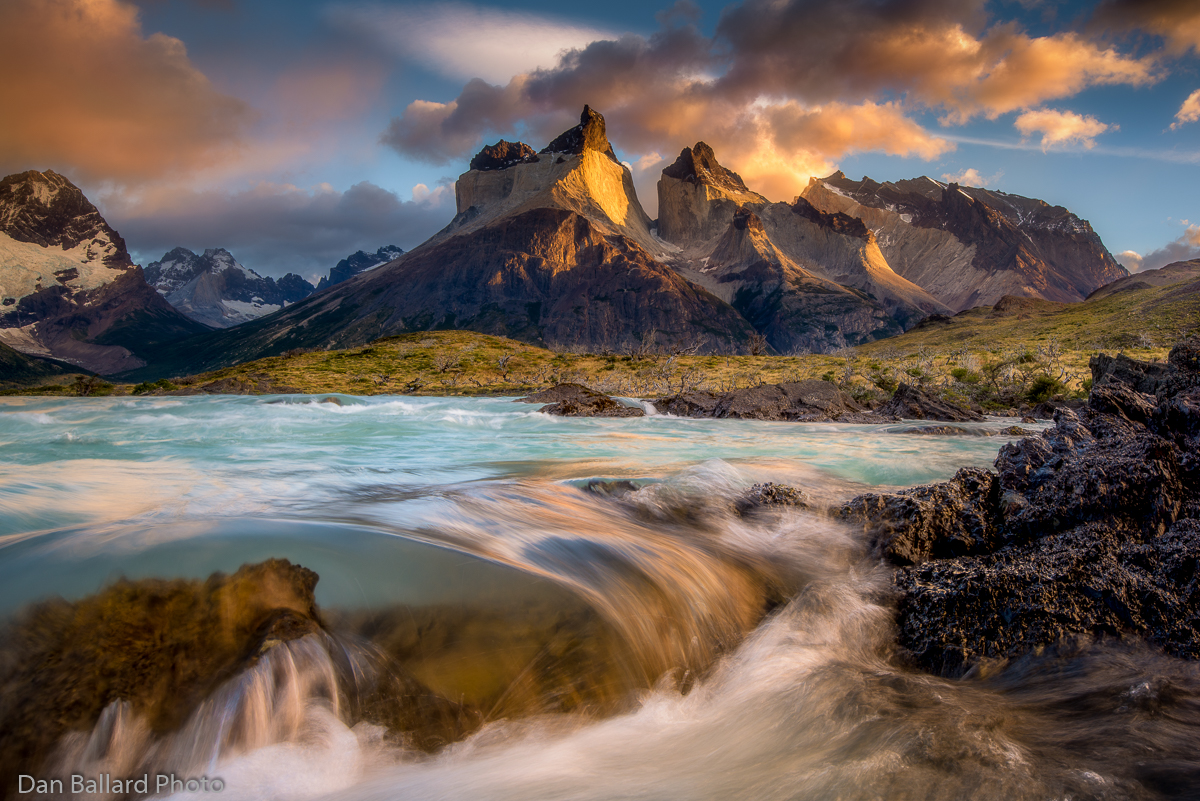 ---
Dan Ballard is an internationally known travel and landscape photographer and keynote speaker. He gives presentations on photography around the world at symposiums, festivals, trade shows and workshops.


Dan has visited over 60 countries on five continents around the globe, and his work has attracted the attention and praise of some of the biggest names and companies in the photo industry.  Dan's images have been on display around the U.S. in museums and galleries, and he has sold images to clients around the world, including The National Geographic Society and The Travel Channel. He is proud to be on the Mpix, Zenfolio and BlackRapid Pro Teams, and to have strong working relationships with the most trusted names in photography, including SanDisk, ThinkTank Photo, Nik Sofware, and Really Right Stuff.  His images have been published in magazines and calendars worldwide, and he has won or been a finalist in numerous prestigious competitions. Large, framed prints of his work can be found at stores around the country. Dan's image "Let 'er Fly" was recently featured in a Smithsonian Channel episode on what makes an award-winning image.


---
---
Moab (Arches and Cayonlands NP) Photography Workshop