About this Event
7.22 Monday (Mo'Jam)
Nectar Lounge, KZ Media, Davy Nefos, Morgan Gilkeson and Mo Jam Presents:
Mo' Jam Mondays feat. Bill Ray
No Cover
8:30pm doors and jam sign-up / 9pm jam
21+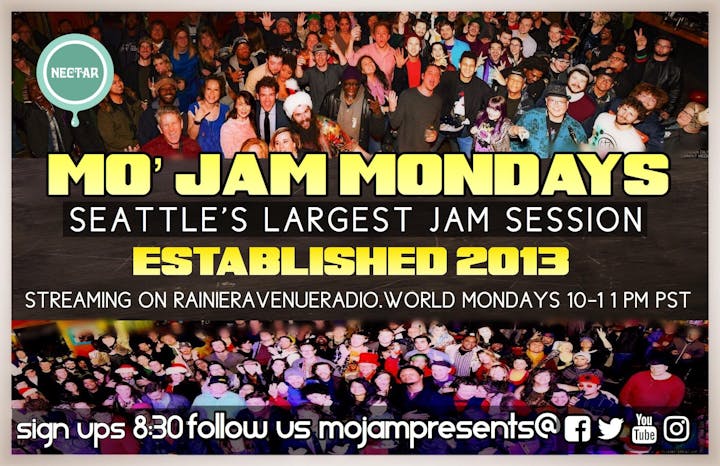 Visit our new website at mojampresents.com
"I found my father's drums at 15 months old and was immediately drawn to the power of a backbeat and how it made me feel. My then-four year-old self discovered my dream, nee' purpose when the local "drum guru", a man by the name of George Lawrence (who is still a friend to this day) performed a drum solo at my parents' photography studio in Jackson, MS. while getting band pics done.
In 2015 a move to Seattle began a new chapter in my life. Currently I instruct at Seattle Drum School and in my own private studio. I have been playing with Paul Gilbert and did his recent release "Behold- Electric Guitar
Listen to the live improv jam on https://www.rainieravenueradio.world/ 10 to 11pm PST
No cover, donations requested.
8:30pm: Sign-ups. COME EARLY TO GET INTO THE ROTATION
9 - 12:30ish
All Improv Jam starring you & a band of strangers making it up!
Join the Mo' Jam community every Monday night for an all-inclusive jam session. Since 2013, Musicians of all genres improvise together and create original grooves on the spot. Open to all Instrumentalists, Vocalists, Percussionists, Emcees, Turntablists +++.
#ImprovArt all night long, bring materials & create!
Thanks to our sponsors and supporters:
North Coast Brewing Company​ / Brother Thelonious
American Music​ & Kennelly Keys Music
KZ Music Media​ #AlienAftermint #ampeg #mapexusa