Description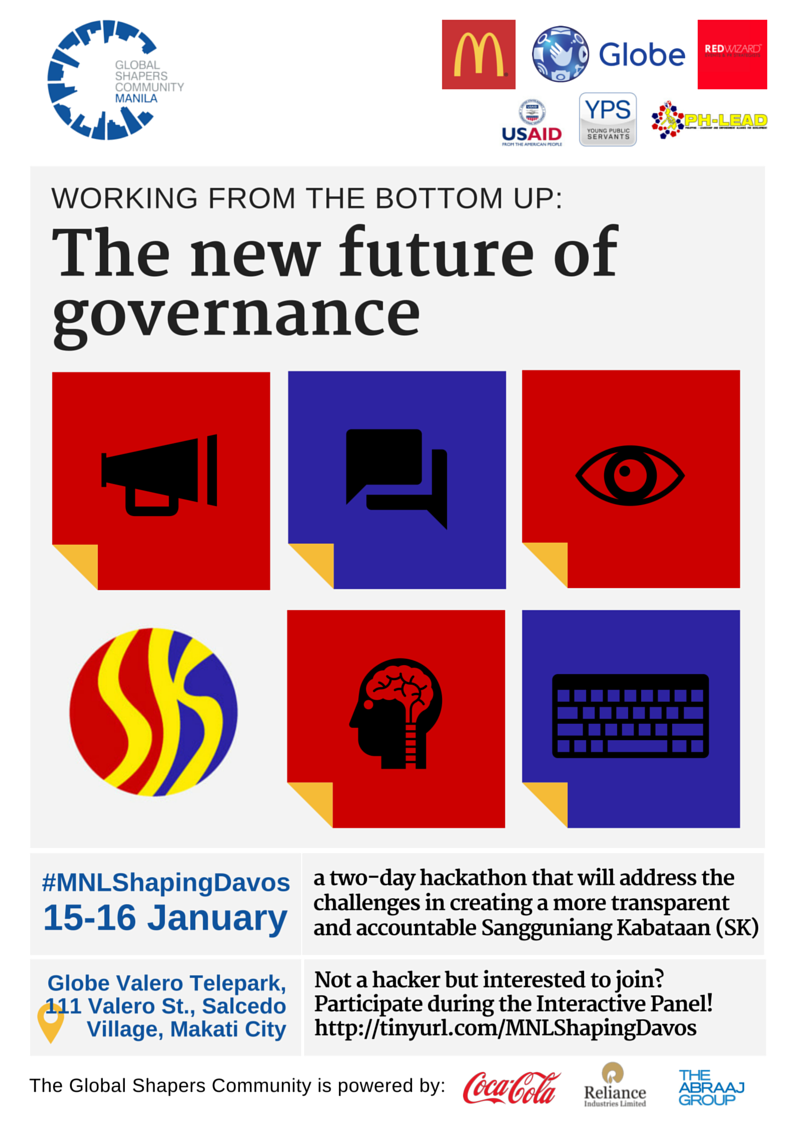 #MNLShapingDavos is a two-day hackathon from January 15-16 that aims to address the challenges in creating a more transparent and accountable Sangguniang Kabataan (SK). We will also host Interactive Panels on the morning of the 15th (open to non-participants of the hackathon) with key personalities from the government like Senator Bam Aquino, the development sector like Transparency International-PH, and the media. The hackathon will give its participants the opportunity to compete in creating game-changing apps for a better SK.
This is part of the international project #ShapingDavos where 40 cities worldwide will discuss 10 topics related to the theme of the World Economic Forum (WEF) Annual Meeting on Jan. 20-24. It will provide local stakeholders and the general public with unprecedented live access to the communities and issues that are driving the global agenda.
We would like to thank our sponsors and partners: Red Wizard Event and Strategists, Globe, McDonald's, USAID, Young Public Servants, and PH-LEAD.
The Global Shapers Community is powered by Coca-Cola, Reliance Industries Limited, and The Abraaj Group.
EVENT INFORMATION AND HACKATHON RULES:
- If you would like to participate ONLY in the panel discussions on Jan. 15 (8:30AM to 12noon) and not in the hackathon, click on Participate as an individual.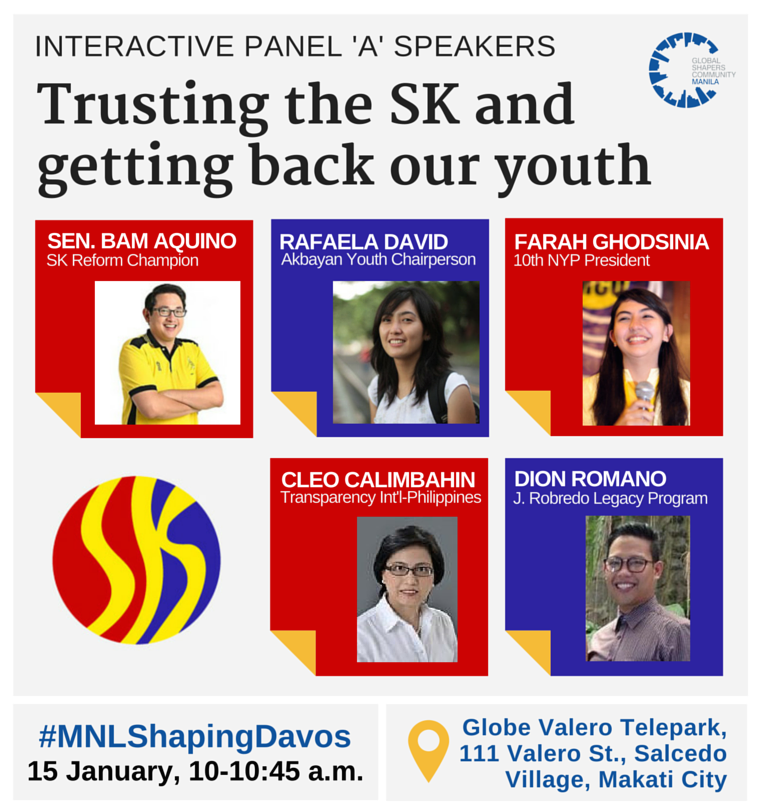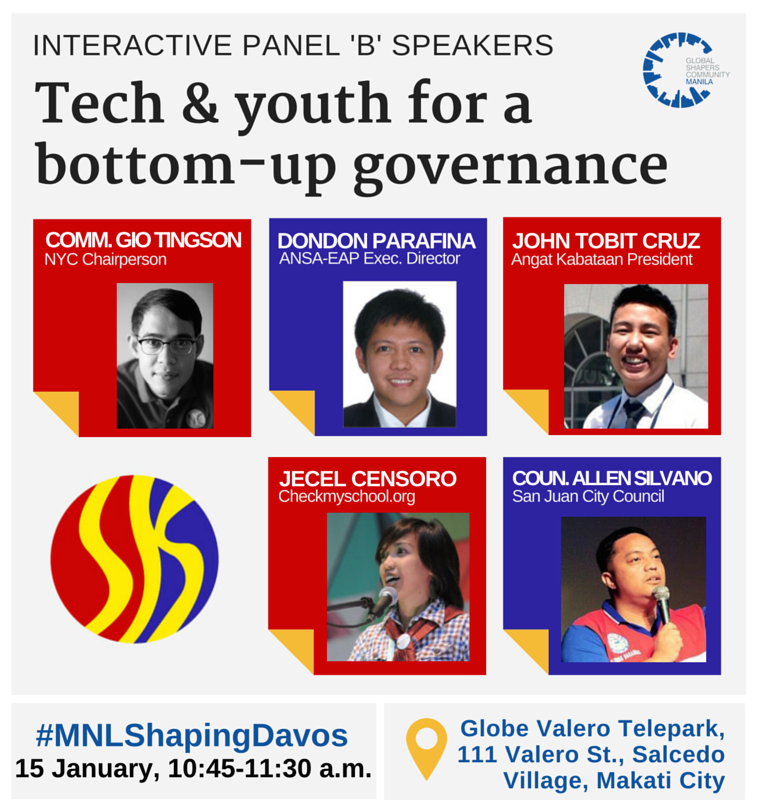 - If you would like to join the hackathon from Jan. 15 to 16, then click on Create a team.
- ALL PARTICIPANTS should bring their valid IDs for building security
- Dress Code: No slippers, shorts, and sleeveless shirts
Hackathon Rules
1. Teams:
Form teams of 3-5 members with this ideal composition, but one person can take multiple roles. This is ideal but not required.
a. Active youth/community leader with deep interest in good governance or previous experience with the SK
b. Strategy/Business development person: Someone with the foresight for project marketing and sustainability
c. Frontend/Backend developer
d. Graphic designer
2. Registration:
Teams are required to register through the Eventbrite link. No onsite registration will be allowed.
3. Challenges:
The goal of the hackathon is to generate solutions in the form of web/mobile apps for the following challenges in the SK:
a. Improve awareness of SK roles in the community.
b. Engage the community and the youth SK activities.
c. Improve transparency and accountability in the SK.
4. Hackathon Proper:
The hackathon will commence for 24-hours, starting 1:30 pm on January 15 and ending 1:30 pm on January 16. Code finalization and submission will be 1:30 – 2:00 pm.
Sleeping quarters will be provided but you NEED to bring your own sleeping mats. You are also allowed to go home during the night.
5. Ownership:
Teams have full ownership of the apps but we encourage them to use the GNU (General Public License) APIs. Usage of any proprietary APIs from partners is encouraged, but not a requirement.
6. Submission:
Teams are required to use repositories of their choosing (i.e. GitHub, BitBucket, etc), public link and deployment instructions should be provided for code review.
Fresh code is required, only exemptions are API and configuration codes. Submissions will be subjected to code review.
7. Code Review:
Teams who do not use a repository and provide the link will either forfeit their submission or the technical review score.
8. Pitch:
Each team will be allotted 10 minutes to present their product.
4 minutes – Pitch presentation

3 minutes – Product demo

3 minutes – Q & A
9. Criteria for judging:
a. Pitch and Problem-Solution Fit: 70% of total score
40% - Impact (Essential value and utility)

30% - Creativity and Innovation

30% - Sustainability (Usability after the hackathon)
b. Technical Review: 30% of the total score
40% - Readability

40% - Structure / Frameworks

20% - Innovation / Integration
Winners of the hackathon will win the following prizes through the generosity of our sponsor, Microsoft. The first prize app will also have the chance to be implemented by the city of San Juan: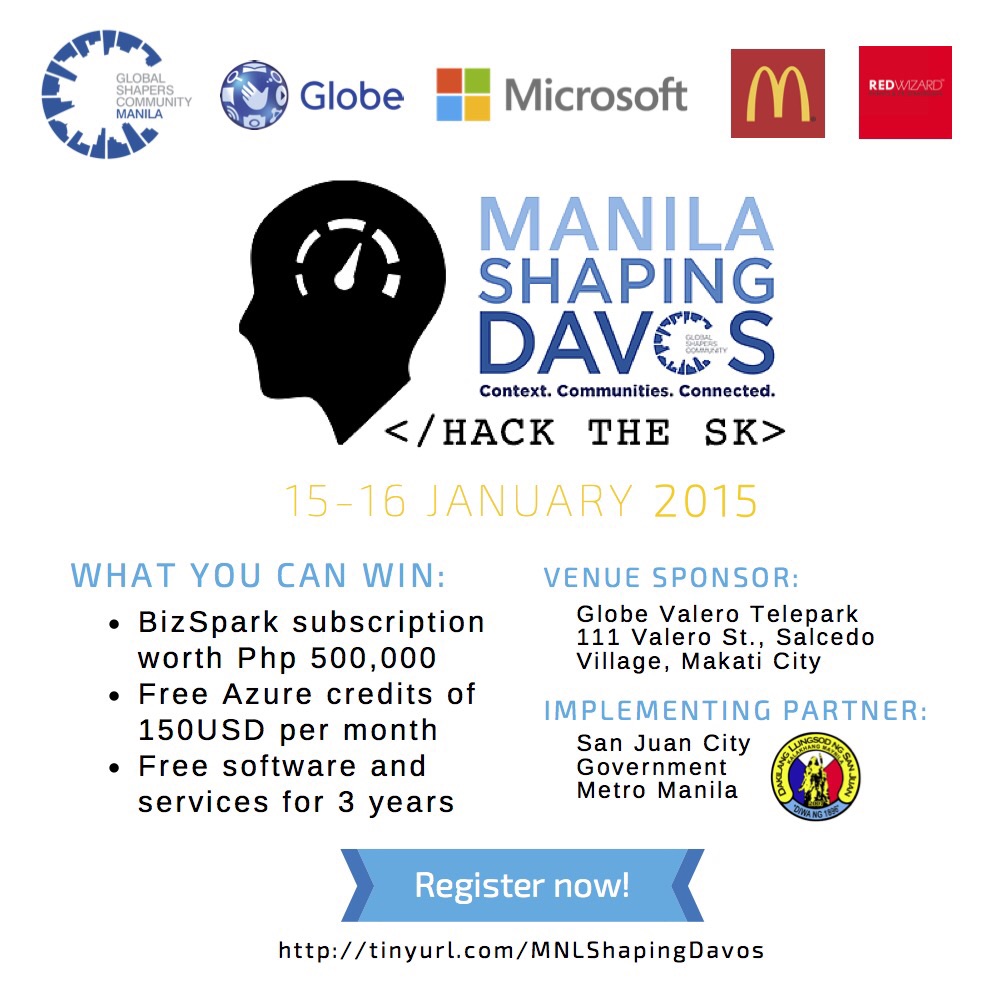 Organizer of #MNLShapingDavos