MN Rehabilitation Association's 2022 Grand Get Together Fall Conference
Please join us for the annual Minnesota Rehabilitation Association Fall Conference.
When and where
Location
Grand Casino Mille Lacs 777 Grand Avenue Onamia, MN 56359
Refund Policy
Contact the organizer to request a refund.
Eventbrite's fee is nonrefundable.
About this event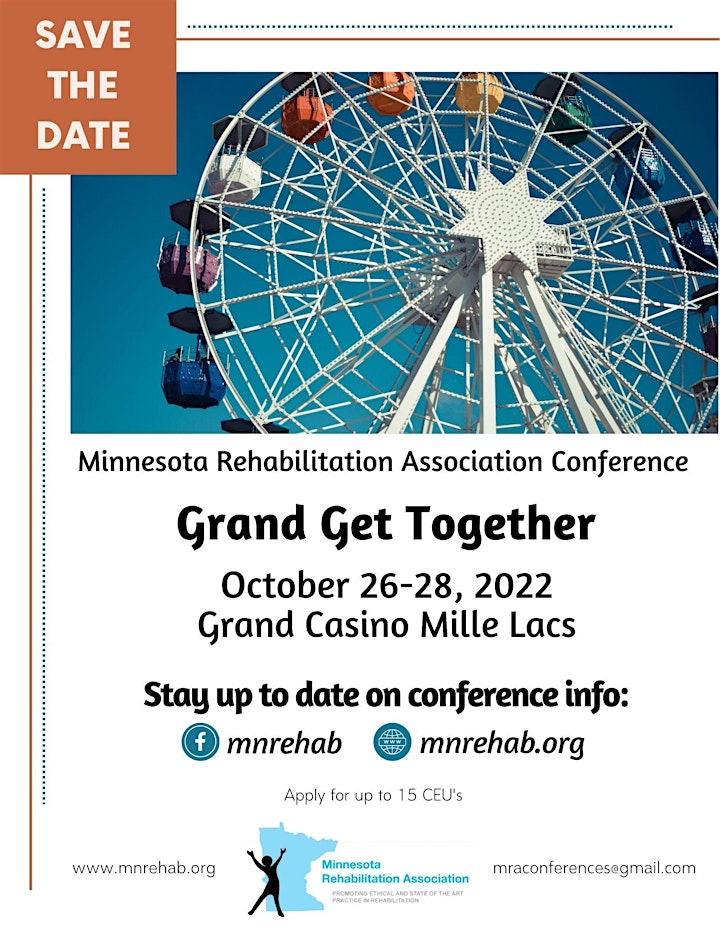 Hotel Reservations can be made by calling (320) 532-7777. When calling please ask for the Minnesota Rehabilitation Association room rates.
Wednesday Evening: $89/Queen Room or $99/King Room
Thursday Evening: $109/Queen Room or $119/King Room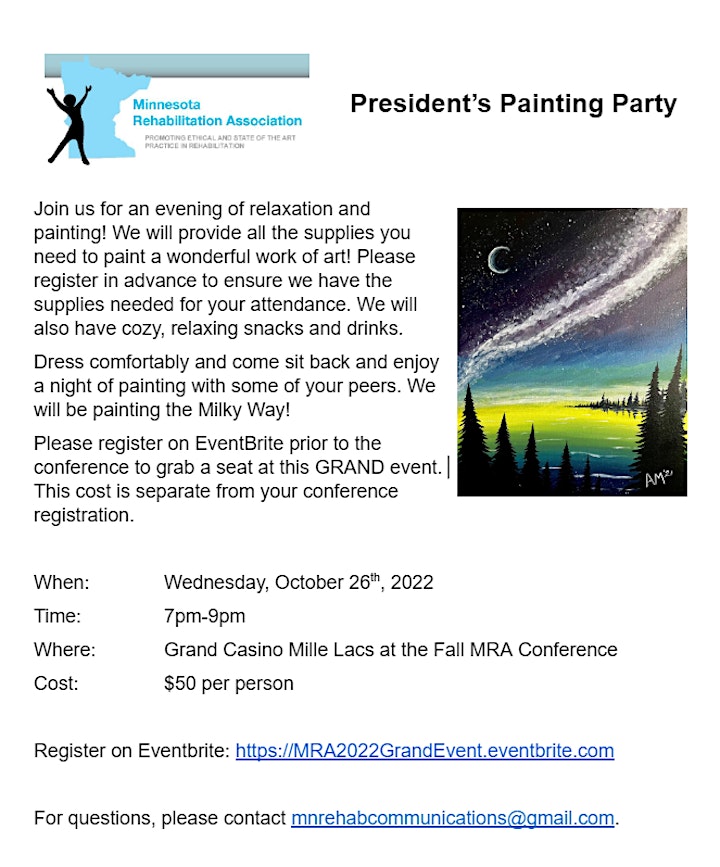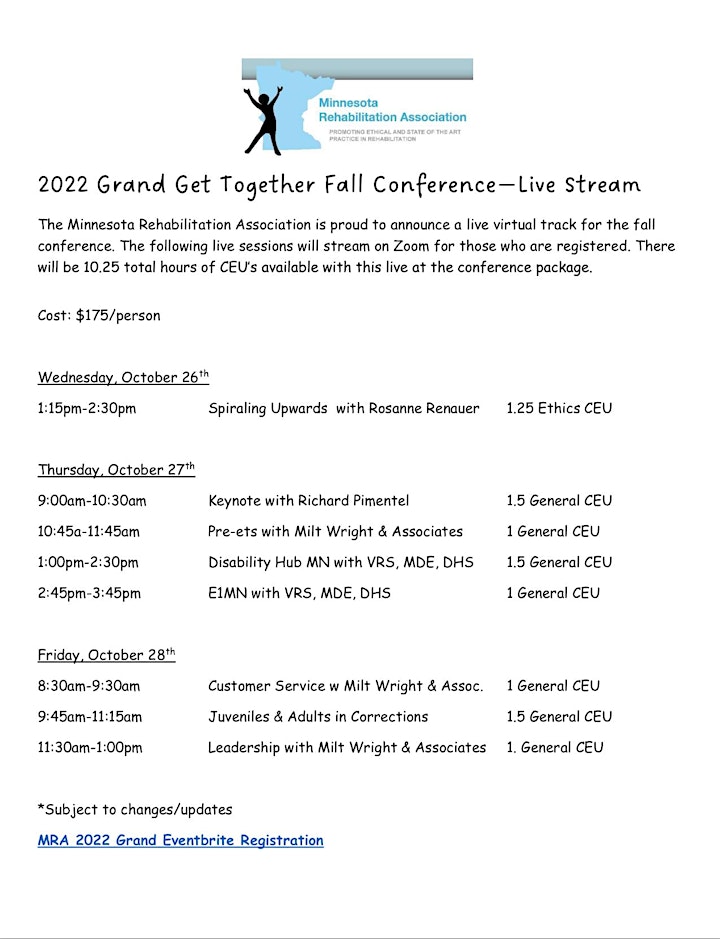 Tentative agenda: subject to changes
Wednesday, October 26, 2022
10am-11:30am
Calm, Present, and Self-Regulated
Christine Paul
1.5hr CEU's
Over the past few years our world and the dynamics of work have changed quickly. This puts a shock through our nervous system, and we can become dysregulated. In this presentation, I'll guide you through practices to cultivate a calm, regulated nervous system. Practices will include grounding, breathing, gentle movement and an eye exercise for Zoom fatigue. Dress comfortably. Bring a yoga mat/blanket if you'd like to lay on floor for part of the practice.
11:30am-12:00pm Lunch
12:00pm—1:00pm
Minding Your Mental Health During COVID-19 and Beyond
Danielle Thorton, Community Education Coordinator, NAMI Minnesota
Lunch 'n' Learn—Box Lunch Provided
1hr CEU's
Understand how and why COVID-19 has impacted people's mental health, how some communities have been disproportionately impacted, and steps the general public can take to promote good mental health.
1:00pm–1:15pm Break
1:15pm-2:30pm
Spiraling Up: The Ethics of Effective Self Care for the Helping Professional
Rosanne Renauer, Ph.D., M.S., LLP, CRC
1.25 Ethics CEUs
If you are a helping professional in an organization, you are well aware of the struggle to provide quality services and remain personally happy and healthy while meeting what can seem like never ending demands. Reframing your ethical obligation to remain professionally competent is built upon a foundation of positive psychology. This includes integrating self-care practices into our practice and routines and adopting mindfulness –based positive principles.
Learning Objectives:
At the conclusion of this session, participants will: 1. Learn how to meet a primary ethical obligation to remain competent in practice as evidenced in Section D. Professional Responsibility of the Certified Rehabilitation Counseling Code (CRCC); 2. Understand and apply four foundational principles: Flourishing, intentionality, reciprocity in care of self and others and integration of self-care into life. 3. Identify effective workplace strategies that result in positive support for wellness. 4. Understand the impact and role of individual and organizational leadership in pursuit of wellness and building resiliency skills.
2:30pm–3:00pm
Vision Board Activity
3:00pm–4:00pm
Mindful Movement for Stress Management
Christine Paul
1hr CEU's
Get out of your head and into your body! Need to reduce stress, anxiety, uncertainty, or fatigue? This presentation will include a brief overview of the autonomic nervous system and a guided gentle, accessible practice that includes orienting to space, grounding, expansion, and rhythm. My goal is to have you leave feeling more emotionally regulated and in tune with yourself. Dress comfortably.
4:00pm—7:00pm Break and Dinner on Your Own
7:00pm—9:00pm President's Painting Party
Join us for an evening of relaxation and painting! We will provide all the supplies you need to paint a wonderful work of art! Please register in advance to ensure we have the supplies needed for your attendance. We will also have desserts, snacks, and hot chocolate available. Dress comfortably and come sit back and enjoy a night of painting with some of your peers.
Thursday, October 27th, 2022
8:00am-9:00am
Breakfast
9:00am-10:30am
Keynote Session
Disability Inclusion Best Practices and The Values of Changing Employers Perceptions
Richard Pimentel
1.5hr CEU's
Richard Pimentel will speak about the history and evolution of the employment of persons with disabilities in the United States from the late 1960s to today.
Richard, a 100% disabled Vietnam Veteran returned home in 1969 with a hearing loss, a traumatic brain injury and agent orange poisoning. He dedicated himself to helping persons with disabilities find jobs and trained businesses and employers how to successfully employ them.
He will explain the changes of employment of persons with disabilities during the time frame of the disability civil rights movement and the passage of the Americans with Disabilities Act.
He will discuss value of the partnership of business with Vocational Rehabilitation, the vital component that inclusion plays in the success of applicants and employees with disabilities, the employers who hire them and all of us who benefit from that relationship.
10:30am—10:45am Break
10:45am—11:45am Break-out Sessions
Session #1:
Transformation is Intentional: A Statewide Approach to Rethinking What Works
Danielle Mahoehney, University of Minnesota Institute on Community Integration
Don Lavin, Strengths@Work, LLC
This session will provide an overview of the Minnesota Transformation Initiative, a project that is supporting day and employment providers across Minnesota to end their use of subminimum wages. The presenters will share ways that professionals such as VR counselors, case managers, and educators can connect with the work of the project as well as key lessons learned about what it takes to transform business models and service delivery to increase meaningful community inclusion and get more people into competitive, integrated employment.
Session #2:
The Role of the Rehab Review Panel within Minnesota's Workers Compensation System
Katy Daly, Assistant Commissioner–Workers Compensation, Minnesota Department of Labor & Industry
An overview of the Rehab Review Panel: Its function, purpose and impact on the Rehab Rules and how QRCs do their job.
Session #3:
Self-Advocacy Strategies for Students in Transition
Richard Pimentel and Milt Wright
The presenters will demonstrate new training strategies to prepare youth with disabilities for school to work transition.
Using a new and exciting self-advocacy program, WITHOUT LIMITS the participants will learn how youth can develop confidence in themselves prior to becoming employed. Participants will explore lessons and attributes that individuals with disabilities have learned, such as creativity, confidence, empathy, and problem solving. An effective interview and accommodation guide teaches them how to increase their chances of being hired.
Examples and handouts from the program will provided.
11:45am—1:00pm Lunch and Networking
1:00pm—2:30pm Breakout Sessions
Breakout Session #1:
Disability Hub MN Tools to Help You Support Youth
Alyssa Klein, VRS Statewide Youth Services Coordinator
Lindsey Horowitz, MDE Statewide Transition Specialist
Beth Grube, DHS Benefits Planning Coordinator
Disability Hub MN (disabilityhubmn.org) will be launching the Youth in Transition Toolkit this fall. This resource will provide a central location for professionals across Minnesota to find all the resources you need to provide high quality transition programming for youth with disabilities. This session will demonstrate how: The Youth in Transition Toolkit works; My Vault helps youth, and their team members save important information; To complete My Vault activities with youth.
Breakout Session #2:
Explore, Plan, Find: Utilizing CAREERwise for Education and Career Navigation
Mary Rothchild, PhD, M.B.A., B.A.--Minnesota State Colleges and Universities
This interactive presentation will offer participants an opportunity to dive deeper into Minnesota State's career and education website: CAREERwise. Using a case study and audience feedback, we will demonstrate career assessment, education planning, and career exploration tools. Participants new to the site and those already familiar are welcome to learn about new features and to provide feedback on behalf of vocational rehabilitation clients.
Breakout Session #3:
The Arc Minnesota: Overview of Services
Cortney Kressin, Director of Individual Advocacy and Evaluation
This presentation will include an overview of The Arc Minnesota's 5 program areas: Housing, Public Policy, Grants & Initiatives, Community Outreach & Engagement, and Individual Advocacy. Then, we will dive a little deeper into our Statewide Help Desk and GROW model of coaching: Goal, Reality, Options, Way Forward. Participants will get interactive examples of how The Arc Supports people with this process.
2:30pm—2:45pm Break
2:45pm—3:45pm Breakout Sessions
Session #1:
E1MN—Youth State Partnership
Alyssa Klein, VRS Statewide Youth Services Coordinator
Lindsey Horowitz, MDE Statewide Transition Specialist
Beth Grube, DHS Benefits Planning Coordinator
E1MN is a state partnership to advance employment outcomes for youth and adults with disabilities. It is led by the state departments of Education (MDE), Employment and Economic Development (DEED) and Human Services (DHS). This session will explain: E1MN-Youth initiatives; Roles of students, families, schools, Vocational Rehabilitation Services (VRS)/State Services for the Blind (SSB), waiver case managers, and providers; How the Individualized Education Program (IEP) and other planning documents should coordinate to support youth in their transition from school to adulthood.
Session #2:
Which test to use- an Expert's opinion as to how to pick which vocational test or work sample to support your opinion
Laura Hokeness & Jan Lowe
Session #3:
TBD
4:00pm
Community Partnerships Conversations
Program Specialists from the Vocational Rehabilitation Services Community Partnerships Teams will host an in-person Community Partners Meeting. We will be available to meet with Community Partners and VRS staff. We will share updates from the Community Partnerships Team and have ample time for questions and answers.
4:45pm-5:45pm Division Meetings
Job Placement Division Meeting
Transition Specialties Division Meeting
MASPPR Division Meeting
When Ethical Standards Collide: Looking at the Differences Between CRC Ethical Codes and the Rehab Rules
Laura Hokeness
1hr Ethics CEU
6:30pm—8:30pm
MRA Annual Fall Conference Dinner and Awards Event
Friday, October 28th, 2022
7:30am-8:30am Breakfast
8:30am—9:30am Breakout Sessions
Session #1:
Business as Customer Strategies to Help Persons with Disabilities Succeed
Milt Wright and Richard Pimentel
Participants will learn how treating the employer as their customer and understanding their needs can better insure applicant (client) success.
The participants will learn how to effectively develop relationships with employers to meet their staffing and procedural needs.
Richard will demonstrate a supervision exercise, "Disability Poker" that employers are using to work with employees with disabilities who are having performance problems on the job. This exercise was originally developed at the request of the Equal Employment Opportunity Commission, EEOC.
Session #2: TBD--Outfront MN ?
9:30am—9:45am Break
9:45am—11:15am Breakout Sessions
Session #1:
Suicide Prevention
NAMI
**This class has a 30-person class limit. Attendees will select this course in the registration and the first 30 signed up will be notified prior to the conference.
Session #2:
Vocational Report Structure for Worker's Compensation, Personal Injury, and Long-Term Disability, and How To Handle Expert Testimony
Laura Hokeness, Adam TeBrake, & Justin King
Session #3:
Business Engagement: Handling Employer Objections
Doris Illies & Cristy Thomas – MRA Job Placement Division
There are many different tools you can use to approach businesses and inevitably you will meet some objections along the way. In this session we will talk about some of those real-life objections, discuss useful strategies on responding to them and have some hands-on practice on how to effectively counter those objections.
11:15am—11:30am Break
11:30am-1:00pm
Lunch 'n' Learn Closing Keynote
Leadership in the World of Rehabilitation, Job Placement, and Return to Work
Richard Pimentel
Dr. Pimentel is a noted international leadership trainer. He will focus this Lunch and Learn talk on leadership lessons he has learned and how they apply to Vocational Rehabilitation Professionals. Among the key concepts will be.
• The importance of believing in others.
• The real meaning of the word responsibility.
• Inspiration versus Motivation.
• Disability does not mean Inability.
• Doing the right thing.
• Lessons from NEW York 9-11.