The 4th annual MN Holistic Round Table Summit is Saturday May 1st, 2021! **Contact Us if you have any issues registering: 763-425-4577**
About this Event
Join us on Saturday May 1st for the Spring 2021 MN Holistic Round Table Summit: FORTIFIED FAMILIES
Fortified Families. Fortified Marriages. Fortified Health.
FEATURED SPEAKERS:
John & Lisa Bevere | FORTIFIED FAMILIES
Pastor Paul & Jenna Kelly | FORTIFIED MARRIAGES
Jordan & Nicki Rubin | FORTIFIED PARENTING
Dr. Scott Jensen | HEALTH FREEDOM
Dr. Bob Zajac | FORTIFIED COMMUNITY
Del Bigtree | FORTIFIED HEALTH
The Summit will also feature a large Marketplace of Local Resources.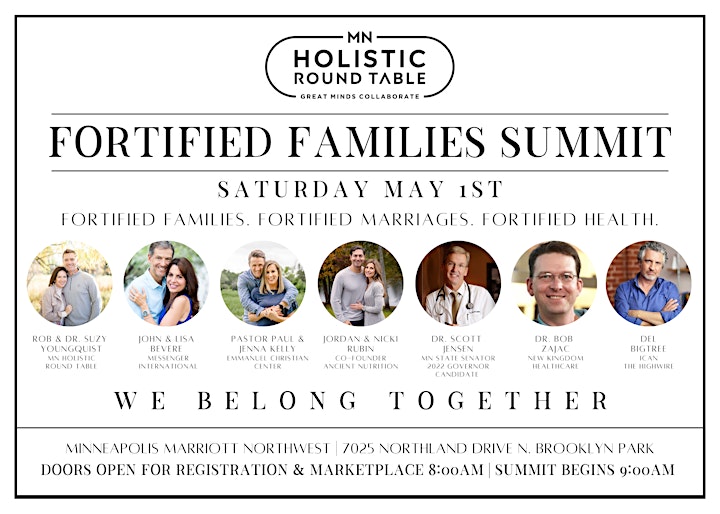 REGISTRATION INFORMATION:
General Admission Tickets: $59
Married Couple Ticket: $89 (Savings of $29)
Livestream Tickets (includes Recorded Content): $39
PLEASE CONTACT OUR CLINIC DIRECTLY BY PHONE IF YOU EXPERIENCE ISSUES REGISTERING: 763-425-4577
---
MN Holistic Round Table is an organization founded in 2018 by Dr. Suzy Youngquist and Revolution Wellness Center.
The vision of the MN Holistic Round Table is to bring together the best of the best like-minded practitioners to create a one-of-a-kind network of top-rated holistic care across a wide spectrum of specialties, to support individuals in all arenas of their health.
FAQS
Trouble Processing Payment with Registration?
We have been notified that PayPal has been blocking transactions. Our team can assist with getting you registered for the event. Please send an email to christina@revolution-chiropractic.com or call 763-425-4577 with your name, ticket type, quantity and phone number. We will happily register you manually & contact you for payment. We have been told that attempting the transaction on a different device or with a different card type is effective. We apologize for any inconvenience and are hoping this issue is resolved swiftly!
Where can I learn more about MN Holistic Round Table?
Visit the MN Holistic Round Table website at www.mnholisticroundtable.com
Who is speaking at the 2021 Summit?
Learn more about the 2021 Speakers here!
I am on a Special Diet. What will the meal be like?
We will be serving a Gluten Free/Dairy Free meal at the event. A Vegan meal is an option at checkout. If you have additional allergies, we recommend bringing your own lunch along. 
Can I bring my baby with me? 
Your infant (age 1 and younger) is welcome at our Summit.
Are husbands welcome?
Absolutely. One of the topics featured at the Spring 2021 Summit will be FORTIFIED MARRIAGES, so we highly encourage your husbands to attend with you! If you register as a couple, there is a ticket savings of $29!
What should I bring to the event?
A notebook, pen and water bottle.
Do I have to bring my printed ticket to the event?
Nope. Just stop by the check-in table when you arrive. We will have a list of attendees and all we need to get you checked in is your name!
What is parking like?
There is a large parking lot that is free of charge.
What is the refund policy?
We understand sometimes plan change. We offer refunds for your tickets up to 14 days prior to the event. You can request a refund directly through Eventbrite through April 17, 2021.
If I have questions about the event, who can I contact?
Send an email to our Public Relations & Events Coordinator, Christina, at Christina@Revolution-Chiropractic.com or call us at 763-425-4577 with any questions!