Description
Our Youth Division Applications will be due Sunday, May 12 at Noon, and we're excited to partner with Junior Achievement of the Upper Midwest to offer support to any aspiring entrepreneurs who have questions about MN Cup, or need help with their applications! Join us at JA's beautiful new facility from 4-6 PM on Monday, April 29th.
CLICK HERE to learn more about MN Cup
CLICK HERE to Apply! (Applications are completely free, and we'll only review your information if you submit -- no risk to create a profile and view the application!
What is MN Cup?
MN Cup is a community-led, public-private partnership supporting Minnesota's entrepreneurs. We host an annual competition that reaches emerging entrepreneurs from across the state and connects them with education, mentorship, and publicityto launch and accelerate the development of their new ventures. Our competition and events are totally free, and we take no equity on the seed funding we give away ($500,000 in 2018.) MN Cup is a program of the Holmes Center for Entrepreneurship, based at the U of M's Carlson School of management. You do not need to be a student, alumni or affiliated with the U of M to apply.
Am I eligible?
Entrepreneurs based in Minnesota with less than $1 million in annual revenue are eligible to apply. We welcome back anyone who has previously entered who did not advance or those who made it to the semifinalist round of a prior competition. Finalists and winners submitting brand new ideas that are not associated with a previous entry can also apply.
What's the application process? When is it due?
MN Cup's competition is open for applications now! You apply online by sharing basic information about your business (Describing your Opportunity, Plan and Progress in text boxes with a 500-word limit!) and select one of our nine divisions to apply to. You're able to include other team members within your application (which we encourage you to do, to ensure you're eligible for all the additional prizes our partners award.) Your application will be judged by a group of volunteer judges specific to your division during the month of May. At the end of May we announce 10 companies from each division that will advance to our semifinal round.
The majority of our applications are due Friday, April 26th at Midnight
If you are 18 & under applying to our Youth Division, applications are due Sunday, May 12 at Noon.
How does the competition work following the first round?
If you make it to the semifinals, you'll receive access to free events and workshops to help you learn more about key areas of your business from industry leaders, and 1-2 mentors that you'll select from among a pool of 100 experts in finance, marketing, manufacturing, legal services, strategy & other industry-specific areas. This support will be available to you during June & July, as you prepare a business plan, pitch deck & 1-minute video to submit back to the division judges during the first week of August. Subsequent rounds continue to narrow the field to 3 division finalists, then 1 division winner, and those 9 division winners each win $30,000 in prize money and compete for our $50,000 grand prize, which will be decided on October 14th. Including the application window, our full competition lasts 6 months, but our deadlines and events are spread out across that time, understanding that many of our competitors have full time jobs, families and full lives in addition to launching their new idea.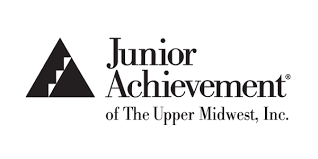 Junior Achievement offers financial literacy, college and career readiness, and entrepreneurship education to K-12 students in Minnesota, North Dakota and western Wisconsin. JA empowers students to make a connection between what they learn in school and how it can be applied in the real world – enhancing the relevance of their classroom learning and increasing their understanding of the value of staying in school.