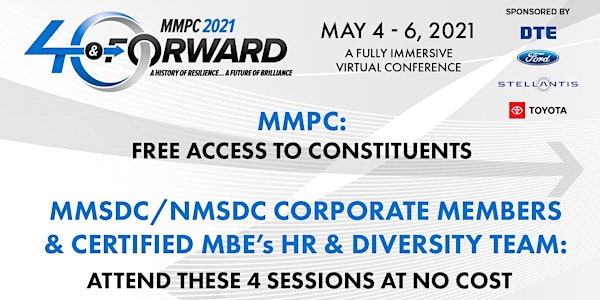 MMPC 2021: HR Track Sessions & Chief Diversity Officer Forum (Member Comp)
HR Tracks & CDO Forum Free for MMPC Constituents
About this event
One of the many perks of being an MMSDC/NMSDC Corporate Member or Certified MBE is that you and your employees can attend parts of MMPC 2021 AT NO COST! Here are the sessions available, not requiring full conference registration:
TUESDAY MAY 4, 2021
12:30 PM ET - 2:00 PM ET
HR Track #1: Employee Mental Health and Wellbeing *
2:15 PM ET - 3:00 PM ET
HR Track #2: COVID Vaccinations: To Mandate or Not? *
3:15 PM ET - 4:00 PM ET
HR Track #3: Flexibility: The Shift from Location to Time *
WEDNESDAY MAY 5, 2021
2:45 PM ET - 4:45 PM ET
DEI Exclusive: Chief Diversity Officer Forum - A Real Talk and Real Results Session *
* Note: This is not a replacement for conference registration. You will only be granted complimentary access to the individual session(s) you have registered for.