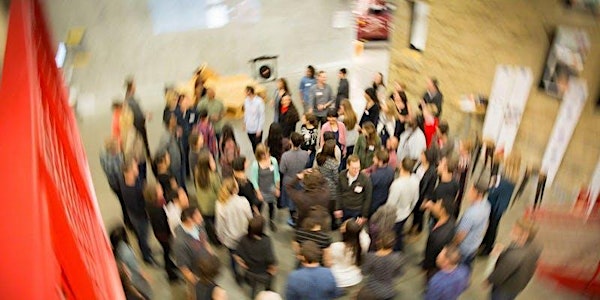 MLUX x Stanford d.school: End of 2019 MLUX Celebration!
Location
Stanford d.school
416 Escondido Mall
Stanford, CA 94305
Sales Have Ended
Registrations are closed
Thank you so much for your interest in MLUX! Unfortunately our ticket sales have ended - but please be sure to sign up on our mailing list to be the first to know about our future events :) http://eepurl.com/dA_7oH
Description
Come and celebrate the wrap of the second year of MLUX with us at the Stanford d.school! For our last event of 2019, we are partnering with the Stanford d.school to recap all that we've learned this year, celebrate 2 fantastic years of MLUX, and learn about the Stanford d.school's "I Love Algorithms" cards and how they approach teaching Design + ML (like this course!)!
** Space is limited, so please register on Eventbrite to guarantee your spot. For security purposes, we will be closing RSVPs 48 hours before the event, checking IDs, and cannot honor transferred tickets **


Our fantastic speaker lineup...!
Carissa Carter
Carissa Carter is the Director of Teaching and Learning at the Stanford d.school. In this role she guides the development of the d.school's pedagogy, leads its instructors, and shapes its class offering. She teaches courses on the intersection of data and design, design for climate change, and maps and the visual sorting of information.
Carissa Carter is one of the fantastic creative minds behind the "I Love Algorithms" cards!
https://dschool.stanford.edu/team-members/2017/1/6/carissa-carter
Michelle Carney
Michelle Carney is a Computational Neuroscientist turned UX'er, Michelle's practice focuses on the intersection of Data Science and UX. Currently a Senior UX Researcher on Google's AIUX Team, Michelle's projects focus on combining Machine Learning and UX on cool projects happening at Google AI! Outside of work, Michelle organizes the Machine Learning and UX Meetup (www.meetup.com/MLUXSF ) and teaches at the Stanford d.school as a Lecturer for the Designing Machine Learning course and various workshops.
https://twitter.com/michellercarney
About the Machine Learning and User Experience Meetup
We're excited about creating a future of human-centered smart products, and we believe the first step to doing this is to connect UX and Data Science/Machine Learning folks to get together and learn from each other at regular meetups, tech talks, panels, and events in the SF Bay Area.
Interested to learn more? Join our meetup, be the first in the know about our events by joining our mailing list, watch past events on our youtube channel, and follow us on twitter.
About the sponsors:
Stanford d.school
We build on methods from across the field of design to create learning experiences that help people unlock their creative potential and apply it to the world.
Design can be applied to all kinds of problems. But, just like humans, problems are often messy and complex—and need to be tackled with some serious creative thinking. That's where our approach comes in. Adding the d.school's tools and methods to a person's skill set often results in a striking transformation. Newfound creative confidence changes how people think about themselves and their ability to have impact in the world.
---
While you learn, enjoy light snacks and refreshments provided by the Stanford d.school!
Tuesday, October 29, 2019, 6 – 9pm
doors open 6pm, start at 6:30pm
Stanford d.school, 416 Escondido Mall, Stanford University, CA 94305
Agenda
5:30 - doors open, socializing
6:00 - 6:30 - mlux overview + recap of 2019!
6:30 - 7:00 - d.school welcome + "I Love Algorithms" cards!
7:00 - 8:00 - social hour
Ticket cancellation policy
Due to security purposes, we must close registration/RSVP for our events 48 hours before the event. We kindly ask that if your plans change, please cancel your ticket on eventbrite at least 72 hours before the event so we can release spare tickets to our waitlist. Thanks so much! :)
---
MLUX event are free to allow everyone access, no matter where they are in their career or industry. We have been super fortunate to have a fellowship from the Center for Technology, Society & Policy and the Algorithm Fairness and Opacity working Group at UC Berkeley to help us fund logistics, and fantastic speakers and sponsors to support us!
If you are interested in giving back and supporting us and helping enable us to invite other speakers who might not otherwise have access to speaking, please consider supporting us on Patreon! https://www.patreon.com/mluxsf