MLKBIBLETHON: The Nation's First 'Biblical Rights' Movement—Dream Again
Description
"Inaugurating the nation with the first bible with Rev. Dr. King's image on the cover, both spotlights and arms millions of people with 'the most powerful weapon of love and hope that Rev. King used to convey— how God can use a man to bring the nation back to him.' One value reset is shifting our youth, young adults and their parents from investing hundreds/thousands of dollars in 'sneakers and styles' celebrating and showcasing their favorite entertainers. They need this bible. For they will outgrow their sneakers and styles, but they will never outgrow a relationship with their Savior. Own it! Gift it! Read it… and see how God brings forth greater use from you and those you love." Philippians 1:6 Rev. Arthur L. Hunt, Jr., D.D., Publisher
BibleThon is all about honoring God and his servant, Rev. Dr. King 50 years beyond his final prophecy and ultimate assassination with a bible in his honor. Your help by purchasing a copy today will make new dreams come true. Here's a look at how we are progressing and ways that you can engage in the movement.
Recent Happenings: April 3—4, MLK MEMORIAL, DC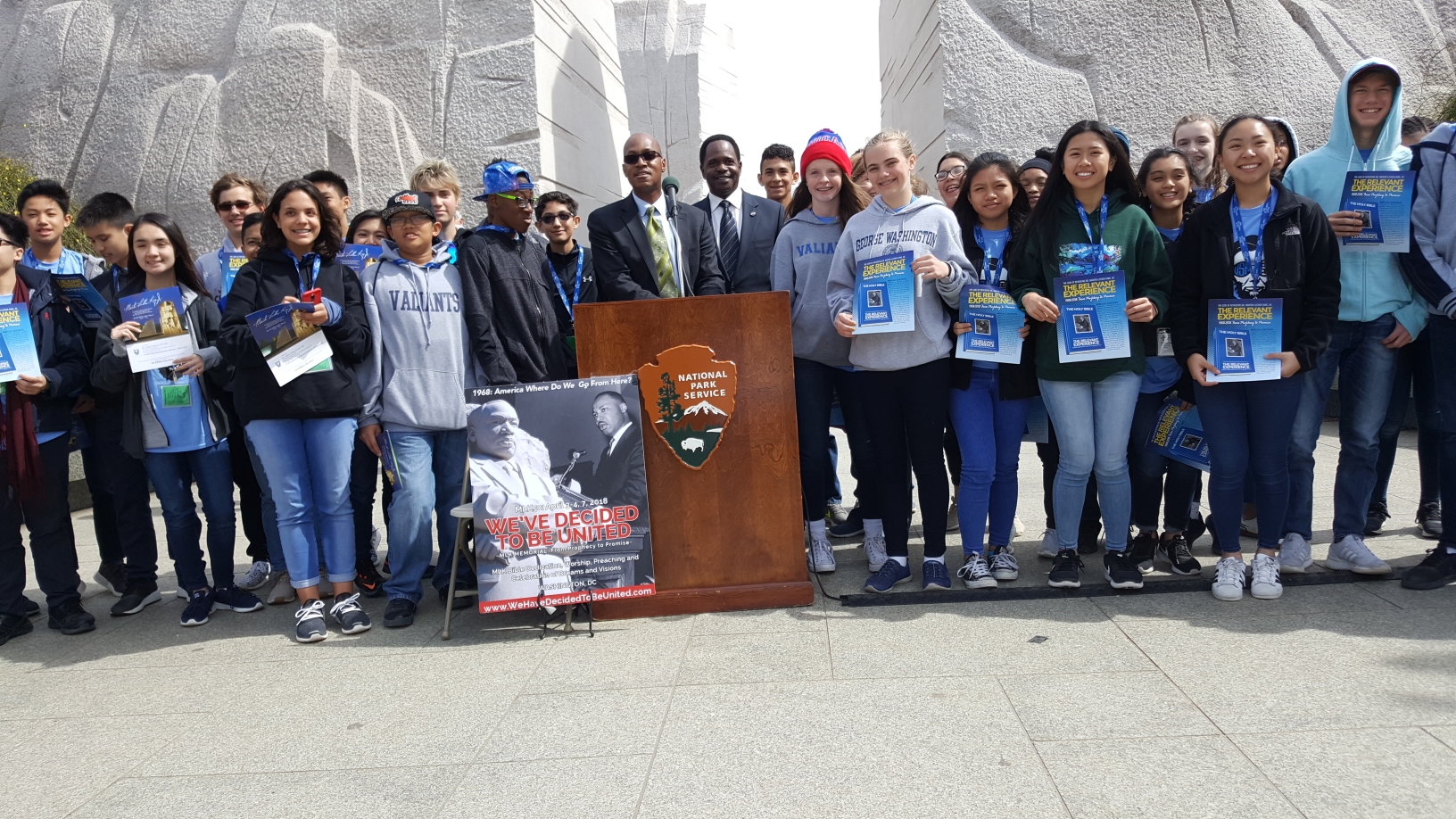 50th Commemoration of the Final Prophecy and Assassination of Rev. Dr. King
The RELEVANT EXPERIENCE Bible was dedicated and placed at the foot of the monument along with a wreath by the Mayor of DC, the honorable Mayor Muriel Bowser.
UP NEXT: August 28, 2018 Live From the MLK Memorial | 55th Anniversary of the March on Washington
Official Release: The God of Rev. Dr. Martin Luther King, Jr. THE REVELVANT EXPERIENCE
Who's In? Underwriters/Sponsors/Donors:
Sign up/Purchase a Bible Today and help us get God... Back in Schools, Our Government; We want to present this inspirational book- The Word of God to boys, girls, youth and young adults from all walks of life and lifestyles who are looking for love, hope and a new way out and a new way up- Straight Outta- wherever their challenges have ensnared them.
Underwriters
Receive credits inside the bible for helping with publishing costs. A minimum of $5,000 is requested. Underwriters will be recognized at the MLK Memorial during the release of the bible on August 28, 2018, the 55th Anniversary of Rev. Dr. King's I Have a Dream speech/prophecy. In addition, underwrites receive:
Reserved seating is provided on site

Program participation may be offered based on special roles that are available
Sponsors
Recognized on site and in media, marketing, PR campaign to include website and additional promotions based on sponsor level; Levels range from $5,000—
$25,000. (The scale of provision increases based on level of investment.)
Seats on site
VIP Reception
Signed/engraved copies of MLK Bible from Publishers/Special Guests
Name/logo included and up to full page in program publication
Exhibit table or product place on publisher's table
Photograph opportunities with special guests
Donation of bibles to students ages 10-18 who successfully attend a one-day camp focused on love, racial reconciliation, non-violence
Donors
Individuals/groups who donate any amount in support of the initiative

All donors will receive an engraved bible or bibles based on donation
For presentations and conversations with the publishers:
KEEPERS OF THE FAITH.TODAY Weekly Radio Show:
Monday's 9am--10am CDT | www.joynetradio.com